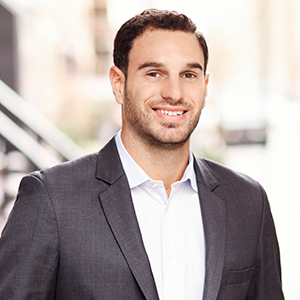 Adam Baruch
Vice President | Licensed Real Estate Salesperson
Experience
Specialties
Investments, Real Estate Economics, Leases, Commercial Real Estate, Brokerage
Education
University of Colorado Boulder
Bachelor's, Communication & Media Studies
About Adam
Area of Expertise

Adam Baruch is a VP with Compass Commercial in NYC. Mr. Baruch engages in sales brokerage and advisory for all property types including office, multi-family, urban retail and development. He also focuses on sourcing new business opportunities, market analysis, equity raises, and assisting clients in developing strategic plans for their assets. Mr. Baruch has created a niche in advising long time property owners in ground leasing their properties, creating maximum values and generational wealth for their family.

Professional Accomplishments

Mr. Baruch has more than 5 years of investment sales, buyer representation and advisory experience and has completed around $1 billion in sales volume.

Office: 86 Chambers, 232 East 59th Street, 19 West 44th Street, and 240 West 40th Street.
Development: 622 West 51st Street
Hotel: Negotiated operating agreement for DREAM Long Island City.

Business and Educational Background

Prior to joining Compass Commercial in 2019, Adam worked on one of the most prolific Capital Markets team in NYC at Colliers International from 2012 to the end of 2018. Prior to working at Colliers, Adam was a wealth manager at UBS. There he learned the value of fiduciary duties and how to raise money for clients.

Adam earned a bachelor's degree from the University of Colorado at Boulder.

Community Involvement

Mr. Baruch is a member of the Real Estate Board of New York. He dedicated a decade of his life to Atlantic Beach Rescue where he worked as a lifeguard and volunteered every Saturday to help get emergency equipment ready for the EMT group.