Experience
Awards
Ranked in Hawaii's Top 100 Realtors by Hawaii Business Magazine
Consistently within the Top 10 of Kauai Agents
Social Media
Team Website

Compass Team Page

Vimeo


LinkedIn

Facebook

Instagram

Twitter
​
Pinterest
​   
Amy's Concierge Page

  
Amy's Bridge Loan Services Page
Specialties
Luxury Property, Beachfront Property, Listing Agent, Buyers Agent, Development and Land Use Consultant
Client Testimonials
★★★★★
"
Purchasing a home is a complicated and, often, intimidating process; and, whether moving five miles or, 5,000 miles as was our case – working with an absolutely qualified and extremely capable real estate professional, as Amy Frazier – is essential! Finding and buying our ideal Hawaii home, would not have been possible without the invaluable expertise and keen market insights of Amy, who engaged us in a professional working relationship at the outset, understood precisely our preferences and desires in locating our Hawaii home, and provided uncompromising assistance in each and every facet of the process.
"
- Greg & Denise S.
★★★★★
"
We wanted to share our great experience with Amy Frazier as our realtor. Throughout the past 25 years, we have bought and sold approximately 20 properties (rental and private residences). Therefore, we have experienced many different realtors and customer service styles. Amy was, by far, the best realtor that we have experienced. We can honestly say that Amy Frazier exceeded all of our expectations and beyond. From the first day through the closing of our two real estate transactions through Hawaii Life, Amy was very professional and provided excellent customer service. We were very impressed by Amy's continual customer service throughout the entire process. Many times, realtors will work to get a listing, but then stop there. They let someone else do the work to sell the actual property. This was not the case with Amy. She worked tirelessly to get our property listed, marketed, showings, and then closed. We were very impressed that she attended almost every showing to ensure that she could market the property, readily answer questions, provide immediate feedback, etc. Amy was always in constant contact and immediately answered all of our questions. She went beyond the call of duty many, many times.
"
- Chris & Darlene A.
★★★★★
"
We were fortunate enough to have Amy Frazier represent us in our house sale and new home purchase. A++++, from the start to finish of each transaction Amy and team went above and beyond to make sure we didn't have to lift a finger- She told us from the beginning that her goal was to make the home selling & buying process as simple as possible and she held true to that- I would recommend Amy to all my friends and family ten times over. Thank you Amy for all your help and making our dreams become reality!
"
★★★★★
"
Amy was the ideal realtor. She went above and beyond her due duties. She was very responsive to our needs had a all around knowledge of the island and the market, It actually felt like she was family trying to help you out and not just a agent client thing.
"
About Amy
You could say that my Real Estate career was born from the age old quote, "Necessity is the Mother of all Invention". Of course I did not invent Real Estate but after being both a Buyer and Seller on multiple transactions I saw the need for a more transparent process with integrity as the driving force. Prior to becoming a Full Time Realtor, I enjoyed a 20 year career working for a High Net Worth Trust, managing properties and projects in Hawaii, Los Angeles, and New York. My role in that position had little room for error and the highest expectation for service and attention to detail. My initial intent with Real Estate was to focus on overseeing my family's real estate investments which has included a wide variety of transactions and projects including purchasing and selling, developing CPR and Agricultural projects, new construction, renovations, and owning and managing long term and vacation rentals. This firsthand real estate experience combined with my initial career proved to be invaluable when I made the transition from real estate hobbyists to a full time Realtor.

My friends and clients (the two are not mutually exclusive) will be the first to tell you that I am utterly unable to do anything half-way, no matter the task. I believe this "skill" is integral in any business, but especially real estate. I pride myself on having great relationships and trust within the brokerage community, and through my involvement in some of the most complex and high-profile transactions, I've built a reputation for providing unparalleled service to every one of my clients, regardless of the size or scope of their needs. I was honored to be recognized as a top 100 realtor for all of the Hawaii Islands after my first full year of dedication to the craft and continue to be a top producer on Kauai and State wide.

It does helps tremendously to sell what you know and love! I was fortunate to have been born and raised on Kauai, making my office my backyard and my playground. I live an active lifestyle with my husband, my two boys and our giant Labrador (whom you may have met roaming Hanalei bay in search of food and friends.) All 4 generations of our family living here on the Garden Island share a love for the ocean and all it has to offer from surfing and exploring to outrigger canoe paddling. Please allow me the opportunity to share my knowledge, my love for Kauai, and my personalized service with you in your next real estate transaction.


Spotlight
5-7534 Kuhio Hwy, Hanalei, HI 96722
$13,900,000 | 8 BED | 8 BATH | 2 1/2 BATH

Nestled on the magical northwestern coastline of Kaua'i in beautiful Ha'ena, this sprawling oceanfront estate presents a unique opportunity for those seeking space, privacy and oceanfront living. This 2 parcel estate with approximately 250' of sand frontage is situated adjacent to Makua (Tunnels) Beach and offers endless ocean play in your backyard.

Two custom homes across individually deeded parcels provide the ultimate estate for generations to come. Each home is well equipped and offers a style unique in their own right. With a total of 8 Bedrooms and 8 bathrooms, adequate space for entertaining friends and family is prevalent. The property sits upon 2.97 acres of manicured and private grounds and includes a professional tennis court and potential for further development. In addition, the properties are located within an Opportunity Zone for those seeking investment opportunities.

If you are looking for a Legacy Estate offering privacy, beach frontage, and seclusion come and experience all that this property has to offer.

Sale includes two parcels: TMK 4-5-9-2-20 and TMK 4-5-8-10-19

Oceanfront Home: 4 bedrooms/4.5 bathrooms Travertine marble and granite flooring, baths and countertops Two indoor spa tubs Central air conditioning Gas fireplace Expansive lanai facing the ocean Conservation Zone

Mauka Home: 4 bedrooms/4.5 bathrooms Central air conditioning Ground floor media room/office space Covered parking Large covered deck Beautiful mountain and waterfall views Professional Tennis Court Zoned R-2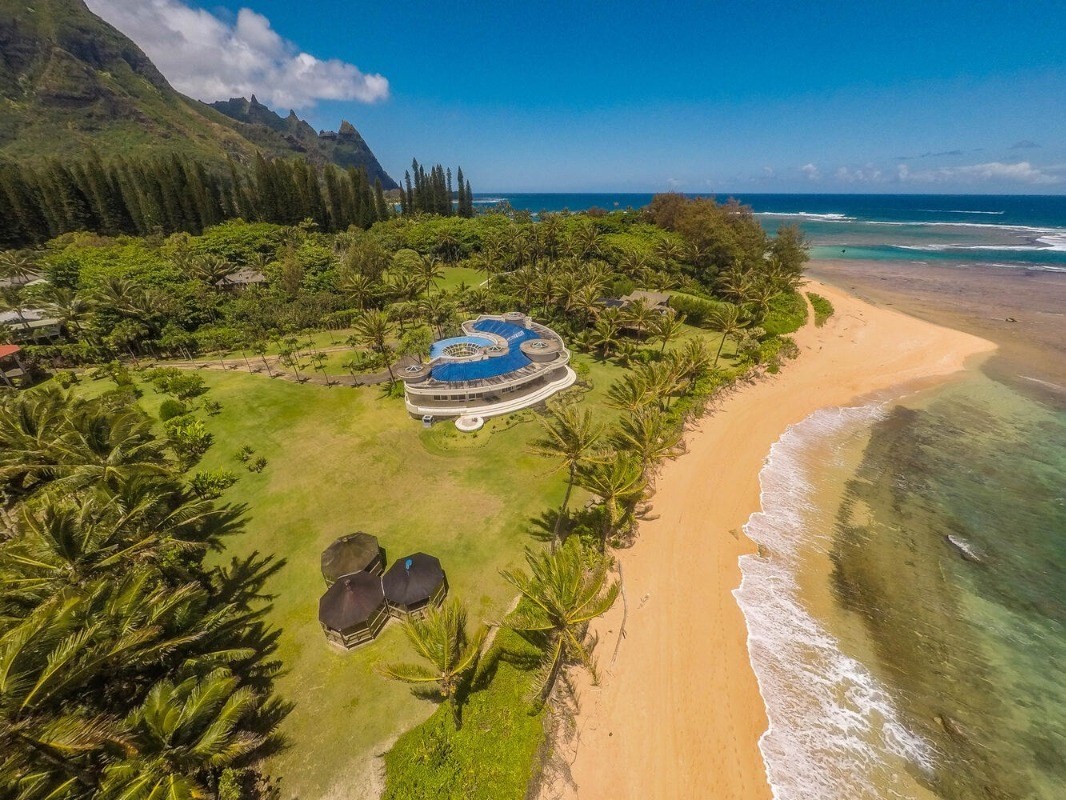 Spotlight
6040C Kahiliholo Rd, Kilauea, HI 96754
$3,000,000 | 4 BED | 4 BATH

6040-C Kahiliholo is a custom-built private home on an enchanted 3.17 acre property set beneath the Namahana Mountain Range in Kalihiwai Ridge. Occupied by the original owner who is an accomplished high-end builder, this 4BD/4BA home is an impeccably maintained one story residence that offers the ability for multi-family living. The unique floor plan has two separate wings with a large 20' x 24' screened lanai at its center, allowing for optimal entertaining space for family and friends while maintaining autonomy and privacy throughout the home.

At just over 3200 sqft, the home was thoughtfully designed and built with tall ceilings, shaker style trim, vertical grain fir doors and cabinets, crown molding, granite countertops, professional grade appliances, ADA compliant interior/exterior doors, copper gutters, and Ipe wrapped exterior trim. The east wing boasts a raised Ipe deck while the west wing has an exposed aggregate wrap around patio. The 2 car porte-cochere allows for easy drive up access to the home and the 900sqft garage/man cave is finished with a private bath (also a FEMA approved hurricane shelter), refrigerator, and outdoor hot/cold shower.

Built to rest on the rolling landscape to take advantage of the green mountain views, the home is safely situated above a year-round running stream, with the sound of falling water able to be heard from every room. Amongst the private park-like setting you will find a variety of mature fruit bearing trees such as avocado, coconut, and citrus. A fenced vegetable, herb, and flower garden along with a chicken coop are additional features of these impressive grounds.

This beautiful custom estate located in Kalihiwai Ridge offers 3+ stunning acres of land, the option of multi-family living, and a level of privacy and peacefulness that is second to none. This home embodies what those of us lucky enough to live here already know...we truly do live in one of the most beautiful places on earth.
Amy Frazier's Listings
Listed By Compass
VIRTUAL TOUR