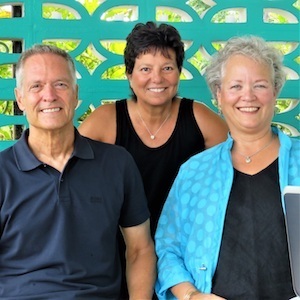 City2Beach
Licensed in the States of NY and DE for the Sale of Real Estate | Specializing in New York City & Rehoboth Beach ​
Experience
Revenue
Over $350 million in residential real estate sold
Specialties
Helping plan for retirement relocation whether it be from the "city to the beach" or across the world.
Languages: Spanish
About City2Beach
Chiqui Gavilan, Marisa Chaves, and Guy Abernathey
split their time between their two favorite places on earth: New York City and Coastal Delaware. Working in partnership, they devote 200% to their real estate clients in both places! So … wherever you are or want to be … from the "City2Beach" … you will be the team's priority.
NYC and Coastal Delaware.
Everyone desires their own piece of the Big Apple, the world's cultural and financial center. From 300 square feet to 30,000, City2Beach will help you find the perfect place that fits who you are and what you want to do in Manhattan -- live, work, or play! Maybe you're looking for a change of pace from the energy and excitement of the city - the wonders of Coastal Delaware await you! You will love everything its beautiful beach resort towns, richly historic maritime communities, and deeply-rooted agricultural traditions have to offer. Come visit any time of the year and you'll want to stay all year for its great weather, low taxes, relaxation, pristine beaches, natural beauty, music, art, culture and more.
You.
Whether buying or selling your home, upgrading, relocating or downsizing, rest assured your #1 City2Beach team will make the process a pleasant, informative, and stress-free experience that delivers your desired results. From your first neighborhood tour, all the way through to closing, you'll know that you are in exceptionally capable and caring hands with Chiqui, Marisa & Guy. Call them for all of your NYC and Coastal Delaware real estate matters.
"City2Beach" Real Estate Team - Chiqui Gavilan, Marisa Chaves, and Guy Abernathey -- have almost 50 years of combined experience in luxury residential real estate sales in Southern Delaware and New York City. They are unmatched in their ability to deliver great service and excellent results to their appreciative clientele. Over the years they have earned an outstanding reputation for integrity, hard work, and in-depth knowledge of local real estate markets. Long Standing Top Producers in the City, the team is also ranked among Long & Foster's 2013 "Top 10 Teams of the Eastern Shore", and they are repeat members (2012-2015) of Long & Foster's Silver and Gold Teams, President's Club and Chairman's Club, recognition's reserved for top producers.
Nearly 100% of their real estate business is referrals from satisfied clients, the majority of whom are from Washington, DC, New York City, New Jersey, Pennsylvania, and Maryland.
"City2Beach ... delivering a seamless and more satisfying real estate experience from the city to the beach."
What City2Beach's clients are saying:
"It certainly was a pleasure working with all of you. You have a great team and it certainly paid off for us!"
- Carla & Andrew Coupe
"Your kindness is overwhelming .... we truly want to thank you for everything you did to help us sell our home and purchase our new one. We are very happy here. Thank you for making things go smoothly at our settlements. Our doors are always open to you and your puppy."
- (Seller/Buyer)
"We know we would not even have been considered for (this loft) without your assistance and support. Thank you again for everything. As our friends consider apartments here in, you are top of our list of brokers."
- Amy & Brian Flynn
"Our property was sold as quickly as we had hoped at the price we anticipated. Throughout there was very prompt, positive and constant communication. They helped us through the process with amazing coordination of the sale of our property and the purchase of our new home, as these two settlements were a 1/2 hour apart. Also, we were guided to excellent resources such as mortgage brokers, settlement attorneys, et al. We would highly recommend you to anyone."
- (Seller/Buyer)
"Buying and selling real estate in New York can be a daunting process. Your professionalism and experience made the entire experience not just simple, but also enjoyable."
- Michael & Emily Kirven