Jason Tsalkas
Licensed Real Estate Salesperson | Associate, Phillip Scheinfeld Team
Experience
Specialties
Buyer's Agent, Listing Agent, Relocation, Commercial R.E., Property Management, Landlord
Languages: English, Tagalog, Conversational Spanish, French and Italian
Education
Zicklin School of Business, Baruch College
BBA in Finance
Charity
Philippine Basketball Ministry: Volunteer
Greek Orthodox Basketball League: Volunteer



Client Testimonials
Scroll down for more
"Working with Jason was a great experience from start to finish. Jason was able to answer all of my questions about the neighborhood, nearby comps and any questions I had about the developer and property I was interested in. I felt like he took a serious and sincere interest in me as a buyer (over just trying to make a quick sell) by offering me real advice on the process and answering any and all questions I had on the property. This was especially valuable to me as a first time buyer. I would highly recommend using Jason and will definitely be using him for any future transactions." - Jared T.

"Jason helped me find an apartment in Financial District when I was moving from Florida. I had spoken to a few real estate agents and non of them were willing to put in the hard work like he did. Many days before and during my visit to NY to look at places, Jason was in constant contact searching for listings. He listened to my needs and reserved days out of his schedule to work on my search. He's extremely hard-working, patient, and generous. He also really cares and that is a rare characteristic in a NYC real estate agent. I needed to get my 80 lbs. Golden Retriever into a weight restricted building in FiDi and he stopped at nothing to make it happen. After signing my lease, he remained available in an instant for any other questions I had and even gave me a little housewarming gift at the end. I would absolutely use his real estate services in the future." - Maria K.

"Jason is a great real estate who worked with my roommate and I until we found the perfect apartment. He answered all our phone calls and texts with the hundreds of questions we had. We had a specific price and location and he showed us every unit that was available until we found one that worked for us. Jason is very professional, friendly and overall a genuine real estate broker. I highly suggest contacting him if you are looking for an apartment. " - Jami T.

"Jason is one in a million as far as genuine NYC Real Estate Brokers go. I was lucky enough to get in contact with him early in my apartment search. It started from the way beginning where he responded to my first inquiry with a list of questions for me to answer, so he could best understand everything I wanted in my future apartment. That led to multiple hour long phone calls at all hours of the day/night with him providing knowledge of the NYC Real Estate Markets to myself and working his hardest to learn all about myself so he could find the perfect apartment for my friends and I. I felt I could ask him any question in the world and would always get the truth back from him. I ended up looking into some apartments with Jason and he was just as helpful in person, showing us a variety of great apartment options in different neighborhoods. He was sure to clearly state all of the differences between the apartments and everything they had to offer. Unfortunately one of my friends ended up speaking with another broker who ended up showing us a different apartment we really liked which had a later move in date which was in our favor. You would think upon hearing this Jason would lose interest in talking with us, since the sale was gone, but this was not the case what so ever. Jason continued to look for the perfect place for my friends and I, just in case the apartment we had our eyes on fell through. Jason even called me to update me and ask how our search was going, giving me great information on my entire process. Before signing our lease with another broker, Jason was the first person I went to, to ask all of the questions I had about the lease/new broker I was working with and if there was anything I should look out for. I spent an hour on a three way call with Jason and my roommate the night prior to our lease signing and he answered everything for us and made us feel comfortable going forward. He did this out of the kindness of his heart and truly wanted to make sure we were not being played in any manner and were getting the best deal we could. I would 100% recommend Jason to anyone looking for an apartment in New York City and have already shared his number with multiple friends of mine of whom I know are looking to make the move into the city in the coming months. My mind is at ease knowing that I will have Jason to go to when my next lease runs out and am looking for a new apartment. Thank you Jason for providing me with such a positive NYC real estate experience! " - Dan R.

"Going into finding our first apartment, my roommate and I were nervous about sketchy brokers that tend to be everywhere in NYC. I booked appointments with multiple brokers to see a bunch of places but ultimately cancelled them all in exchange for just Jason. Every other broker seemed to be scamming recent college grads into seeing apartments that don't look like the images in the listing, that are a more expensive price than what is advertised, and aren't actually in the location they are advertised as being in. Jason seemed super trustworthy and genuinely invested in finding us the perfect apartment. Everything he did was in our best interest and he never once tried to fool or scam us. We gave Jason our credentials as far as price and location and he went above and beyond to show us everything there is to see. He was also always available to talk when we needed (which was a lot). He worked around the clock for us in a time that he understood was extremely stressful. Even after we signed the lease and the transaction was complete, Jason stayed in touch with us to make sure everything was going well and that we felt comfortable in our new home. If you want a trustworthy broker who will work in your best interest and be super personable, definitely contact Jason. " - Morgan C.

"Throughout this process, Jason could not be more thoughtful, generous, and helpful. He answered all of my many questions with clarity and care, and created an atmosphere where I felt comfortable to vocalize my concerns without feeling any pressure or pushback. I'm so grateful for Jason's support and love the apartment he helped me land. " - Erica Singer.

About Jason
Jason is a native New Yorker who has spent his entire life getting to know every corner of the city. His innate knowledge of the five boroughs, coupled with a background in finance and an upbringing around the industry gives Jason a unique perspective that he uses to help his clients achieve their real estate goals.

Jason first became acquainted with real estate through his father, who ran a successful business specializing in multi-family homes and commercial properties. After a few years gaining invaluable experience in corporate finance and investment banking, Jason decided to make a move toward his roots. More recently, Jason has collaborated with developers, assisting them with everything from pricing analyses and projection models to apartment layouts and interior design.

Jason takes pride in being able to guide his clients both emotionally and financially, and he never hesitates to give unvarnished advice. His clients appreciate this quality, along with his work ethic, professionalism, and enthusiasm.

Outside of work, you might find Jason cycling the streets of Brooklyn and Manhattan or shooting hoops at the local gym. He also spends time volunteering for the Philippine Basketball Ministry and the Greek Orthodox Basketball League.
Spotlight
173 Bayard, 6 Condo Units, Greenpoint, Sold Out
Introducing 173 Bayard Street, a gorgeous new development nestled within the vibrant community of Greenpoint, just a few blocks from blooming Williamsburg and McCarren Park. This stunning boutique condominium is brought to life by attentive developer Dimora NYC and blends chic, rustic, contemporary finishes with unique loft-like layouts. Kitchens are equipped with white quartz counter-tops, a suite of premium kitchen appliances including a Bertazzoni oven, Blomberg refrigerator and Blomberg dishwasher. Each home also features exposed brick & steel beams, polished concrete flooring throughout, HVAC central air conditioning/heating, double-height ceilings, virtual doorman that syncs with your smart-phone and in-unit washer/dryer. Most of the homes also come with private outdoor space.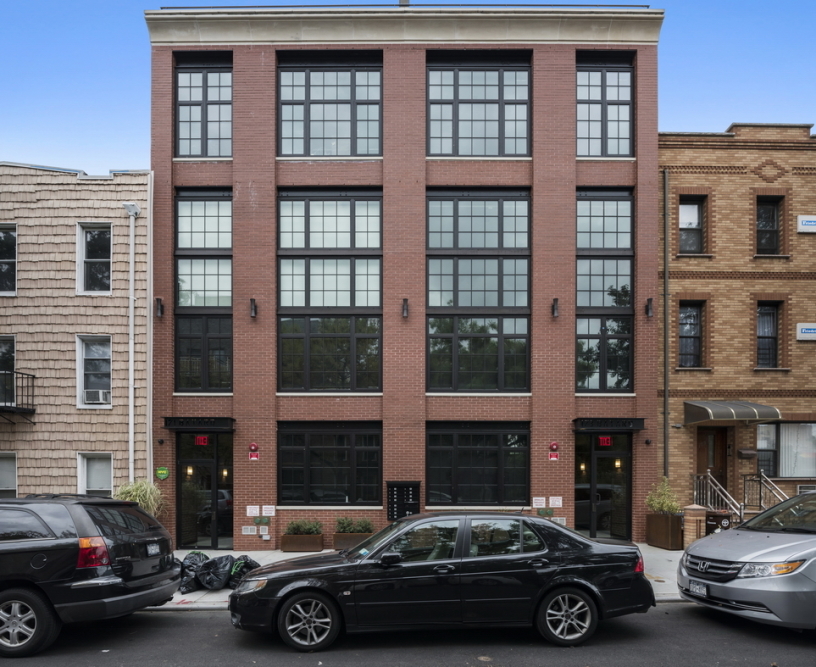 Spotlight
Sutton Lofts at 37 Driggs Ave, Greenpoint, Brooklyn
The Sutton Lofts, located at 37 Driggs Ave, is a New Development, consisting of five boutique loft residences in the heart of Greenpoint, just a few moments from gorgeous McGorlick Park. Beautifully designed by architect Michael Tersigni, each residence offers airy loft living spaces, wide plank white oak flooring, custom casement windows, and LED lighting. The kitchens are equipped with custom stone counters, Bertazzoni appliances, Moen hardware, and a dishwasher. The baths feature Duravit deep soaking tubs and rain showers. Each residence comes readily installed with a washer/dryer to maximize convenience.
Jason Tsalkas' Listings
Listed By Compass
VIRTUAL TOUR
Listed By Compass
Contract Signed
VIRTUAL TOUR
Listed By Compass
Contract Signed
VIRTUAL TOUR