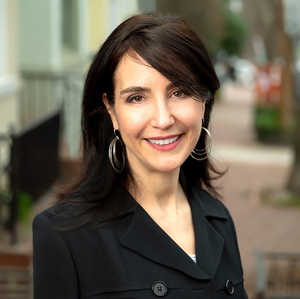 Nicole Alfieri
Realtor® | Licensed in VA & DC
About Nicole
Growing up, Nicole was always fascinated by the endless possibilities of Real Estate. Born in DC, raised in Maryland, and currently residing in Arlington, Nicole has a deep knowledge and intuitive understanding of the entire Washington DC area. While she was in her early 20's and living in Italy, Nicole took the plunge and purchased her first home. From then on, she was hooked! After returning to the US, she bought and sold multiple single-family homes and investment properties in the DMV-area while pursuing a career in design.
Nicole is an entrepreneur - aside from investing in Real Estate, she has owned a business and worked in fashion design, interior design, and retail display/merchandising. With her experience in business and affinity for working with people, coupled with expert negotiating skills, a keen eye for space, and a love of all things design-related, Nicole has found the perfect marriage in Real Estate. She is in a unique position to help both her seller and buyer clients - from strategically and beautifully positioning a home for sale (renovating, staging, photographing, and marketing) to guiding her buyers through purchasing the home of their dreams. She loves using her design skills and business acumen to get the best results for her clients.
"I've always been very sociable, as well as curious, about what beautiful and interesting properties are out there," Nicole says. "I love the idea of working in an environment where I can help people find and create their dream home." When offered the opportunity to work with The Rebecca Weiner Group of Compass, she jumped at the offer. "There is such a wealth of knowledge and experience with the agents on Rebecca's team. It is a pleasure to work with them."
Client Testimonials
★★★★★
"
Nicole is an amazing realtor. She is very responsive and knowledgeable of the market. She was instrumental for me buying the home I wanted with all the "musts" I wanted in my house.
"

★★★★★


"

We had a wonderful experience working with Nicole Alfieri. We felt very supported throughout the difficult process of finding a house during COVID. She took the time to hear our needs and not only offered her knowledge of the local real estate market, but also offered her objective perspective by presenting us with multiple options that would meet our budget and our needs. When the inspection uncovered a number of defects, Nicole deftly secured us credits from a very unwilling seller and assisted us with finding excellent contractors to put things right and put our minds at ease. We also learned of her artistic background, which tremendously helped us in meeting our aesthetic wants. If you are looking for someone reliable, knowledgeable about real estate, and with great taste for architecture and design, she is your agent!"