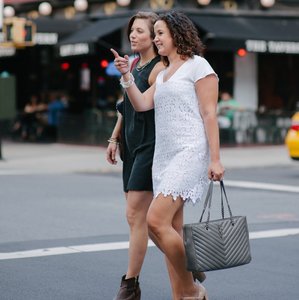 About
Dedicated to helping clients realize their individual goals, Isil provides an exceptional real estate experience whether buying, selling, or renting in Manhattan, Brooklyn, and beyond. Isil's thorough understanding of the intricate residential sales and rental process and in-depth market knowledge makes her a trusted advisor for her clients ranging from first-time home owners to experienced investors. Isil's experience has made her a frequently requested speaker at various home-buying seminars at companies, lenders, and financial advisory firms throughout the city.

Originally from Turkey, Isil moved to Texas at age 10 with her family, but always dreamed of someday living in New York. After earning a BA in Political Science from Yale University and a law degree from The University of Texas, Isil moved to her dream city to practice law.

Isil was always fascinated by New York City's architecture and distinctive neighborhoods -- and most enjoyed being a trusted advisor and fierce advocate for her clients. After six years as a litigator, Isil was inspired to marry these passions and leave behind the law, devoting herself to helping countless people make their homes in her adopted city and guiding them through the most important purchase (or very consequential sale) of their lives. She brings to residential real estate the same qualities that defined her time as a litigator: diligence, attention to detail, and thoughtful analysis and advice.

Drawn to its parallel mission of making real estate more seamless for the consumer through technology, Isil joined Compass in May 2015. She soon formed the Isil Yildiz Team, bringing on Isabel Yerkes in 2016. In its first year, the Isil Yildiz Team completed 26 sales transactions totaling over $25 million in sales volume.

After 6 years in Cobble Hill, Brooklyn, Isil and her husband Bill now live in Gramercy. In her spare time, Isil is busy renovating and decorating her log home in Greenwood Lake, NY. She is also an active Yale alumna, serving as Class Secretary of Yale College Class of 2004 and President of Yale.NYC. Prior to her role as President, Isil served as Director of Communications and spearheaded the Yale.NYC rebrand from YAANY, including development of the social media campaign, new website, and all communications strategy.

The Isil Yildiz team has a hands on approach to marketing and an analytical and methodical approach to buying and selling real estate in New York City. Their extensive market knowledge has made them invaluable advisors for experienced investors and first time home buyers alike.

Isabel Yerkes was the second member of the Isil Yildiz Team. A fellow ivy league graduate, (Columbia '10) Isabel has lived in New York City for the past 12 years but grew up in Northern California.

When she is not creating captivating marketing materials or showing listings to our buyer, seller, landlord and renter clients, she can be found on a bike. Prior to Real Estate, Isabel was an instructor at SoulCycle for four years and a laser and surgical technician at a private surgery practice on the Upper East Side.
The Isil Yildiz Team's Listings
The Isil Yildiz Team's Recent Transactions