Experience
Revenue
The Barak/Blackburn Team closed over $140M in closed sales in 2017
The Barak/Blackburn Team has sold in excess of 1B since 2006.
Press
Crafty Combo in Prospect Heights, Dwell; Barak and Blackburn hop to Compass from Corcoran, The Real Deal; Team tally hits $88 million, Real Estate Weekly; South Williamsburg Candy Factory Makes Sweet Switch to Rentals, Curbed; In Williamsburg, upping fees to match expectations, The Real Deal; Barak/Blackburn Group plans rental expansion after Corcoran move, The Real Deal; Williamsburg warehouse set to become apartments, The Real Deal; Dunham Place reaches 50% leased mark, The Real Deal; Brazilian ragdoll artist Maria Lynch buying $2.8M B-burg pad, The New York Post; Williamsburg's 'Charred Wood' Condos Get New Renders, Name Curbed; These condos stink on purpose NY Post Sleek Williamsburg Townhouse With Gas Fireplace, Modern Updates Asks $3.15 Million, Brownstoner; A view-toting 'Skyhouse' in the erstwhile Williamsberry wants $3.5M, Curbed; Unusually Well-Preserved 'Burg House With Details, Working Fireplaces Asks $2.995 Million ; Unusually Well-Preserved 'Burg House With Details, Working Fireplaces Asks $2.995 Million, Brownstoner; Tiny house perched atop Williamsburg's Mill Building seeks $2.85MCurbed

About The Barak | Blackburn Team
Formed in 2006 by top-producers Lior Barak and Christine Blackburn, The Barak Blackburn Team has consistently exceeded the expectations of buyers, sellers, investors, and prominent developers in the New York City marketplace. Deeply passionate about their work, they strive to provide their discerning clients with superior personal service, expert real estate guidance, and customized solutions for their needs.
Distinguished by their innovative practice and comprehensive knowledge, the team has sold over $1 billion in total property sales and $50+ million in land and development sites in Manhattan and Brooklyn to date. Their impressive track record includes 500 resales of apartments and townhouses, 28 new development projects, for many of which they've broken price records, as well as thousands of luxury rentals.
Creative marketing strategies, a proactive mentality, and do-it-all approach to client service have earned Barak Blackburn a place among the top teams in the city. No request is too large or small for this dedicated group of agents that operate like a close-knit family, and go above and beyond for their clients. While Lior and Christine focus on high-end sales and new development, each member brings their own savvy and specialty to the table. Their collective talents, diverse backgrounds and multilingual abilities complement the broad spectrum of knowledge of this truly full-service real estate resource.
Testimonials
"I can honestly say that it was a pleasure to work with the Barak / Blackburn team at Compass when I sold my condo in Brooklyn last year. The team came highly recommended from a trusted friend in the industry, and when I met them in person I was impressed with their knowledge of the area and many years experience. The sale of my condo wound up being complicated and took many months because of issues with the building in which I owned. I was so grateful through the entire process to have partners in the entire Barak / Blackburn team guiding me through every step in the sale and every complicated decision to make along the way. Christine, in particular, was incredibly generous with her time and advice, and helped lift my spirits at times when things were particularly challenging. I am so grateful to her and the entire team for their unfailing commitment and optimism about selling my apartment. In the end I wound up getting an all cash deal and everything worked out with the sale and the closing beautifully. I couldn't have been happier with the result! If you want to work with real professionals who know the real estate business inside and out, and who have advise you can trust, I recommend working with the Barak / Blackburn team."
- Peter Heatley.
"Many years focus in Williamsburg working on some of the best performing projects has given Christine a great depth of knowledge with the local market. Her in depth experience with home owners and developers gives her wonderful insight into the wants and needs of both buyers and sellers. She is always around and relentlessly pushes her listings."
- Ken Hudes, Principle, Build 360.
"Great team, sold two apartments for me. They created high quality photos and detailed listings. They also got their hands dirty helping clean up before a showing!"
- William Grose.
"The Barak | Blackburn Team have been a integral part of many of our development projects over the past 10 years. Their keen knowledge of the market, and ability to get deals done makes them one of the best in the business."
- Anthony Morena, Principle, Mortar Architecture + Development.
"I've known the Barak/Blackburn team for quite a few years, and they always rise to excellence.My friend, Marlon James, an established author, told me in mid December 2017 that he has been looking for a place in NYC for over 6 months (!) and haven't found the right place, yet. He was looking for a place where he could live comfortably, work on his upcoming back, and pay a fair price. I, immediately, knew that the Barak/Blackburn team would solve his quest. And indeed, the agent showed him 4 places in one day, and he texted me: "Thank you for the introduction. I Love them all" Today, Jan. 9th. 2018 he signed the lease!"
- Rafael Fuchs.
"I had to sell my home in the middle of a complex situation. The BB impressed me by the way they handled the situation in a respectful and intelligent manner. They were quite fantastic. Thank you"
- Stephanie Rouge.
They are the best!!!!!! They bring an aura of professionalism and charisma. They make custom marketing materials and work hard to achieve our goals. Definitely recommend them for buyers or sellers.
- Josh Egendorf.
"The Blackburn team was extremely helpful in making a complicated process of buying an apartment, as seamless as possible. They were very responsive to all our needs and by the end of it, felt like close friends."
- Mary Ellen Maddalone.
Spotlight
The Bath Haus
Originally constructed in 1903 as one of 13 Public Bath Houses in New York City, this architectural jewel has now been reimagined for 21st century living. Unique and distinctive, the facade of the Bath Haus preserves architect Louis H. Voss' original vision, maintains and restores its original architectural elements, and pays homage to the spirit of the City Beautiful movement in New York of which it was born. With only 9 residences, the Bath Haus offers a rare opportunity to purchase a home with architectural provenance in the heart of Greenpoint- quickly emerging as one of the most desirable neighborhoods in all of New York City.
Designed by award-winning NYC design firm Meshberg Group- the residence interiors at the Bath Haus are elegant and minimalist. Natural Carrara and Bello marble reference the building's history, while 7" PID European Oak flooring and oversized custom windows bring warmth and sunlight into each home. Kitchens feature a fully integrated Bosch and Leibherr appliance package with matte white and brushed metal finish cabinetry, and each residence comes with a Bosch Washer and Dryer. There is a common roof deck, available storage, and a common recreational room for resident's use. Closings anticipated early 2021.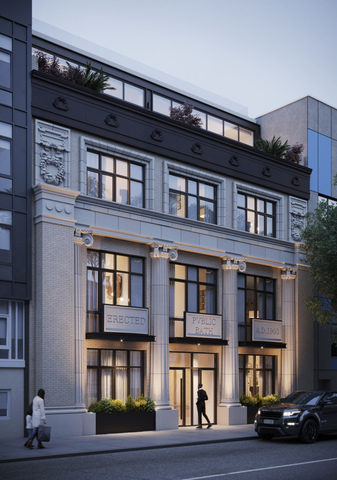 Spotlight
111 Montgomery
Welcome to 111 Montgomery, the first full-service condominium in Crown Heights.
From the cultural epicenter of Brooklyn comes a collection of 163 refined homes where the pride of ownership in one of New York's most historic communities is rooted in a rich heritage of diversity and charm.

Poised at the nexus of two legendary destinations: Prospect Park and the Brooklyn Botanic Garden, 111 Montgomery is a brand new condominium with amenities never before seen in Crown Heights. Communal spaces abound, including a sumptuous, sunny co-working space and resident's lounge, community garden, BBQ / terrace dining area, fully equipped fitness center featuring Peloton bikes, an inventive wilderness themed children's playroom with floating canoe installation, and spectacular landscaped roof terrace crowned by Brooklyn and Manhattan skyline views.
111 Montgomery is the new standard for design in balance. Soothing palettes, natural materials, and a focus on bringing botanical elements into every aspect of the interiors and common areas. Residences feature 5' white oak floors, honed quartz sleek concrete countertops, an all-Bosch appliance package and Palm-Springs inspired baths with floor to ceiling stacked tiles and elegant matte black hardware.

Manhattan is less than 20 minutes away (2,3,4 and 5 express trains), but there are endless reasons to stay local. Sophisticated cocktail lounges, Michellin recommended restaurants, the Brooklyn Museum, Prospect Park and the summer bandshell concerts, Grand Army Plaza Greenmarket- and so much more. Come discover, come play, come explore!
The Barak | Blackburn Team's Listings