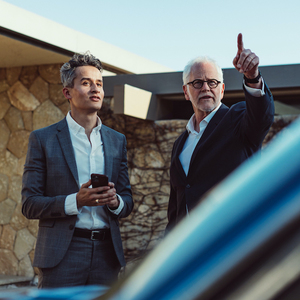 The Faulkner Group
REALTORS® | John Faulkner DRE 01731394 | Joshua Ramirez DRE 01734132
About The Faulkner Group
• Website • Instagram
The Faulkner Group is a mindful merger of a classic and modern approach to real estate. We understand that today, with a definitively online world, it is critical to have a real estate group that understands the magnitude and power of technology along with a creative and energetic approach for the benefit of their discerning clientele.
John Faulkner brings to the negotiating table his unique and extensive real estate experience. John has 20 years under his belt working in Santa Barbara Real Estate with creative clients such as architects, film producers and top-executives at Apple. He has also bought, renovated, built and sold homes since 1976. He is well versed in the fine points and subtleties of the real estate transaction. John takes pride in his ability to create and maintain a high level of mutual respect with his clients. He attributes a great deal of his success to his full understanding of the financial and emotional scope of buying or selling a home.
Joshua Ramirez is a Co-founder of Princeton North, an innovative branding and marketing company in Santa Barbara. They have worked with many established local businesses (Jane, Variant Training Lab, The Schmandt Group and several others), which have seen a surge in growth due to the creative and innovative work the agency continues to offer. As a master of marketing using cutting-edge technology and creative expertise, that will set your home above the rest. Josh's innovative technology know-how has given him the privilege of being the keynote speaker in Manhattan, New York and beyond.