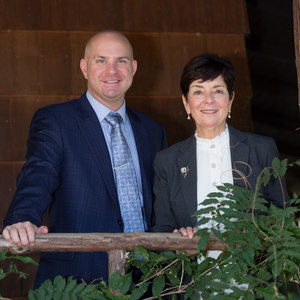 The Welsh Group
DRE 00939903 | DRE 02099304
About


Denise and Jack have joined forces to provide the
optimum customer experience for their clients;
Denise's 33+ years of real estate experience combined
with Jack's technological skills provide a unique
perspective on real estate.
Denise Welsh

Experienced, dedicated, and extremely knowledgeable, Denise has excelled as a real estate agent on the Peninsula for the past 33 years. She has thrived, regardless of the market conditions, due to her passionate approach to helping her clients achieve their goals. Growing up in West San Jose and living in the Mountain View-Los Altos area for the past 40 years, Denise knows the Silicon Valley real estate market. She is familiar with neighborhoods and communities from San Carlos to San Jose. As an adept observer of market trends, Denise is the ideal agent for those looking to buy or sell regardless of price.

As a Professional who considers her career a mission of service to her clients, Denise has dedicated the last 11 years to volunteering as a Director for the California Association of Realtors in the pursuit of homeowners property rights through legislation. She was the President of the Silicon Valley Association of Realtors (SILVAR) in 2017, the local real estate trade organization for agents in the cities from Menlo Park to Los Gatos and has served on the Board of Directors for the past 10 years. She is currently the Regional Chair for Silicon Valley at C.A.R.. Her involvement in the local community included two terms on the Los Altos Historical Commission, Chair of the local school essay contest, membership in the local Chamber of Commerce and numerous volunteer positions in local fundraisers with schools, church and Boy Scouts. Denise is a Bay Area sports fan who always finds time to catch a Giants or Warriors game. She enjoys her monthly Book Club and cherishes time with her two sons and extended family. She lives in Los Altos with her husband, Mike.


Jack Welsh

Jack brings a wide-array of work experience to the Welsh Group, having held roles in sales, finance, and mortgage underwriting support. He has a passion for delivering the highest quality customer experience through the relentless pursuit of his clients' objectives.

Jack is a Peninsula native, attending St. Simon School in Los Altos from Kindergarten to 8th grade and going on to graduate from Mountain View High School. He went on to Foothill College in Los Altos Hills prior to graduating from UCLA with a Bachelors of Arts in 2009. Jack earned the rank of Eagle Scout in Troop 30 of Los Altos while hiking, camping, and backpacking all over Northern California. He served four years in the United States Marine Corps in administrative and personnel management roles. While in the service, Jack was stationed in Hawaii on the island of Oahu and deployed to Japan and South Korea. In 2018, Jack graduated from the W.P. Carey School of Business at Arizona State University with a Masters in Business Administration. In his free time, Jack follows our local Bay Area sports teams and plays guitar.


Spotlight
Client Testimonials
Scroll down for more

Marta Lee Lakin - VP Media Sales
"In working with Denise through the years, she is prompt in her response to inquiries, a great listener and fastidious with details. Every aspect of the transaction is addressed thoroughly. She seems to know about so much related to Real Estate and the bay area. But she quickly admits when she is unsure of something and will research it thoroughly before advising me. She handles challenging situations professionally and with tremendous skill.

I have known her for many years. she is a pleasure to work with. She is the first and only call, for my real estate needs."


Nancy Morey - Retired
"I can't say enough about Denise. When it came time to sell my mother's old duplex, Denise moved into action by getting all the inspections done, getting a painter, meeting with all the tradesmen and getting the job done. Her listing and photographs were so beautiful after all the work, I almost didn't want to sell. On the business end, I had no worries. Denise knew what she was doing especially in marketing a duplex. Denise's eye for detail was amazing. I found that working with Denise was easy and she communicated clearly to me at all stages. Lastly, I want to say I'd never sell or buy a home without Denise"


Xavier & Liliana Ribadeneira
"Our experience with Denise was amazing, painless, and rewarding. She knows the market, is well connected and always looked after our interests. More importantly, Denise is a very good listener and patient. She educated us to make sound decisions. We started a friendship and have a realtor for a lifetime!"


Von G. Packard
"As a retired attorney familiar with wills and estates, I would strongly recommend Denise to anyone who is looking to list their home or who needs help to find and purchase a home. Denise is the recent President of the Silicon Valley Association of Realtors. She has successfully worked as a real estate agent for decades and forged a deep understanding of real estate contracts, transactions, and negotiations. I have personally consulted with her on multiple occasions. Her professionalism has literally earned her the high respect of local agents.

For her clients selling a home, this all translates into more offers from other agents and a better sales price. For her clients looking to purchase a home, it means that other agents with listings are very pleased to work with her and favorably receive her clients' offers. I have seen these successes repeatedly confirmed over the years I have known Denise and seen her dedicated service for her clients.

In my opinion, Denise Welsh is one of the very best real estate agents for listing or purchasing a home. I would highly recommend her to anyone."


Helen McMahon
"We were very impressed with Denise's thoroughness in all aspects of selling my dad's home in Los Altos. Given that both my brother and I live out of the area, Denise had to step in to organize everything from interior painting, replacing ceiling fixtures and repairing a window that fell out. We had an issue with the placement of a back fence that required coordination with attorneys and the neighbors, Denise stayed on top of the whole situation in a timely manner. She was continually mindful of the expenses that were incurred in making the home appealing to prospective buyers. The actual open house and bidding process went smoothly and was handled in a very professional manner. I am happy to discuss our experience working with Denise."


William Gavin - Homeowner
"It's the little things that make a real estate transaction proceed smoothly and Denise is an expert at identifying and dealing with those things to the benefit of a successful transaction."


Peter Pazmany - President
"I have worked with Denise on 4 transactions in the last 10 years. Denise is a great listener and really knows how to guide you through the process. She has become a good friend and her advice has allowed us to successfully conduct several transactions."


Colleen DeLizza
"Denise not only helped me to sell my previous house but also helped me purchase my current home. She was steadfast in the procurement of a complicated short-sale property. She is totally competent in the ins and outs of home buying and selling."


Judi Cohen
"It has been great to work with Denise on three real estate transactions. She has represented us as both buyers and sellers. When we were new to the area, she was incredibly patient and helpful showing us different neighborhoods. Her knowledge of every street, every school, every home was amazing. She has been in Los Altos for decades but knows surrounding towns as well. She also knows just about every realtor. Best of all is her great sense of humor. We trust her absolutely! Five stars!"


Patricia Baldwin
"I have worked with Denise many times over the years. I would never consider working with anyone else. She has such a broad depth of knowledge about every aspect of buying and selling a home and is so thorough about the details, it takes all the worry out of the process. She has a tremendous list of contacts to bring in to meet every need. The first time I worked with her to buy, I was so very impressed with how she worked with me to understand exactly what I wanted, where I could find something that met my needs and budget and how to get the deal done.

I most highly recommend her to everyone I talk to that is interested in either buying or selling and I would recommend that anyone thinking of doing either, make her your first contact. She is awesome!"