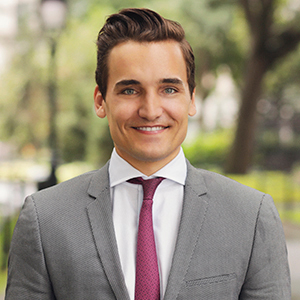 Adam Mariucci
Licensed Associate Real Estate Broker | Licensed in NY and CT
Experience
Revenue
Sales: Over $125,000,000 in Residential Sales
Specialties
Manhattan Condo/Co-op Resale and New Development Market, Brooklyn New Construction, Foreign Investments and Property Management.

Includes 10 years of Residential Real Estate Sales, experience on the Apple iPhone PR team and in the Universal Interscope Records marketing department.


Memberships
REBNY Member, Greenwich MLS Connecticut Association of Realtors®, National Association of Realtors®, Licensed Associate Broker in New York and Licensed Salesperson in Connecticut
Education
Bachelor of Science in Commerce and Marketing, Santa Clara University
About Adam
Adam's intense work ethic and market knowledge have made for his rapid success in NYC and expansion into the Greenwich Connecticut real estate market. Among his early accomplishments, he was named the Top Producer and Rookie of the Year in 2012 and continued to gain strides in becoming one of Manhattan's newest power brokers. Adam has since built a team of agents that are able to serve their clienteles' every need in both Greenwich and New York City. The Mariucci Team represents buyers, sellers, and investors and also manages numerous properties for overseas investors.
Adam has a diverse background in sports, business, and music. His competitiveness and ability to quickly connect with people may be partly attributed to his childhood and being raised in a football family where he moved around the country eleven times. His father, Steve Mariucci, is a former NFL head coach of the San Francisco 49ers and Detroit Lions and currently a TV Analyst for NFL Network. Adam holds a Bachelor's Degree in Business Marketing from Santa Clara University and previously worked in the Silicon Valley's vibrant and tech-driven commercial real estate market at Newmark Knight Frank. He was also a part of the very first iPhone PR team at the Apple headquarters in Cupertino CA, and assisted in numerous product launch campaigns.
Adam's creative outlet has always been with music and television, and he has merged his expertise in his real estate marketing skills. Adam can be seen in multiple featured appearances in Bravo's Million Dollar Listing: New York. He also toured the country as a singer and played music festivals with artists such as Good Charlotte, Third Eye Blind, Gym Class Heroes, Smashmouth, Neon Trees, Foster The People, and Linkin Park. His music has been featured in nationally televised sporting events and on major entertainment networks such as ESPN, CBS, MTV and Bravo. Out of the office, Adam enjoys cooking, traveling, and snowboarding. He currently lives in Greenwich, CT with his wife and two boys.