Experience
Social Media
Facebook
Instagram
LinkedIn
My Blog
Latest Newsletter
Subscribe to my Newsletter!
Client Testimonials
Scroll down for more
★★★★★
"Took time to really understand what we wanted and found our perfect home! She was on top of it and an absolute pleasure during the whole process. I couldn't recommend her more"

★★★★★
"They say the perfect real estate agent does not exist – and that agents pursue their own interest. We found an exception with Basya Gradon. Or perhaps someone gave us a magic wand. Basya genuinely cares and wants to help. She took a personal interest in our home, a personal interest in ourselves, and made us feel selling our home was her own personal project. She was strategic and tactical and economical in her approach to maximizing the value of our property. She has great instincts. Her recommendations show designer flair – and thrift. She is omnipresent, relentlessly hardworking, and super-reliable. The quality of her effort is extraordinary, exceeded only by her unwavering enthusiasm. She understands the high emotion an owner feels about their home and navigates thorny issues with sensitivity and prudence. She isn't just clever, she is wise, putting principle over profit in the pursuit of long-term relationships. She has a sterling reputation and always acts to preserve it. The buzz in Hancock Park is that Basya Gradon is the future. We think she is the future way beyond Hancock Park." - Simbuktu


★★★★★
"Basya has proven to be a hard worker, extremely knowledgable, and the best advocate. She has made the home buying experience seem effortless, while working tirelessly on our behalf. We couldn't have picked someone greater to represent us!"

★★★★★
"It was truly a pleasure to work with Basya! People kept asking us how we were so calm throughout the experience of purchasing a home - after all, finding a home, negotiating a price, following through with all the inspections, getting a loan and completing the escrow process can be really stressful! But Basya's professionalism coupled with her positive, even keeled nature and can-do attitude made it a smooth and stress free experience. If you are in the market to buy a home, we highly recommend Basya!" - Simbuktu

​★★★★★
"Excellent experience. Knowledgeable and added value to our property sale with her expertise. We sold our home and closed escrow in 2 weeks. Thank you to Basya and her team it was a JOY" - Joyce Trojanowski

★★★★★
"We listed right before the COVID lock-downs, so we anticipated a challenge. Basya was great to work with; she handled everything wonderfully, from arranging repairs to staging and landscaping (beautifully done) and negotiating with buyers. As first-time sellers, we had LOTS of questions. Basya's communication was exceptional throughout the process, keeping us informed and responding rapidly to any questions or concerns. We ended up with a great sale and very smooth closing. I highly recommend Basya" - MS

★★★★★
"Basya was a pleasure to work with! From start to finish, Basya was there for us every step of the way. She went above and beyond to ensure a smooth process for both landlord and tenant. There was never a request too big or small that she didn't gladly try to accommodate. This was our second time working with Basya, and we highly recommend her to our friends as well! With Basya, you know you are in good hands." - Ariella Silverman

★★★★★
"We are proud first time home owners because of Basya Gradon. We came to Basya with a complex and unique situation, and our hearts set on a specific home. Basya used her experience, knowledge, and negotiation skills, to outbid even more qualified buyers and ultimately secure the transaction of our dream purchase. The entire transaction took place during the Covid Pandemic which added an additional layer of complexity to our process. There were several unforeseen delays but Basya managed to ensure all parties were informed every step of the way, alleviating any type of stress. As busy as Basya is, she always made herself available to us. We are so grateful to have had Basya holding our hands throughout our experience and would highly recommend her services." - Eli and Leah
★★★★★
"Basya was the perfect choice. From beginning to end she had everything we were looking for in an agent. 1) She was always available to address any questions. 2) As a fellow "local", she was very knowledgeable with the real estate in the area, the comps, and valuations. 3) We felt that she was very much on our team and making sure the choices made were in our best interest and not just to get the deal done. 4) She used unique and smart strategies and was able to think outside the box. Ultimately she did a great job as our agent and we highly recommend her." - AF

★★★★★
"Basya was a pleasure to work with! She made everything so easy and calm. She listened to my needs straight from the beginning and she got me exactly what I wanted! She never pushed me to do something that didn't feel right with the sale of my home. She was organized and hard working, and she got my house sold quickly. She was always available whenever I needed to reach her. I would highly recommend her!" - Zuser

★★★★★
"I have used Basya with many houses and I am thrilled with the level of customer service and professionalism. She cares about the client and not about the sale. I highly recommend using her as an agent." - FE Goldberg
★★★★★
"We recently bought a home with Basya Gradon who represented us as the buyers. Basya is an absolute pleasure to work with. She's knowledgeable and honest and really knows the housing market well. She worked very hard to negotiate on our behalf and we are so happy that we used her. We can't recommend her enough." - Dendan
★★★★★
"We had such a great experience buying this home! Basya is a pleasure to work with! Very attentive to detail, reachable at any time, really makes sure everything is handled. It was such a smooth process! We gave 5 stars all around!" - P
★★★★★
"Basya has been tremendous asset for us, helping is navigate complicated purchase. She is calm, extremely responsive and super knowledgeable and saved us a lot of money through skillful negotiation. We are very happy with Basya and would use her again!" - Joseph Essas
★★★★★
"Dedicated , attentive , responsible, great communication. Basya is serious about getting the job done, and works hard to make it happen. She was a pleasure to deal with , and highly recommend her." - Zuser
★★★★★
"Basya is an extremely professional real estate agent. She is very responsive and guided us through the entire sales process. She was also very understanding of our goals and helped us create a plan for how to achieve them. I would highly recommend her to all sellers in Los Angeles and the surrounding cities." - H Joseph
★★★★★
"Basya Gradon is a true professional. Took care of everything from start to finish. Her knowledge of our local market is excellent. We highly recommend Basya." - Paul Rose
★★★★★
"Basya is most impressive. She has an excellent work ethic and worked above and beyond my expectations. I was completely satisfied and recommend her as an agent." - Jason Rosenblatt
★★★★★
"I have used Basya with many houses and I am thrilled with the level of customer service and professionalism. She cares about the client and not about the sale. I highly recommend using her as an agent." - FE Goldberg

About Basya
A vibrant member of Southern California's real estate industry, Basya is well known for her positive approach to tackling every prospective deal, from the quaint starter-homes & investment properties to the elegant sprawling estates of Los Angeles. Her core focus includes the Hancock Park & Westside neighborhoods. With an approachable personality, Basya is a proud agent of Compass who makes herself available to her clients as if they were family. "My perspective on homeownership in today's real estate market is to bring out my clients' driving forces behind their home purchase," Basya says, "and ensure that all those needs & plans are recognized & incorporated into their home buying experience". Whether representing young couples, a growing family, or even retirees, Basya is no stranger to the art of effective negotiation. Her gift for design coupled with her passion for homes is evident in her ability to get her clients not only the best deal but a property they can immediately be proud of. Her tireless effort to make your purchase or sale of a home a smooth and seamless experience truly shines as Basya navigates the real estate market for you. When she's not dabbling in real estate, Basya dedicates her time to her husband & children, as well as to the many guests she hosts with finesse. With the proper market-based guidance and unwavering support, Basya provides, her expertise is unparalleled. Investing in your piece of the American dream & becoming a homeowner boils down to the professional representation you implore to get the job done. Basya is your agent; period.
Spotlight
Just Listed! 609 S Citrus Ave | Hancock Park Spanish | 3 BD + Office 2 BA | 1,895 SF | Offered at $1,799,000
Offered at $1,799,000
Charming Spanish with contemporary appeal & alluring backyard situated on tree-lined Citrus Ave. This 3 BD + office 2 BA home is a breath of fresh air with a light-filled fluid floor plan, high ceilings with molding, & hardwood floors throughout. The living room offers a fireplace, large windows, arched doorways, access to formal dining, & a sunroom currently used as a home office/guest bedroom. The white kitchen with stainless steel appliances & large double doors leads to the adorable, sprawling backyard with an outdoor kitchen & separate garage. The master suite provides a walk-in closet, en-suite bath (double vanity + shower) built-in desk, & green views with access to the outdoor living space. The other 2 bedrooms are spacious with lots of closet space & high ceilings. The two updated bathrooms bear tiled floors & glass shower doors. A laundry space conveniently located in the bedroom area has built-in washer/dryer & storage shelves. View this endearing, spacious home in a prime location with tons of character & functional outdoor living! TENANT OCCUPIED - contact agent for details. First showings Sunday open 1-4.
Spotlight
Just Sold OFF MARKET! 340 N Vista St | Miracle Mile | 3 BD 2 BA | 2,000 SF | Guesthouse | Represented Seller | Sold at $1,850,000.
With a little extra effort we were able to find this fabulous off-market home in the perfect location with a large lot, guesthouse, & plenty of living space.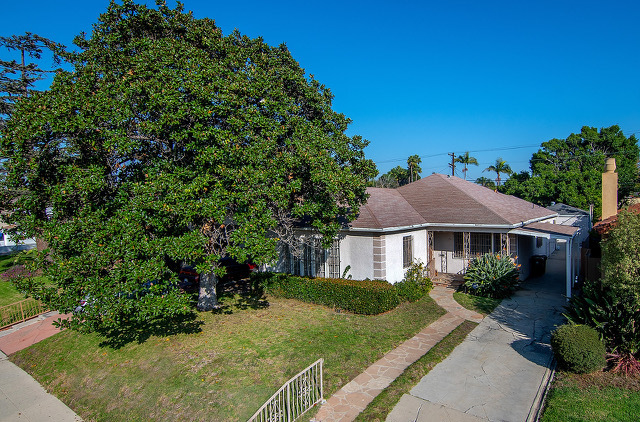 Spotlight
SOLD over asking w multiple offers! $2,560,000 107 N Poinsettia Pl | Miracle Mile Spanish Fixer In Escrow | 5 BD 2.5 BA | 3,110 SF | 2 Car Garage
Offered at $2,495,000

Grand Spanish fixer in prime Miracle Mile offering a unique opportunity for remodel or move-in. The front exterior features a cobblestone courtyard leading to the front door - opening to an awe-inspiring circular stonework staircase & Mediterranean tile floors. On the first floor is a sizable living room w fireplace, large windows providing tons of natural light, 1 bedroom/office, half bath, large kitchen, & door leading to a large backyard. The center floor plan w a step-down living room & dining room offer plenty of character w rich hardwood floors & moldings. The spacious kitchen has tile floor, warm-toned wood cabinetry & a side breakfast area. Upstairs there are 4 bedrooms + an office plenty of closet space, a large full bath, a shared Jack & Jill bath. The Master bedroom offers wide closets & private balcony. Other features include laundry room w lots of storage, central A/C + heat, & expansive yard w 2 car garage. Come view this unique opportunity within walking distance to Pan Pacific Park, The Grove & places of worship. Property is tenant-occupied - do not disturb tenants. First showings on Tues, 11/2/21 from 11AM - 1PM.
Spotlight
Just Sold! | 8110 Willow Glen Rd. | Los Angeles | 2 bed 2 bath | 1,474 sq ft. | Sold 11% above asking | $1,115,000
Stylish mid-century 2-story fixer, surrounded by nature in the hills of Laurel Canyon, providing tons of character & just minutes away from the excitement of WEHO + the magnificent trails of Mulholland. Enter through the unique living room which is filled with skylights, hardwood floors, a stone wall, & a stunning fireplace with wood cladding. The kitchen is tucked away behind the fireplace & offers a sizable area for dining with access to the rear outdoor living. Down the hall are the 2 bedrooms & 2 bathrooms. The primary bedroom offers an en-suite bath & walk-in closet. The 2nd bedroom provides access to the common area bathroom & the backside of the property. Featured on the ground floor is a 2 car garage & separate area for storage or a remodel. This Laurel Canyon property can be your canvas for creating the life you deserve amongst the Hills of Hollywood.
Basya Gradon's Listings
Listed By Compass
Active Under Contract