Cassie D'Agata Fallon
Licensed Real Estate Salesperson | Licensed as Catherine D'Agata
About Cassie
A career in real estate was inevitable for Cassie D'Agata Fallon. From buying her first condominium in Washington, D.C. in 2002 to sitting on the board of her current Soho co-op, Cassie has gained practical experience buying, renovating and selling properties. Her passion for real estate grew from her own experiences, and has evolved into a career she truly loves. Through her coursework at Parsons School for Design and a background in interior design, Cassie is able to present her clients' properties in the best possible light, whether renting or selling. She is also thrilled to help home-seekers find the building and neighborhood that best suit their needs, as well as visualize the potential of a new space to become their dream home.
Originally from the D.C. area, Cassie graduated from the University of Virginia and began her professional career in Management Consulting. Through 10 years as a project manager, she gained customer-facing experience managing the design and delivery of innovative business solutions for her clients. Cassie serves her real estate clients with the same focus on detail and organization through customized home searches and property sale marketing plans so they receive the full attention and results they deserve.
Besides her work, Cassie also enjoys experiencing all New York has to offer – from culture and music to community activism. She is currently part of a mentorship program donating time guiding a high school student in preparation for college.
Testimonials
★★★★★
"Cassie is an amazing Real Estate professional. She spent a lot of time with me guiding me through the end to end selling process and gave me piece of mind throughout the whole process. Cassie is very hard working, personable and wants the best for her clients - she is quick to respond to questions and to follow-up with other parties and she always kept me updated on the process. Her expertise on how to stage my apartment and insight and knowledge of similar apartment sales in the area ensured I received the asking price for my apartment. I highly recommend Cassie and will be using her for any future real estate transactions." - Anna B., Seller

★★★★★
"Cassie is amazing! Cassie landed great tenants for my Williamsburg condo in record time, within the week, as I was moving back to California. Five years later, these same tenants offered to buy the unit. While managing a condo sale across the country could be very stressful, I felt secure knowing that Cassie was taking care of all of this. She is communicative, attentive, thorough and authentic. Highly recommended!" - Sean R., Seller

★★★★★
"Cassie is an extremely skilled and knowledgeable real estate agent. She exceeded my expectations and I could not have asked for a better agent to guide me through the sale process. I would absolutely recommend her to anyone looking to sell or buy an apartment in NYC." - Robert B.

★★★★★
"I've now worked with Cassie for both a purchase and a sale. For selling, she helped maximize our return through marketing, staging, contacts, and negotiation help throughout the process. For buying, she helped identify exactly what I was looking for and then guiding me through the buying process, including negotiations, board interviews, pro's and con's of the building, location, apartment, etc. to better help me make the right decision for me. She was never pushy, only helped me better understand the process I was going through." - Matthew R.

★★★★★
""I can't say enough about how highly i recommend using Cassie as your real estate broker. When I put my condo on the market I had probably close to 300+ brokers contact me. Cassie stood out because she had a clear game plan for how to sell my condo and outlined her plan for the month. She also gave me direct feedback, about needing to paint it and stage it that was invaluable and something i needed to hear because i didn't want to originally. She also had tons of furniture and accessories that she used to help me stage. When we were done my condo looked better than it did in the 9.5 years i owned it. Needless to say we received 5 offers in 9 days and it went over ask. She was a patient, clear, and calm negotiator which helped too. In my experience, you don't want someone pushy who will promise things without anything to back it up. So many brokers told me they could get more than i was asking or more than other brokers but never told me how. Cassie had a plan and when executed it worked very well for selling my condo." - Brett K.

★★★★★
""Cassie has represented me for both buy and sell transactions in popular Manhattan neighborhoods, both downtown and uptown. She personally distinguished herself by clearly understanding my goals, making value added suggestions, proactively, persistently, and patiently following up on my behalf. She provided a very creative solution to finding a "hard to find" property in a high demand neighborhood to fit my budget. I consider myself a very discriminating "client" and I feel very assured putting myself in Cassie's hands in all aspects of real estate transactions in New York City." - Joe C.

★★★★★
"Cassie was incredible from start to finish! She not only had a comprehensive and impressive knowledge of the market but she also has an eye for beautiful staging. Whether for the pictures or the open houses, she worked tirelessly to bring out the best in our apartment. Cassie is communicative, hard working, available, thoughtful, thorough, detail oriented, and a pleasure to work with. She our apartment quickly and for a great price and we feel incredibly lucky to have had her on our team. She made an intimidating process completely painless and we couldn't recommend her more highly!" - Anna K.
Spotlight
14 Harrison St, Unit 5/6
Rare opportunity to buy a Pre-war Tribeca - two story penthouse loft, with around ~ 4500 interior sqft, roof rights, 18 foot ceiling with skylight, mezzanine, 3 beds, 2 baths, artists studio, keyed elevator, storage and very low monthlies. The rich and awe-inspiring penthouse at 14 Harrison Street -- the longtime home of world-renowned playwright Edward Albee -- is ready for a new owner to continue its impressive story. Immediately upon entering this dramatic space, one is transported back to the origins of Tribeca loft-living, with massive spaces, exposed brick and, in this case, double-height ceilings. This provides a blank canvas for your vision. Currently configured as a 2-bedroom, 2-bathroom home with 3 exposures, the possibilities are endless. A sweeping 35-foot wide living and dining area makes this loft extremely conducive for both living, creating, and entertaining. The atelier skylight nearly 18 feet above the main floor floods the home with natural light throughout the day. On the main level, there is a generous separate kitchen, bedroom suite with sitting room and full bathroom. Upstairs, one finds another bedroom suite with full bathroom, a separate den, and a studio space with direct elevator access. This loft with extremely low monthly maintenance is one of only a few downtown spaces like this which remain, where one can create or house large-scale works of art and be able to admire them in such a spacious surrounding. Located on a quiet cobblestone Tribeca block, this loft is the real thing.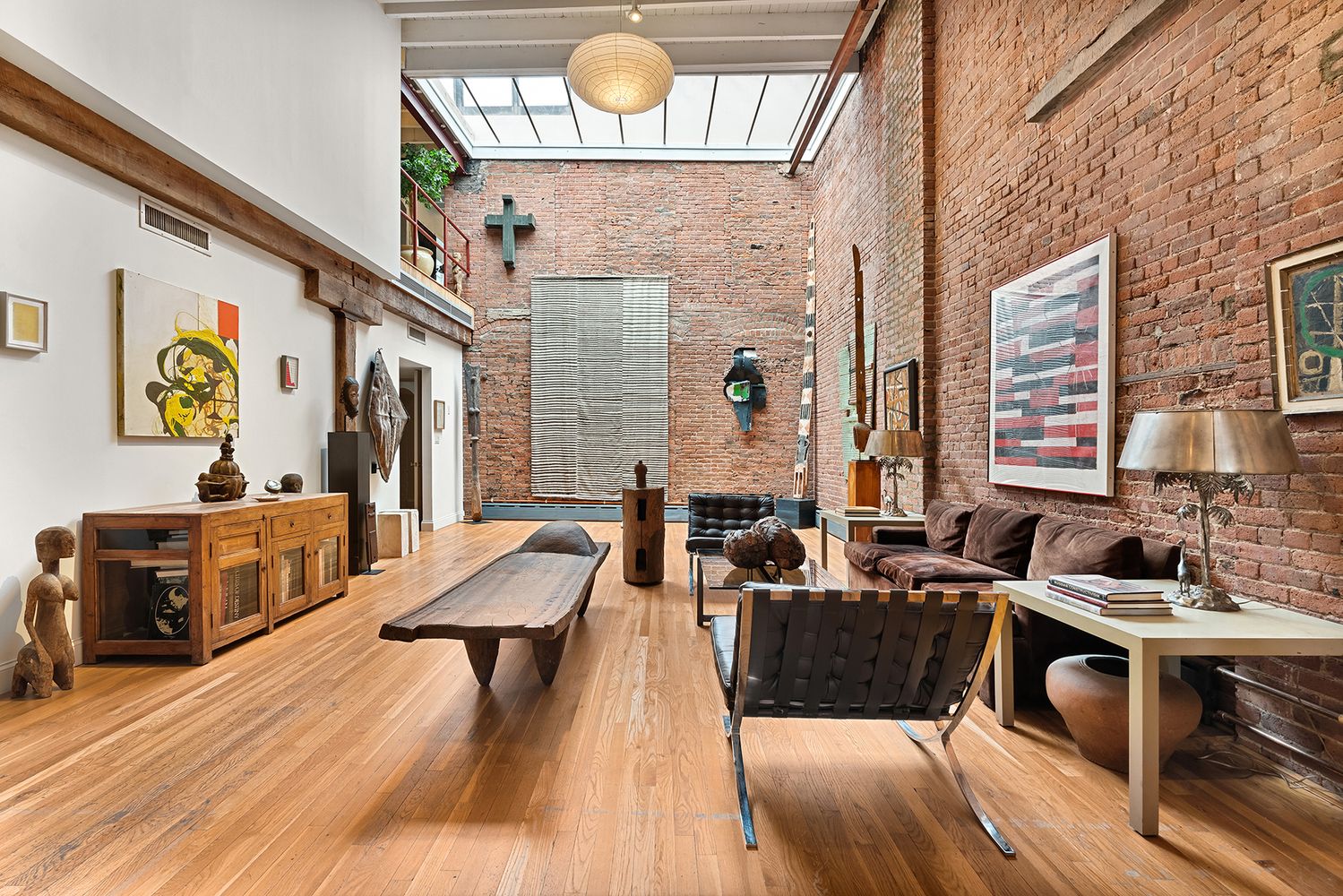 Cassie D'Agata Fallon's Listings