Experience
Awards
Named Best Residential Real Estate in Dallas D Magazine
D Best Real Estate Agent
D Magazine Real Estate Top Producer
Advocate Top Realtor
Dallas Real Producer Top 500 List
Ranked Texas' 26th Small Team Volume REAL Trends + Tom Ferry - The Thousand
Specialties
Buyer's Agent, Agent
Education
Texas Tech University - Advertising and
Client Testimonials
Scroll down for more
★★★★★
"She made the process seamless and easy. She cared about what we specifically wanted and had our backs the entire way. She made sure to only show us properties she knew were right for us and led us to a swift, effective offer on the home we loved. I would recommend her to anyone I know." - Alan

★★★★★
"Catherine was the best!!! She helped my husband and I find exactly what we were looking for. As first time homebuyers, we would have been lost without her guidance. She truly cares about her clients and I would def recommend her to my friends and family. Thank you, Catherine!" - Amy

★★★★★
"Catherine was such a help to my wife and I. We found the perfect new home just around the corner from our house. Catherine helped push everything to close in very short order, making sure every i was dotted and t was crossed. We have referred Catherine to several friends and colleagues for successful home purchases in the past and will continue to do so down the road." - Andrew

★★★★★
"Catherine and I worked with a wonderful client together and she was great with her communication, she set the proper expectations, and ensured a smooth closing. She's wonderful to work with!" - David

★★★★★
"Catherine was a HUGE help in finding my first apartment in Dallas! Since I was looking in the uptown area places were moving quick and she was always sending me up to date listings that were exactly what I was looking for! She was always available to answer any questions and drive around town with me looking at apartments! I couldn't have found a better place!" - Emily

​​
About Catherine
Catherine Blevens is a marathon runner.  
If you think she's not competitive, think again.  
What does that mean for her clients? She doesn't lose.   
If she's selling your house, she'll do everything possible to bring you the best buyer and the best price. If she's helping you find a home, consider it found. Negotiations? Forget about it. You're so well taken care of, you'll ask her to adopt you. And she's been doing this for a minute so there's nothing she hasn't seen before.   
See, that's the thing, when you buy and sell a house, no matter how well versed you are, things come up. And those are the things that Catherine won't just help you navigate, she'll anticipate.  
Before she became a Realtor, Catherine spent almost a decade in advertising helping some of the biggest brands find their audience and sell themselves. If you're wondering how that translates to real estate, the answer is very well. She has a literal lifetime of creative solutions to draw from that not only sell houses but help find them as well. And she's relentless. Where some Realtors might toss in the towel, Catherine says, "let's do this."   
She knows new builds, demos and renovations, too. She has an impeccable eye for design and if you can't see the vision, don't worry, she can.   
Because of her incredible talents and undeniable expertise, Catherine stays busy. But she's one of those rare Realtors that always makes you feel like you're her only client. She takes time to get to know you and your needs. She checks in and checks up and will never leave you wondering how it's going.   
It's easy to say you're good at what you do, but Catherine has the awards to prove it. From institutions, sure, but also from her peers. She's well respected in the industry and also very well connected.
Give Catherine a call. Before you know it, you'll have a new agent and a new friend. 
Spotlight
227 Barnes Bridge Rd
Set on 11 uninterrupted acres in the charming community of Sunnyvale, you'll find a generous home with the space you've been craving. Both inside and out.

We've entered a new era and along with it comes new needs. Gone are the days of the formal dining room, but a home office? Well, that's more important than ever. As we spend more time working remotely and living virtually, commutes are no longer an issue. (Though even if they were, this estate is a mere 15 minutes from downtown Dallas.)

Instead, we need a place to breathe, host our closest friends and family and feel like we're away from it all without straying too far.

Within the four walls you call home, you'll sacrifice nothing. Soaring ceilings are a given in a home of this stature. Gracious rooms and an abundance of natural light are also a given. But everywhere you glance at 227 Barnes Bridge Road, master craftsmanship is apparent.

Let's start with the foyer. The sweeping staircase set to the left makes all the right statements. The carved wooden accents around the custom steel doors add a warmth that ensures this will be your home for years to come.

Step into the main living with the open kitchen and it's easy to see how this house would be the house for holiday get-togethers and gatherings. A place where everyone is welcome and parties dwindle but they never really end.

Ample counterspace and an oversized breakfast bar add to the casual elegance of Barnes Bridge and the low maintenance travertine flooring is perfect for anyone that runs a tidy ship. The Master bedroom suite is a welcome retreats after a long day – or any day, really. Put your phone on silent and enjoy the marble encased bathtub and oversized shower. And if closet space is something you are currently lacking, you'll be pleased with not only one closet, but two, both big enough to be considered additional rooms.

If you need a space to read, relax or get to business, the downstairs bonus room is large with wraparound windows that overlook the treetops. Not to mention the built-in bookcase and stairstep ceiling. It's big enough to host a conference or a conference call. And when it's time for a midday stretch, step out on the expansive wrought-iron railed balcony that mimics the porch below. Both covered, both private. Though with 11 acres all to yourself, there's not a neighbor in sight.

Rounding out the 5,501 square foot, two story home are an additional four bedrooms for a total of five. There are also five bathrooms and one powder room. When it's your night to host movie night or game day, settle into the media room and cheer as loud as you'd like…

Exceptional living on an exceptional property, 227 Barnes Bridge is the upgrade you've been looking for. It's a home that's purpose is as flexible as you are. Host friends, raise a family or be the empty nesters that call them all home.

This one of a kind living is offered at $1.35 million by Catherine Blevens of the BBR Group within Compass Real Estate. Appointments are available via ShowingTime.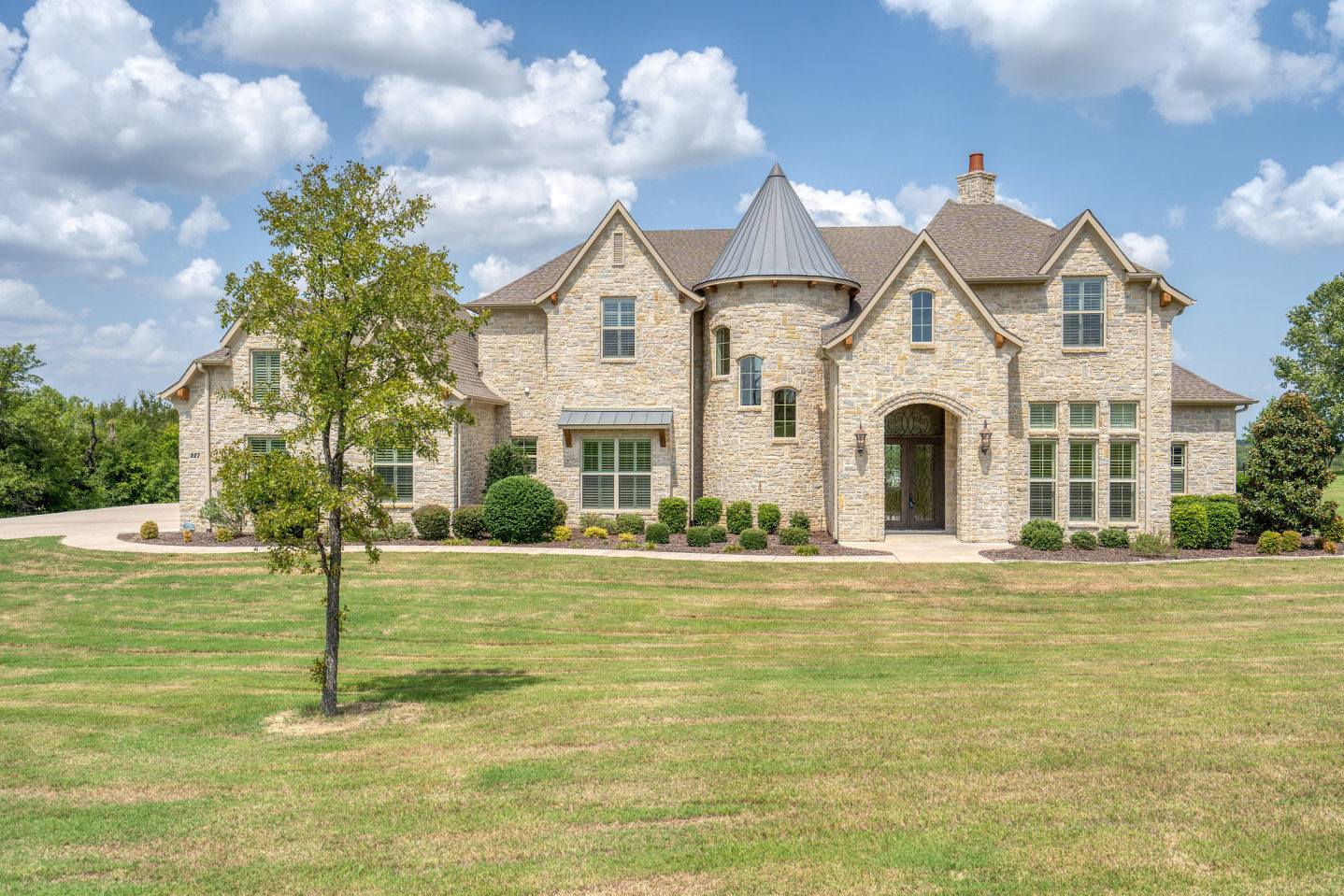 Catherine Blevens' Listings