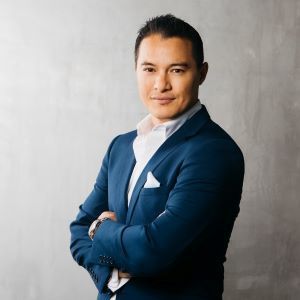 Jourdan Khoo
Director, Estates Division | Aaron Kirman Group | Jourdan Khoo Group | DRE 01943027
About Jourdan
#1 In LA | Over $14 Billion Sold | On CNBC Listing Impossible
INTEGRITY | COMMITMENT | SOLD.

These three words represent the heart and soul of the Jourdan Khoo Group (JKG).

OUR agents are specialized and committed to helping you buy or sell your home with the highest level expertise in Los Angeles, Orange & San Diego counties. This also means helping you understand each step of the buying or selling process in great detail... because details build foundations for EXCELLENCE.

A true professional, Jourdan works on both residential and commercial real estate transactions.

Jourdan's clientele ranges from ultra high net worth individuals, professional athletes & entertainers, to first time home buyers. He prides himself on delivering the highest level of integrity, commitment, creativity and attention to detail for ALL his client's real estate transactions.

An esteemed entrepreneur, developer, real estate sales professional, entertainer and athlete, Jourdan offers clients an uncompromising and enthusiastic work ethic backed by comprehensive experience and education.

As a student-athlete at the University of Western Australia (UWA), Jourdan played for the UWA Basketball Team in his freshman year. He was also elected Student Guild Councillor for 2 years straight and elected National Union of Students state delegate. He graduated with a Bachelor of Commerce degree, double major in Accounting and Finance with minors in International Marketing and Entrepreneurship. Jourdan also holds a postgraduate certification as a Certified Practicing Accountant with CPA Australia.

Jourdan quickly excelled in his professional career, holding senior Accounting and Finance positions for multinational powerhouses such as Goldman Sachs, Rio Tinto and BHP Billiton.

Since launching his real estate career, Jourdan has worked at top brokerages Hilton & Hyland and Douglas Elliman. His athletic and professional experiences reinforce his stellar work ethic and drive for success. His strong financial and analytical skills keep him on the pulse of market trends and valuations, enabling him to deliver insights and exceptional personal service for EVERY client.

Jourdan has access to a wide variety of resources and off-market connections that give his clients a definitive edge. His testimonials and accolades reflect his professionalism and utmost commitment to facilitating and protecting his client's interests.

In 2020, Jourdan Khoo Group ranked Top 10% Producer of Aaron Kirman Group Total Sales = $726,000,000 
In 2020, Jourdan was named in the exclusive "Real Estate ALL-STAR" list for LA Magazine. 
In 2019, Jourdan was awarded the prestigious "Ellie's Gold Award" (Top 8% of Agents).
Jourdan has also been featured on hit TV shows such as Bravo's Million Dollar Listings Los Angeles. His creative & entrepreneurial experience in real estate development, fix 'n' flips, investment and design adds an even deeper layer to his real estate acumen. He has bought and sold property in the USA and Australia and loves the excitement of real estate, particularly the Southern California Luxury Market.
Jourdan personally invests in real estate as an investment vehicle. So whether it's your primary residence, commercial property, renovating to sell or lease & hold, Jourdan's eye is constantly on development-renovation design styles, market trends and financing options. His goal for you is the same as it would be for himself. From utilizing the latest marketing techniques to unparalleled customer service, the focus is on every detail!
In strategic partnership with the Aaron Kirman Group (AKG), led by Aaron Kirman who has consistently been named as one of the top agents in the world, AKG is the #1 Compass Team in America and #1 Group in Los Angeles with over $8 Billion in sales. AKG also leads the hit CNBC show "Listing Impossible".
Contact Jourdan for a strategic market consultation, and see how his unique & diversified approach will HELP you buy or sell your next home!
Client Testimonials
Scroll down for more
★★★★★ "I do not even know where to begin when writing about how WONDERFUL Jourdan has been to work with. He has taken such an overwhelming experience of being a first time homebuyer and made the process easy and seamless while keeping my husband and I informed every step of the way. Not a moment passed from beginning to end where we weren't reassured that he had our best interests in mind. He is extremely professional and approachable. He is incredibly knowledgeable but able to explain everything in Laymen's terms so you understand exactly what is going on. Overall he helped us buy the house of our dreams for a price that was well beyond our expectations! Simply put he is AMAZING and absolutely gifted at what he does. We can not thank him enough for what he has done our family! :) "- L. Welker 

★★★★★ "Jourdan got me over 20k higher than my asking price. THANK YOU! We hade a difficult time with old neighbours complaining to the HOA during the process trying to interfere with the sale but Jourdan helped iron out all the problems. We finished the sale with i believe the record sales price for the 1000+ unit development! "- J. Stolpe 

★★★★★ "Jourdan spent the time necessary with us, explained things to us, and guided us along every step of the way during the purchase of our first house. We are beyond thankful for all his help, and consider him a newfound family friend. We would gladly recommend him to future homeowners. "- N. Khodai 

★★★★★ "After looking at countless properties , We finally found our perfect home. Jourdan Lee did a superb job from the start to the end. His attention to every detail during inspections through closing was fantastic. Very thorough and diligent throughout the entire process. I'll be sure to use Jourdan Lee again for any of my real estate needs. "- Tony and Pam

★★★★★ "Before he became my realtor, I was actually friends with Jourdan Lee Khoo through my social network for 3 years. I had noted and admired how business-savvy he was and how he carried himself like a professional. This was just in social settings. However, with that said my initial impression didn't even prepare for how professional, organized, and knowledgeable he is once I got serious about buying a home for myself and my two dogs, and contacted him to be my agent. It may be worth mentioning as a starting point that I am/was a first time home buyer with little knowledge of all that goes into purchasing a home. I knew about interest rates, mortgages, location location location, but in my mind the process would be not so different than a retail transaction. I had no idea about the number of inspections (and obviously these protect the buyer), buying contingencies, etc. that line the process. Jourdan masterfully explained the entire process once I'd settled on my house and wanted to make an offer, and did an equally masterful job of keeping me up to date on where exactly where we were in the process from there on, step by step ; what has been done, and what was yet to come. This helped keep my nerves at ease as well as allowed me to stay focused on the other things going on in my life such as my career. I was seeking a purchase not just for the benefits of home ownership, but to provide my two large dogs a place to live permanently without someone else's rules and regulations dictating our lives. Furthermore, I make a fine living but am not rich, and am a sole buyer on my own. In terms of keeping my nerves at ease, There were definitely some ups and downs in my purchase process, most certainly the fault of the sellers; both in general and specifically in terms not being particularly organized or schedule oriented, and on one occasion possibly demonstrating a bit of bad faith. Jourdan simultaneously kept my feelings of anxiety at bay while masterfully acting as consumer advocate for me. Ensuring I got the house as agreed upon (with repair credits). I've now since moved in about 2 and half months ago and while I have been busy working and doing things to make the place my own I have absolutely been enjoying the perks of ownership and my own place. I foresee a handful of great years ahead of me in this house and without Jourdan's professional care I may have not made it here. I'd definitely work with him again and recommend you do as well if you're in the market. "- M. Goulis 

★★★★★ "We had great experience working with Jourdan from the beginning to end of the transaction. He was very knowledgeable and walk us through every step of the way. Any questions we had he was always available for us. We will use Jourdan again for any of our feature real estate needs. Thank you "- P. Schalin 

★★★★★ "Jourdan made my first-time home buying experience pleasant and navigable. He guided me through all processes and paperwork in a sensitive, patient and professional manner that afforded me unreserved questions and concerns providing me with comfort in an otherwise stressful buying experience. I was particularly impressed with his timely responsiveness - he kept close communication throughout. I've found my realtor for life. "- T. DiPalma 

★★★★★ "Jourdan works with people to make things happen. He's realistic about circumstance and that gets results. He sold my home in 6 months and i am happy with the result. He made a difficult situation easy. He made sure to show every potential buyer the home. He was truly eager to sell the home without forcing me to go down on my price too much. "- K. Kay 

★★★★★ "Jourdan was great. We didnt end up buying due to timing of the purchase, however throughout the entire search, analysis and extended short sale process he was knowledgeable and informative, while being low pressure. He went out of his way to provide all the required research and information we requested and then when the deal was finally off the table he was completely understanding. "- S. Vanderkaap

★★★★★ " Absolutely delighted with the way Jourdan Khoo and Joey Bachrach handled the sale of my house from start to finish. I was out of the country but felt like I had a full concierge service. They were fully accessible and attentive always, despite the time difference. Starting with arranging staging, great photographs and marketing materials, coordinating repairs, all the way to final negotiations, they alleviated all the stress normally associated with selling a house and provided me with an exceptional and professional service. "- B. Duffy

★★★★★ " This was my first home purchase and Jourdan guided me through the whole thing and was there for me at every step! Extremely knowledgeable and made sure I understood what was happening and spent so much time with me whenever I had questions or concerns. He truly wants what is best for his clients and is one of the most honest, hard-working people I know. Highly recommend Jourdan - I couldn't have done this without him! "- N. Hay
Jourdan Khoo's Listings
Listed By Compass
Active Under Contract
VIRTUAL TOUR