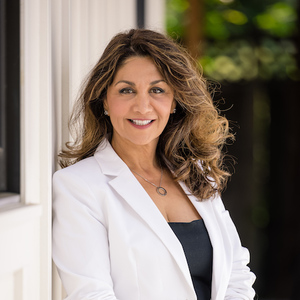 Julie Hadidi
Realtor® | DRE# 01955868
Social Media
Education
Golden Gate University
Master's in Marketing
San Jose State University
Bachelor's in Business Administration
Long Beach State University
Bachelor's in Business Information Systems
Client Testimonials
Scroll down for more
★★★★★
Julie delivered 100% exceptional service through out the entirety of BOTH my home buying and home selling experience. She is incredibly responsive, wise and is in your corner to create the best scenario for you! She definitely created best scenario for my situation! She knows what do do to increase the value of your home if you are the seller. She knows what how to get best price if you are a buyer! If I had gone with an out of town agent, there is NO WAY I would have gained the price I did for my condo. In tune with the changing market, Julie personally reached out to a likely buyer who would ultimately give me top dollar for my condo in a changing market. I'm incredibly grateful for her clear explanations, insight, ability to navigate changing markets. I'm also sincerely thankful for who she is as a person. By the end of your purchase or sale with her, you will have found more than an agent. You will have found a friend. Someone you can trust. Someone who will be there to help you. My strongest and highest recommendation goes out to Julie! -Jonathan

★★★★★
"Julie made securing our forever home stress-free! She helped us close our house from out of state. Julie was excellent throughout the process -- working with our schedules to ensure that we could tour our home virtually and physically and helping to guide and negotiate the offer. Her connections with contractors and local companies also allowed us to ensure that we were making informed decisions before we made our offer. We are fortunate that we found a trustworthy realtor who provided a low-stress process. Following our great experience, we now confidently recommend Julie to friends and family looking to buy in the area. It was truly a pleasure working with Julie. Thank you, Julie!" - Sanmi K.

★★★★★
"Julie was a wonderful agent, she was so helpful, knowledgeable, and a pleasure to work with, especially as a first-time buyer. I would highly recommend her!"" - Maysa

★★★★★
"Julie is elegant and professional. Never pushy, very responsive. Pleasant, polite, knowledgeable and prepared. I enjoyed working with her and highly recommend her." - Reema

★★★★★
"Julie was extremely helpful in my journey to find and buy a new home. I had very specific requirements and I always felt that she kept good track of them, in fact, sometimes reminding me of the things I forgot. I never felt pushed, which was one of my biggest fears starting the real estate search." - Slave G.

★★★★★
"Julie was really helpful. My search took a few months. She was very patient and continued to provide useful options. She was always available to accommodate my schedule. I would certainly use her again" - Steve W.

★★★★★
"Julie was wonderful to work with. As first time buyers, she was very patient with us and took us through a lot of details of the home buying process. She was super responsive through the process and tried very hard to get us the best price for our gorgeous new home. Highly recommend her as your partner to find your dream home!" - Aditi J.

★★★★★
"Julie was wonderful to work with! Prompt, excellent communicator and highly skilled with negotiation. I felt VERY SAFE in the buying process with her. In fact, were it not for Julie, I wouldn't be sitting in my beautiful condo today! Her expertise within the local San Jose area clearly gave me the competitive advantage to secure my home. Thanks Julie!" - Matt J.

★★★★★
"Julie was amazing in supporting us through the entire home-buying process. My partner and I just bought our first home and we couldn't have done it without Julie's incredible patience and guidance.

We worked with Julie over eight months, during which time, she went with us to visit property after property at all hours of the day. She's even made time to visit the same property multiple times in a single day (including on Super Bowl Sunday!). She helped make sure we had a good understanding of the breadth and timings of the market, really took the time to get to know us and our home needs, and was super-patient with us as we narrowed in and finally found the "one" property that we were excited to make an offer on. Even with the craziness of the local bay area peninsula housing market, we were able to get the home we wanted in a location and at a price point we were happy with on our first try.

We really appreciate everything Julie has done and continues to do for us. I know her other clients will be lucky to work with her, and I fully plan on recommending to her to any of my friends if and when they are looking to buy a home themselves." - Appoorva R.

★★★★★
"We had to buy a home in Palo Alto, and Julie was an expert at guiding us through the process. She was always highly responsive and available. Her knowledge of the real estate landscape and experience with similar transactions was very useful to us. Because we bought a home requiring considerable renovation, her contractor recommendations were invaluable. She also facilitated meeting and vetting contractors, and helped us rent out our previous home - all of this was above and beyond her required duties as our agent. Julie successfully negotiated a price $100k below asking for a home in Palo Alto. Because of her efforts, we now own our forever home and our children can attend the Palo Alto school district. We are so grateful for her services." - Anica J.

★★★★★
"A true professional who will bend backwards to address your needs. She believes in excellence in all aspects of her life and her work. I believe she will try her utmost to make any transaction go as smoothly as possible without skimping on any details. She is a tireless worker and also fun to be working with." - Mariam

★★★★★
"Julie is professional, hardworking and honest. She makes the experience a lot less stressful and is quite flexible working with client's busy calendar. Her delightful personality is an additional bonus." - Roshiet

★★★★★
"Julie listed our condo for sale. Because of her Bay Area real estate knowledge and advice on when to list, how to market, dealing with offers, and other valuable input, we maximized our gain. We had multiple offers. She took care of everything (coordinating with the staging company, handyman, etc.). We didn't have to do anything. On top of it, she gracefully handled a very unprofessional buying agent from beginning to the end. I highly recommend her." - Marjan

★★★★★
"Julie has helped us buy and sell our home. Only word to describe her is, FANTASTIC. She is hard working, caring, responsive, communicative and supportive. She is super transparent with her strategy so you never feel surprised or caught off guard. She helps and hand holds you through the process!" - Roshie

★★★★★
"Our family really loved working with Julie. Very personable and easy going and made the buying process very easy. Always available for our questions and quickly tracks down answers. Would highly recommend." - Melissa
About Julie
Julie is a real estate professional with over twenty years of experience in customer relations, marketing, communications, statistical analysis, project management, and advertising in a variety of industries including real estate, software, biomedical, and semiconductors. Her love for people and passion for living spaces, design, and creativity led her to her career in real estate. Julie truly enjoys people and loves making their home dreams come true.
Julie's clients always come first and her goal is to make their buying and selling experience simple, seamless, and enjoyable with the best possible price!! Being a local resident of Palo Alto, Menlo Park, and Los Gatos for the past 30 years makes her a bay area residential expert.
She holds a Bachelor of Science in Business and an MBA. Member of California Associate of Realtors since 2014.
She joined Compass in 2019 in an effort to offer her clients the numerous customer programs they have created including Bridge Loans and Compass Concierge, a program designed to prepare your home for the market! She will work together with you to assess opportunities to elevate your home's value and cover the upfront costs associated with improvements & house preparation services. Please contact her if you have any questions about your home value, market stats, or any of the compass programs. She would be happy to talk with you and help with any real estate needs.