Kristin Ehrgott
Broker Salesperson
Education
Drexel University - BS, Photography, Business Marketing
Client Testimonials
Scroll down for more
​ ★★★★★
"Kristin was incredibly patient with us as first time home buyers. She helped us look at a variety of homes, and made the home buying process very easy. A bonus - she has tons of awesome referrals for everything you need after you buy a home! "

★★★★★
"Kristin is a very professional, knowledgable, and patient real estate agent. I was unsure of what I was specifically looking for in the Hoboken area: large sized condo, brownstone, townhouse, etc. Kristin showed me a vast sample of all types of homes available and was always responsive to my questions and requests to see certain properties. I highly recommend Kristin. "

★★★★★
"Kristin was really helpful during my first purchase in jersey city. She knows the area extremely well and negotiated extremely well on my behalf. Would definitely recommend her especially for the jersey city / Hoboken area. "

★★★★★
"We interviewed nearly a dozen regional brokers, and Kristin's offering stood out amongst some very talented brokerage teams. Kristin frequently transacts in the higher-end luxury market on the Gold Coast; Her experience, competency, and creativity in curating a listing that very clearly conveyed the tremendous value proposition our home offered was critical to maximizing value. Kristin spent the requisite time building an entire brand around our unique offering; This 'branding' included bringing in a renowned interior designer to stage our home and leveraging multiple greater Manhattan media contacts via a calculated exposure strategy. She attended every showing personally, ensuring that our home's value was optimally communicated to all prospective buyers. In the end, Kristin was instrumental in generating numerous offers and putting our home under contract at a record price for the building (both in absolute price and price per square foot). All of the offers and the final contract price exceeded the price which many brokers recommended we initially list at. In a world where real estate offerings and brokerage services are becoming increasingly commoditized, Kristin has successfully built her business by leveraging her distinct ability to concisely articulate each property's unique offerings. She worked with us and listened intently as our needs and views evolved throughout the listing process. We will use Kristin for our future real estate transactions and HIGHLY recommend that all prospective buyers/sellers sit down with her to discuss their real estate needs! "

★★★★★
"Kristen showed us various homes in Jersey City and really took the time to understand our needs. She is extremely professional, understands the rhood well and was a pleasure to work with. She spent a lot of time after our work hours driving us from property to property and was never pushy about any place. We ended up not buying at the end of the process, but will definitely be recommending her to our friends and family given the positive experience we had. "


​
About Kristin
With 12 years of real estate experience, Kristin Ehrgott brings a wealth of property knowledge and refined negotiation skills to the table as well as a keen eye for architecture and design. Licensed in both New Jersey and New York, Kristin employs a team of agents and specialists to service her clients' real estate needs around the world; from buying your dream home to leasing your seasonal second home or purchasing an income-producing multi-family to custom building and designing a home, her team includes not only agents, lenders and attorneys but also contractors, artisans and interior designers, a unique approach that sets Kristin apart. Known for setting a number of record breaking sales on luxury condos and townhomes in Hoboken and Jersey City, and selling her listings at an average of 99% of list price, Kristin has recently expanded her market area to include representing both buyers and sellers in complimentary affluent areas of Montclair, Summit, Ridgewood, Franklin Lakes and Chatham, New Jersey.
Before joining Compass, Kristin founded and operated a successful independent real estate brokerage firm with 20 agents specializing in luxury home sales. Prior to real estate, Kristin earned a Bachelors of Science in Photography and Business Marketing from Drexel University and found significant success as an advertising executive and public relations strategist where she developed close relationships with celebrities, professional athletes and corporate executives who now rely on Kristin for their real estate needs. Always on top of the latest real estate trends and market developments, she has cultivated valuable relationships with media outlets, developers, and property owners.
Kristin Ehrgott | Founding Broker, Compass New Jersey | Luxury Real Estate NJ



Spotlight
Compass Agents Achieve Unprecedented Sales on New Construction Condos
While many condo properties in the New York City area struggled to sell or had to settle on steep price cuts, Downtown Jersey City appeared to be pandemic-proof. One new development, in particular, is nearly sold out for record-breaking prices, but what's even more impressive is it did so during pre-construction with only floor plans, design specifications, and renderings; it didn't even list on Zillow or the MLS. Represented exclusively by real estate brokers Irene Barnaby and Kristin Ehrgott of Compass, Maxwell & Coles has only one home left, but there's another chance coming soon with the launch of 338 Newark Avenue.
Spotlight
House in Hoboken goes for $4.277M — so, yeah, the market is still hot
Earlier this month, a historical brownstone with a modern interior (and a pretty nice backyard) at 926 Hudson St. sold for $4.277 million — the second-highest home sale of the year in Hoboken and Hudson County. And it went fast. Kristin Ehrgott, who represented the buyers for Compass New Jersey, said the all-cash deal went from contract to close in three weeks. The four-story, 4,023-square-foot house features five bedrooms, four full bathrooms and two half-bathrooms. It also has two dining rooms, two kitchens, two living rooms — and three other rooms. The backyard has two patio areas and more grass area than you might expect.
Spotlight
Real interest: Compass' Kristin Ehrgott says COVID real estate frenzy may be over, but N.J. remains hot ticket for homebuyers
Kristin Ehrgott has been selling high-end homes in New Jersey for more than a decade. And she'll be the first to admit that the frenzy that overtook the market in the opening months of the COVID-19 pandemic — when people were so desperate to get out of New York City and into the suburbs that they were entering into bidding wars for properties they had never actually seen — is over.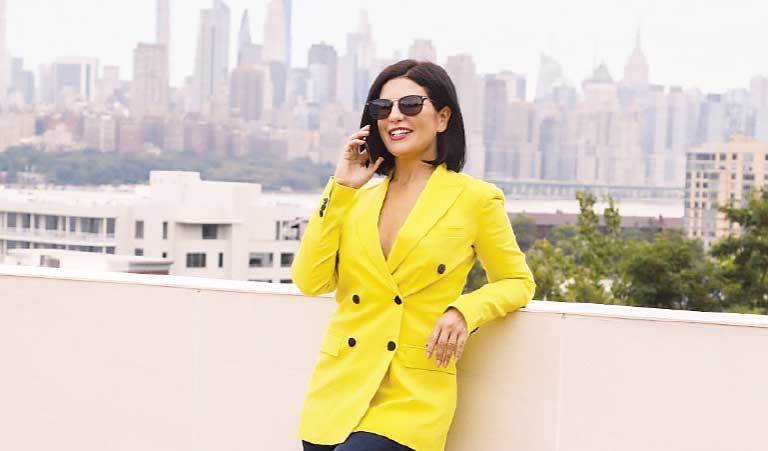 Kristin Ehrgott's Listings