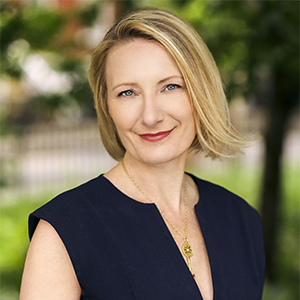 Laurie Gilmore
Licensed Associate Real Estate Broker | Licensed as Laurie Williams Gilmore
Awards
2016 Ranked in REAL Trends America's Best Real Estate Agents
Press
Keeping the House Post-Divorce Has Gotten More Affordable
Brick Underground: Weird NYC Co-Op Rules
Observer: Da Silvano Owner Bids Adieu to Restaurant and Apartment
Observer: Da Silvano Owner and Cartoonist List Their West Village Home
CBS Local: Laurie Gilmore Provides CBS Living Large's Emily Smith with VIP Tour of 25 Prince
Observer: Twenty-somethings Head Uptown, Seeking Early Retirement
Client Testimonials
Scroll down for more

"I worked with the extraordinary Laurie Gilmore first as a seller and then as a buyer of real estate in Manhattan. She is not only knowledgeable but diligently hard working on behalf of her clients. Her attention to detail is only enhanced by her flexibility. She is deeply sensitive to a client's needs during what can often be a fraught time. Her sense of humor is only a bonus in what she brings to any table she is at! " - Kate, Buyer/Seller

"Laurie Gilmore was absolutely the best broker to lead the sale of my longtime family home. Laurie's collaborative approach and in-depth understanding of the market allowed us to develop a comprehensive and very strategic sales plan. Laurie had a very clear vision of how best to prepare and position my apartment and quickly assembled a team of the best stagers and photographer to make this vision a reality for prospective buyers. Laurie's work ethic and commitment never ceased to amaze me. She is extremely ethical and has that rare ability to combine this with a talent for negotiation when closing time comes. This resulted in an above ask sale of my apartment in a buyers' market. I have already recommended Laurie to three of my friends since my successful sale, and can't wait for another opportunity to do so. " - Jo, Seller

"I was introduced to Laurie through my real estate attorney. Out of several real estate agents that I met with, Laurie was the only one who didn't automatically tell me I would have to price my apartment below the original purchase price in order to sell. Instead, Laurie had a thoughtful approach that was tailored to my specific situation and figured out how to make my apartment stand out in a crowded market. She always provided thorough explanations for any recommendations she made and never put pressure on me to do anything I wasn't comfortable with. Laurie also has great resources and a network of trusted partners, which made the process of getting my apartment ready for sale so much easier. Thanks to Laurie's hard work and dedication, my apartment sold in less than a month and at a great price. " - Madhu, Seller

"Laurie is the best! She is smart, engaging and fun and made my first experience in buying NYC real estate a joy. Laurie has a collaborative working style and is highly responsive. Whether phone, email, or text Laurie was on top of things and routinely provided me updates and new information, as appropriate—Clearly a key attribute for the fast pace NYC real estate market." - Stephen, Buyer

"As part of an estate Liquidation, we had to sell a one-bedroom co-op in Chelsea from our home in Pittsburgh Pennsylvania. We were truly fortunate to have a hired a great real estate sales agent in Laurie Gilmore. Laurie went above and beyond our wildest expectations to make this sale happen. She expertly staged, priced and marketed the property in way which facilitated the sale during the covid-19 pandemic. We had some bumps along the way with apartment maintenance issues and the co-op board, but Laurie always found a way to resolve each issue. Being in Pittsburgh we had left New York with a plethora of clothing, kitchenware, and furniture which we wanted to donate. Laurie took it upon herself to gather and transport these items to accepting charities. Laurie is honest, hard-working, professional and a total joy to work with. My only regret is she does not work in Pittsburgh so I could hire her again." - Judy and Mark, Sellers

"Laurie is as delightful as she is brilliant. She knows the area and the market, she's kept us on track during the process on so many occasions when we felt we were going off the rails, she responds (often hilariously) immediately, and she's a crack negotiator. We're actually hoping she'll remain our friend" - Eric, Buyer/Seller

"Laurie is not about the sale, she is about the right sale. She represented us as a seller for our Upper West Side Co-op…the apartment was sold 10 percent above ask. Laurie stood up and delivered the right sale. We could not imagine using any other realtor, ever!" - Jessica, Seller


Specialties
Manhattan Luxury Sales, Townhouses, Multi-family Buildings, 1031 Exchanges
Memberships & Certifications
Member of the New York Residential Agent Continuum
(NYRAC)
Board Certified New York Residential Specialist (NYRS)
Certified Real Estate Divorce Specialist (CREDS)
Certified Negotiation Expert (CNE)
Holds a Commercial Real Estate certificate
Education
BA from the University of North Carolina at Chapel Hill; MFA from the University of California at San Diego
Charity
Savvy Ladies, Puppies Behind Bars, Steady Buckets, and Memorial Sloan Kettering Cancer Center Kids Walk
About Laurie
With the clear and consistent goal of maximizing value and minimizing stress for her clients, Laurie Gilmore is a top selling broker who has become known for her exceptionally discreet and empathetic guidance which has allowed her to build her business on consistent referrals and long-term client relationships.
Combining an innovative, artistic mind with high-level negotiation skills, Laurie is equally adept at navigating complex, multi-unit residential and commercial deals for her investor clients and transacting in condos and co-ops for her first-time homebuyers. Clients appreciate her exceptional work ethic, but also her friendly, creative approach, as she always ensures there's a little bit of fun in the real estate process.
Laurie's background is in the world of theatre, having worked for many years as an actor in theatre and television, as well as co-founding the Tony Award winning, Broadway production company, True Love Productions.
A resident of New York City for the past 25 years, Laurie has an intimate knowledge of the neighborhoods of Manhattan, with a particular expertise downtown. She currently lives in the West Village with her husband and daughter.
Laurie Gilmore's Listings