Mat Gundell
Licensed Real Estate Salesperson | Licensed as Mathew Kurt Gundell
Press
Mat is a member the Barak/Blackburn Team
Crafty Combo Prospect Heights,
Dwell
; Sleek Williamsburg Townhouse With Gas , Modern Updates Asks $3.15 Million,
Brownstoner
; A view-toting 'Skyhouse' in the erstwhile Williamsberry wants $3.5M,
Curbed
; Tiny perched atop Williamsburg's Mill seeks $2.85M
Curbed
Mat's Concierge Page
About Mat
I am a people person, first foremost. A savvy New York millennial passionate about the intersection of real estate tech, I delight in earning the trust of clients by making the complicated process of buying a home seamless using my deep knowledge of the evolving housing market. I never lose sight of the excitement joy of finding my clients a new home, turn I am well known for the empathy communication skills I use while guiding my clients through the process of finding their dream home winning a great deal. I am obsessed with the details, working nonstop with urgency professionalism to take my clients smoothly through the finish line.
Since moving to New York City at a young age to pursue real estate becoming one of the first employees at in 2013, I have contributed to over half a billion in sales with my team. Out of my nine years in real estate, I have spent the past five as a member of the well-known Barak-Blackburn team. In that time, I have worked on such high-profile new developments as 139 Huron (The Bath Haus), 169 Eagle, 167 Eagle, 111 Montgomery, 139 Meserole, 245 Manhattan, 764 Metropolitan, 89 Montrose, 220 N 6th, the Soda Factory Lofts. I have experience throughout Manhattan, Williamsburg, upcoming Brooklyn neighborhoods, maintain a consistent portfolio of projects in the works.
I am a forward-thinking innovator creative problem-solver, I always stay one step ahead of market trends. I am obsessed with staying close to new developments in the market, forging connections with my clients, finding adapting to new tools technologies that give me the leg up to negotiate deals efficiently and thoughtfully.
In my spare time, I am an avid world traveler a perpetual explorer of my beloved home city of NYC. I love to find new places to eat take long runs to connect to my neighborhood those surrounding. I am constantly inspired by this fantastic city, I love to share that with my clients.
Spotlight
480 Degraw Street
Welcome home to 480 Degraw, spacious modern condominiums in Carroll Gardens. Thoughtfully crafted, these unique homes feature soaring double heigh ceilings and generous private outdoor spaces. Designed and developed by Build 360, a NY based architecture and design firm known for their innovative approach to design- these homes exude a unique airy quality unlike anything else on the market.

480 Degraw is a unique hybrid of indoor and outdoor living. Each home features either a private garden or sizable private terrace fully equipped with direct gas and water lines. Sweeping scenes of the sparking downtown skyline contrast with the lush foliage of Degraw street as well as beautiful views of St. Agnes church.

Inside, crafted steel features, sustainable Blonde Douglas Fir, built-in paneled appliances, and double drawer dishwashers by Fisher and Paykel adorn custom kitchens. Bathrooms feature Jason Wu matte black bath hardware, terrazzo floor tiles and full wall back painted glass and mirror accents. But this home isn't just about it's appearance. Behind it's beautiful exterior, radiant floor heating, multiple zone split system heating and cooling, as well as energy efficient double-pane windows and doors deliver exceptional utility.

A collection of 13 premium residences, 480 Degraw offers your choice of townhouse, duplex, or penthouse. Each offering access to a state of the art, automated parking garage with space for up to 21 cars and 11 EV charging pads. There is also bike storage and a dog washing station.

The location is the perfect mix of historic Carroll Gardens brownstones and the fun and creativity of Gowanus. Have access to it all, and be close to both Smith and Court Streets as well as Whole Foods and the restaurants along Court Street and Union Ave.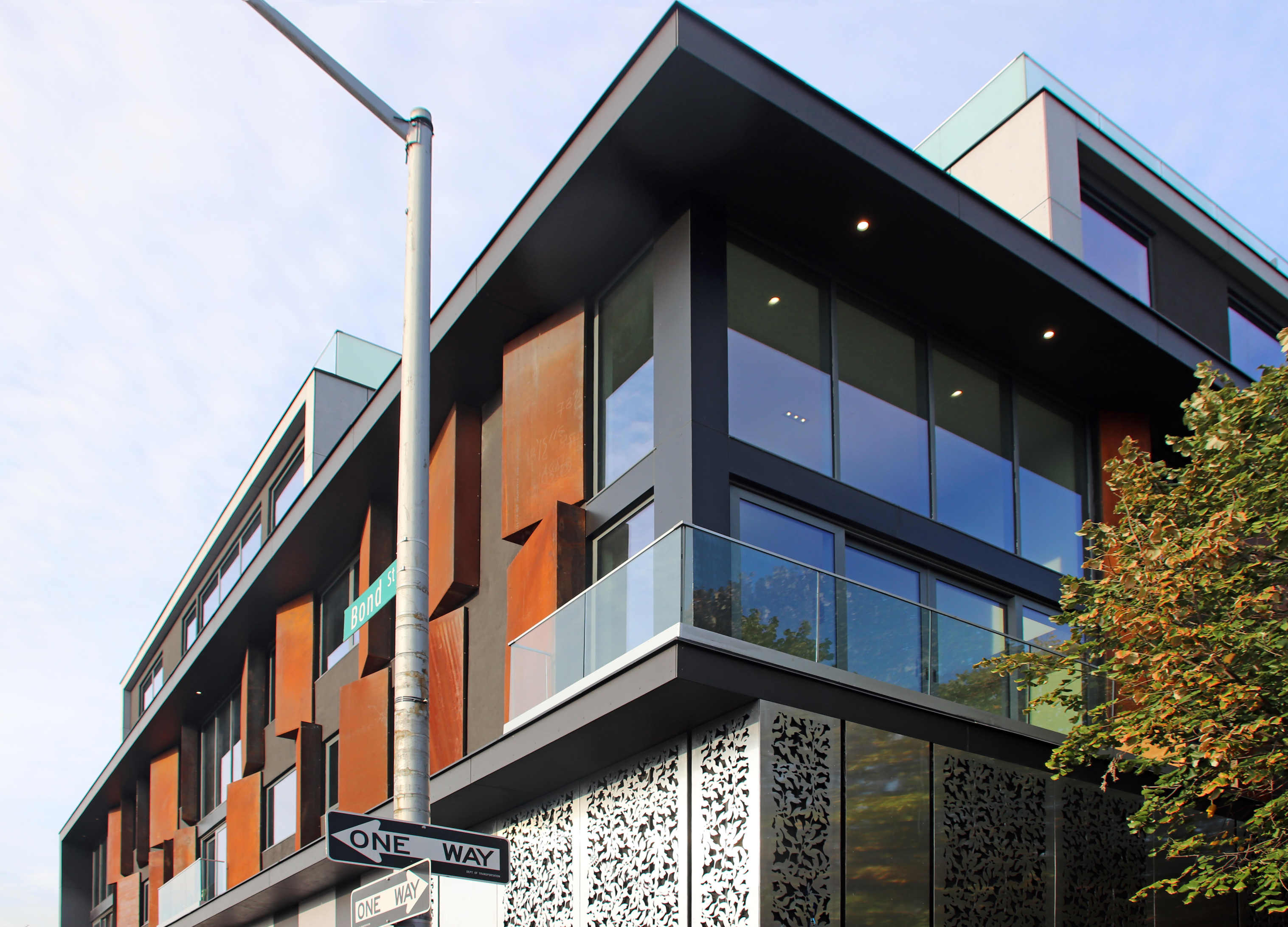 Spotlight
139 Huron Street - The Bath Haus
Originally constructed in 1903 as one of 13 Public Bath Houses in New York City, this architectural jewel has now been reimagined for 21st century living. Unique and distinctive, the facade of the Bath Haus preserves architect Louis H. Voss' original vision, maintains and restores its original architectural elements, and pays homage to the spirit of the City Beautiful movement in New York of which it was born. With only 9 residences, the Bath Haus offers a rare opportunity to purchase a home with architectural provenance in the heart of Greenpoint- quickly emerging as one of the most desirable neighborhoods in all of New York City.

Designed by award-winning NYC design firm Meshberg Group- the residence interiors at the Bath Haus are elegant and minimalist. Natural Carrara and Bello marble reference the building's history, while 7" PID European Oak flooring and oversized custom windows bring warmth and sunlight into each home. Kitchens feature a fully integrated Bosch and Leibherr appliance package with matte white and brushed metal finish cabinetry, and each residence comes with a Bosch Washer and Dryer. There is a common roof deck, available storage, and a common recreational room for resident's use. Closings anticipated early 2021.