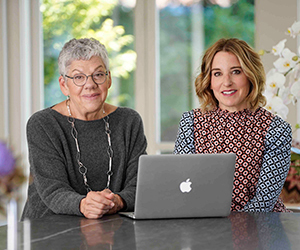 McArthur Love Team
McArthur Love Team│DRE 00715121│01327745
About
McArthur Love consistently ranks in the top 1% of Marin County Realtors. Their success is your success. Tina McArthur & Victoria Love are experienced insiders and master negotiators who always have their finger on the pulse of the market in Marin – one of the most competitive real estate markets in the world.



They are both experts at strategically pricing and positioning properties to achieve the highest and best price for their sellers. Their extensive personal contacts and active participation in several Marin networking groups gives them a decisive advantage in finding their buyer clients the ideal home – often before it comes to market.



Tina and Victoria have earned the respect of their clients and colleagues through honest, transparent, decisive and strategic negotiating. They love what they do, and that's apparent.



If there's a deal to be done, McArthur Love will do it.
Consistently ranked in the top 1% of Marin County Realtors
More than 40 years of combined experience
Over $100 million in properties sold in 2015 and 2016
Tina McArthur
A San Francisco native and one of Marin County's most trusted and established agents, has a deep respect for the history and quality of life that is uniquely Marin. Her work on several non-profit boards including Marin Theatre Company, Ritter Center and the Lark Theater, underscores her commitment to the Marin community. Tina and her husband, Richard Rubenstein, a neurologist, live in Larkspur.
Victoria Love
Victoria earned a BA with honors and a Master's Degree from Columbia University. Victoria was an award winning copywriter on Madison Avenue and then worked for years as a licensed psychotherapist. She comes from a real estate family in New York City and has in-depth experience with home design and renovation. Victoria and her husband, Greg Rowan, a creative director, have college-age children who attended schools in both Marin and San Francisco.
McArthur Love Team's Listings