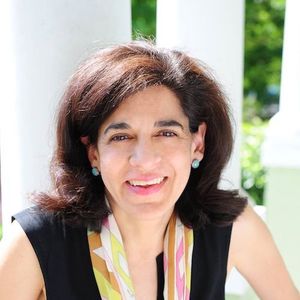 Sarah Howard
Vice President, Realtor®
Awards
America's Best 
½ of 1% of Real Estate Professionals Nationwide
Producer, Washingtonian Magazine, 2016, 2017, 2018 2019, 2020 and 2021
Specialties
Residential Real Estate, Listing Agent, Buying Agent, Single-Family Homes, Multi-Family Homes, Condominiums, Co-operatives, Marketing Strategist, Investment Properties, Historic Properties, Relocation, Property Management, Landlord

Licensed in District of Columbia, Maryland, and Virginia
Education
Brown University -
Bachelor of Arts, History
Client Testimonials
Scroll down for more
★★★★★
"Sarah Howard is the best. She worked so hard to get our house ready for sale, was so helpful in finding good people we needed to prepare the house for sale, got us a great price, and negotiated well with people wanting to buy the house. And she did the same with a friend whose house she also sold. There is no one I would recommend more highly than Sarah Howard." - Carol

★★★★★
"Sarah was a fantastic agent! She helped us buy the home of our dreams. This was a complicated transaction and Sarah negotiated it with great success. From start to finish, Sarah was the consummate professional. She showed us a wide variety of properties, educated us about DC and Maryland real estate, and explained the intricacies of the purchasing process here. She was attentive to details and was a very effective advocate. She is warm, funny, tireless, and unflappable. Sarah is the best real estate agent we have worked with in 40 years of buying and selling homes. We recommend her most highly." - Linda

★★★★★
"I have now purchased two homes in Washington, DC with Sarah's help. She's an outstanding agent -- she really managed to figure out what I was looking for both times (even when I didn't quite know myself!), showed infinite patience, and had a keen ability to navigate the complex and competitive DC real estate market. She's also just a warm, caring person and has been incredibly helpful after the sale in things I need done on my properties. I would recommend her highly to anyone!" - Karthik


About Sarah
Sarah is a top producer and is in the top ½ of 1% of agents nationwide. She is licensed in DC, Maryland and Virginia, and has been in the real estate arena for over twenty years. The Washingtonian has recognized her as a top agent in 2016, 2017, 2018, 2019, 2020, 2021 and 2022.  Sarah works with sellers, buyers and investors in Washington, DC, and surrounding suburbs. She sells homes of all sizes, price ranges and locations.
Sarah is deeply committed to understanding each client's needs and providing an excellent experience. Her integrity, attention to detail and ability to navigate complex transactions allows her to support her clients to achieve the results they want. She has a strong network of experienced loan officers, inspectors, contractors, and settlement lawyers.
As a native Washingtonian, Sarah has a vast knowledge of the DC, Maryland and Virginia areas. She has sold homes in various parts of DC, and the local suburbs, including Berkley, Foxhall, Wesley Heights, Spring Valley, Glover Park, American University, Dupont Circle, Logan, Petworth, Shaw, Bethesda, Chevy Chase, Arlington and McLean. Whether her clients are moving down the block or from across the globe, Sarah's market expertise and familiarity with the Metropolitan area helps land her clients their dream home.