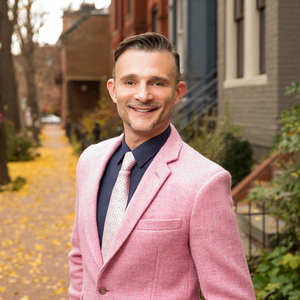 Sebastien Courret
Senior Vice President | Managing Partner @ Sebastien | Daniel Alliance
Social Media
Specialties
Buyer's Agent, Listing Agent, Relocation, Foreign Referrals, Landlord
Languages: English, Spanish, French, Mandarin
Licensed in DC, MD, VA
Client Testimonials
Scroll down for more
★★★★★
"Sebastien is an incredible real estate agent. In 2016, Sebastien helped my wife and me purchase a home in Chevy Chase, MD. His support to help us find the right place left a great impression on us and four years later, when we wanted to sell our property, we called Sebastien to help us sell it. His local knowledge of our neighborhood is strong! Sebastien responded to all of my emails, texts, and phone calls quickly and was truly there with us step-by-step. What made this experience even more unique is that his positive attitude during the pandemic kept us positive and believing that we would still sell our home for market-value, not at a discounted price. Sebastien sold our home in 14 days when there were no open houses, stay-at-home restrictions, and major anxiety across the nation. Sebastien figured out a way to sell our house and we are thankful we partnered with him to represent us! Great job, Sebastien!" - Jesse

★★★★★
"We can't say enough good things about Sebastien! Not only was he a pleasure to work with, he went out of his way to make sure we were able to check as many boxes as possible finding the right home. He was always responsive and available for showings, even on nights, weekends and holidays. He was extraordinarily professional, personable and knowledgeable of all of the areas of real estate. With his help, we were able to purchase our home and close on it within days. None of this would have been possible without Sebastien! Most importantly, his commitment didn't end once we closed – he has helped us with everything from finding a painting contractor, to what alarm company we should sign with, to even the furniture design in the home since we moved in. We would highly recommend Sebastien for anyone looking to buy a home in the DMV area."

★★★★★
"Sebastien was a true champion through the whole process of selling and buying a home. His expert advise, readiness to help at all hours and efforts to find the right solution was extraordinary. He made the usually traumatic experience of buying/selling/obtaining finance and dealing with title companies and myriad other hurdles all seamless and easy."

★★★★★
"We couldn't have asked for a better experience. As first-time homebuyers, Sebastien immediately put us at ease with his professionalism, thoughtfulness and expertise. He truly listened and very quickly understood exactly the type of home we were looking for. He helped wrangle title lawyers and mortgage offices for us when we were working on quick turnarounds. He gave us solid advice on our counter offer, while never being pushy. I never had to worry about anything with him as our realtor! What's best is that he's stayed in touch even 6 months into our purchase! We couldn't recommend him more."

★★★★★
"I enthusiastically give Sebastien my highest recommendation. As a first time home buyer in an unfamiliar region with only a few weeks to find a place to live, I presented a trifecta of undesirable client qualities. Yet, Sebastien went above and beyond at every step to make the process easy, understandable, efficient, and FUN. Communication was open and reliable, he constantly sought feedback and adapted accordingly, and he helped find an ideal house within budget in very short order. I couldn't have been more pleased with the service he and his team provided. He has a true passion for real estate and helping his clients."

​​
About Sebastien


Sebastien brings his impeccable taste, unique style, fierce work ethic and unwavering honesty to every client relationship and real estate transaction. Sebastien demands and achieves the absolute best results and experiences for his clients, and takes great pride in closing complex deals under challenging circumstances.

A native of Paris with an MBA from NYU, Sebastien hails from a family of winemakers and enjoyed considerable professional experiences prior to real estate, including owning a successful fine wine importing business and serving as Chief Marketing Officer for a premier wine distributor. In addition to French and English, Sebastien speaks fluent Spanish, is conversational in German and Mandarin Chinese and loves wine, cooking, reading and the opera. When they are not traveling the world, Sebastien and his husband enjoy exploring DC with their beloved Frenchies, Electra and Marie-Sophie.
Learn more about the Sebastien | Daniel Alliance here.
Sebastien Courret's Listings