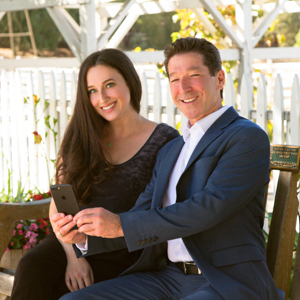 The Berson Group
Philip & Ariana Berson | Principal Agents | DRE# 01780803 & 02035710
Social Media
Facebook
Instagram
Twitter
Linkedin
Client Testimonials
Scroll down for more
★★★★★
"We were referred to Phil and Ariana when we set out to buy our first home in October 2021, not the best moment to buy your first house in Los Angeles. When I met Phil, he was so calm and confident that it would work out, I wasn't so sure. He told us success stories about his clients that waited to find the right house and now they celebrated together. I was skeptical we would ever make his roster of happy clients. The housing market was competitive, houses were selling in 24 hours, and we had everything to learn. I was worried we would have to compromise on neighborhood or settle for a home that wasn't right for us. I was worried Phil and Ariana would feel they were wasting their time with us and pressure us to settle. But they never made us feel like that. Many months and many offers later, on a Tuesday, Phil called and said something along the lines of "come look at this house right now." He'd never done that before and I was confused because this house was the dream house in my dream neighborhood and it felt way out of reach. I actually said I didn't want to go (in an attempt to save myself the inevitable heartbreak). Well, he worked around my reluctance and made it happen anyway…and like magic, they accepted our offer. In what world does your realtor tell you to dream bigger while you're telling them to be more realistic? In hindsight, I can't believe they never pressured us to settle, to get it done faster. I can't believe they never gave up on us or told us to lower our standards. Quite the opposite. When I look back, it's impossible not to admit how much easier the process would have been if I just trusted them, they know what they're doing. The sweetest part of who Phil and Ariana are - is how genuinely happy for us they were. I couldn't be more grateful they worked with us. It would not have happened without them. Thank you both so much."- Jess & Dave

★★★★★
"Selling the house with Phil and Ariana was such a pleasant, fun, and great experience. They made the whole process super easy and effortless, and sold the house very quickly because of their proven selling strategy. We highly recommend them as they're very responsive and a pleasure to work with."- James Freligh

★★★★★
"Ariana & Phil came highly recommended to us last year when my grandma was selling her home that she lived in for 38 years. We knew it would be an emotional process and we couldn't have picked better realtors for the Journey. Seriously, we are so grateful!

Ariana & Phil are both warm, welcoming, down to earth, family oriented people who are ALSO incredibly professional, thorough, efficient & skilled realtors. They are confident in what they bring to the table, without being pushy in any way (unlike other realtors we interviewed before them)

These two are truly the combo of good vibes + good business, which is a priceless pairing in any industry, let alone real estate!

Ariana is the sweetest and she made my grandma feel so seen, heard & encouraged throughout the process. My grandma still talks about how wonderful she is!

Phil is a great communicator and negotiator. My grandma's house closed wayyyyy over asking and every stipulation she was asking for, she received… and then some. We felt very safe with his grounded presence & practical resourcefulness throughout the process.

We couldn't have asked for better realtors and I would highly, highly recommend Phil & Ariana Berson to anyone who wants to experience a world class real estate experience!"- Caroline Noone

★★★★★
"We worked with Phil and Ari for six months in a tough market and during a pandemic. We put in 16 offers before we got one accepted and they remained positive throughout the whole experience. As first time homebuyers they walked us through the process at the start so we would know what to expect. They were always available for calls or to schedule showings of houses. I found working with a team really helpful as there was always someone to talk to even if they were busy and they almost always responded to any communication within an hour if not sooner. When we decide to move on from our current house we'll be sure to go back to them again. I would recommend them to anyone looking for an agent!"- Mandy F.

★★★★★
"Phil helped me sell my Calabasas home in 2021. He's a top notch real estate agent and I wholeheartedly recommend him!"- Ken L.

★★★★★
"Working with Ariana and Phil was great! My husband and I thought buying and selling during a pandemic was going to be impossible, but they thought of all the creative ways to sell our home while keeping my family and I safe. Their relationships helped us get our dream home (under asking!) and we couldn't be happier with the purchase. If you are looking for smart, kind, hardworking agents who think outside the box, give them a call. You won't regret it."- Melissa H.

★★★★★
"Working with the Berson Group was an absolute pleasure and smooth process. They are professional, friendly and helped me find exactly what I need. One offer with them and I was in my first home! Thank you Ariana and Philip!"- Justin J.

★★★★★
"Three years. Nine offers. One global pandemic. And through it all, Phil and Ari were by our side. As first time home buyers, my wife and I didn't know what we didn't know. We were very careful about selecting our agents. We interviewed a half dozen local agents to find the right fit. Some agents were too pushy and others didn't know the local market Phil and Ari instantly stood out as they were genuine, informed and properly optimistic. It was an easy decision to have them serve as our agents in what turned into an unforgettable home buying journey. Over the course of three years, we saw more than a hundred homes with Phil and Ari, submitted nine offers, and finally closed on our amazing first home. Throughout the COVID-19 pandemic, we saw the Bersons more than our friends and family and it always felt like they were just as determined as we were to find the perfect house. Here are the top five reasons the Bersons are great real estate agents. Dedicated. It always feels as if you are their only clients. The real estate market is insane right now. I had no idea how many showings Phil and Ari handled each week. But I do know that they were always incredibly responsive and never asked us to accommodate their schedule. Everyone wants to view houses during the weekends. We'd align on which houses to see, our optimal showing times, and like magic the viewings were scheduled in a way that was ultra convenient for us. Those prime Saturday and Sunday hours were never once a problem. The Bersons were there, right on time, and excited to show us around. In it for the long haul. After finally closing on our home, my wife and I learned that we won the Berson's client record for the longest time to purchase a house. It never felt that way to us. Phil and Ari maintained a positive attitude, and they were always ready to show us another house, tweak an offer or call an agent for extra intel. As our life circumstances changed due to working from home, our buying criteria changed too. This was only ever met with a positive, can-do attitude. Connection. Phil is great at forming relationships with the agents he didn't know during the showings. If the owners were around, he'd make sure that we met them. There's not a lot you can do in this market to gain an advantage, but creating a moment of personal connection was exactly the edge that helped us win house number 9. Undefeated. It's not fun making the call to your client to tell them they've lost out on a house yet again. But the Bersons remained undefeated, and confident that we'd eventually find the right house. Phil never suggested that we compromise, settle, or go broke trying to get our offer accepted. On your side. When we first started looking for a house in 2019, I was unsure of the value an agent would deliver. It's easy to find new houses as they are listed on the MLS. A great agent doesn't simply send you listings to review. A great agent helps you through an insanely irrational environment, while keeping your best interests in focus. Many deal points we saw made little business sense to me. So many of my initial instincts were proven to be incorrect (What do you mean open with your highest offer?!). Phil never had a hint of "I told you so." But Phil did tell me, and he was right. With the wrong agent, there can be a financial conflict of interest since the sooner you buy a house, the sooner the agent gets their commission. I was worried about this during our first few months of house hunting. But the Bersons proved themselves time and again. By maintaining the long view, and prioritizing our long-term relationship, Phil and Ari were amazing partners across a three year process, earning true loyalty from me and my wife. We'll never forget our three years with Phil and Ari, and when it's time to do it again, I know who we'll be calling. Next time, let's win the record for the fastest purchase!"- Nicholas R.

★★★★★
"We worked with Phil and Ariana to sell my mother in law's home after she passed away. They were fantastic partners, compassionate, efficient and handled everything for us. They project managed the clean out of the remaining items in the house, coordinated cleaning, painting and everything needed to get the house on the market. They negotiated an amazing sale price for us and closed the deal. We could not have asked for more, especially during such a difficult time. We highly highly recommend them."- Jeffery C.

★★★★★
"Selling a house is a daunting task, but working with Phil and Ariana made things so much more bearable! These folks are kind, efficient, professional, attentive, and many other things that made working with them a pleasure. Thanks for your compassion, and for getting us a great deal with our house sale!"- Karen M.

★★★★★
"Phil and Ariana are really a tremendous team. They helped me to sell my mother's house after her passing. It was a difficult time for the family, so having the two of them as our real estate agents was an absolute blessing -- I couldn't ask for a more kind, attentive and helpful pair of individuals to work with. Moreover, they're also very good at their jobs, helping us sell the property well above asking price. I would recommend them without any reservations."- David M.

★★★★★
"My husband and I cannot thank The Berson Group enough for the tremendous job they did finding us our dream home. Even during a global pandemic, Phil & Ari provided continuous, top-quality dedication to us we transitioned from Washington State to California during a major health crisis. Turning our dream of owning a home into a reality a top priority to them. As first-time buyers, we were a little nervous when it came to the home purchasing process—but Phil & Ari were there for us every single step of the way. Their professionalism and expertise, along with their genuine passion for what they do, really do make the Berson's the "dream team." We will always be grateful the kindness and care they shared with us during such an important time in our lives. I could not recommend two greater people to help you on your home buying journey. They are truly remarkable!"- Kristina H.

★★★★★
"In my dealings with Phil & Ariana Berson, I found them to be EXTREMELY professional, super responsive and extremely patient. In a real estate market so saturated with uninformed realtors, I find them to be extremely knowledgeable in their overall knowledge and keen marketing approach for listings. Would be happy to recommend The Berson Group to anyone looking to buy or sell a home."- Joseph L.

★★★★★
"My experience with Phil and Ariana was second to none in both selling my former home and buying my new one. Having been part of a dozen or so real estate transactions previously, I've yet to receive this level of attention and care. Either Phil and/or Ariana would always my call, text, email, etc...Being as inquisitive as I am, that's no small feat. I would definitely do business with them again and highly recommend them for any real estate need that someone might have." - Joseph L.

★★★★★
"Beyond my expectations. They were wonderful." - Linda A.

★★★★★
"Wonderful people to work with. I was having some medical issues during the time they were showing my place, as well as other things going on and they were so very compassionate about working around my schedule. The nicest people you'd ever want to meet and very professional." - Jennifer

★★★★★
" What can I say about this team except that I cannot imagine the experience of selling a home being any better than this! Phil and Ariana collaborated with Marc to present our home in Encino to the public and within less than a week they delivered multiple offers, one of which was in cash and far over our asking price. They held our hand every step of the way, reassuring us as first-time home sellers that we could lean on them to explain and deliver sage advice. In such an anxiety-inducing experience, these are the people you want on your side. I would recommend them to family, friends, and anyone I care about because this team makes you feel that they care deeply about their customers and their family. Consider them to be the best because I certainly do." - Yulia Krantikova, Seller

★★★★★
"It was our real pleasure working with them both. Very professional and trustworthy." - Lance

★★★★★
"Phil and Ariana made an excellent experience out of a sad time for my family and I as we put my brother's condo up for sale after his recent passing. With their skills and know-how, they found us an all-cash buyer in 3 days on the market! The Bersons are professional, communicative, responsive and sensitive to their clients - and would recommend this fantastic team to anyone seeking to list their home or buy another." - Sharon V.




About The Berson Group
As The Berson Group at Compass, father-daughter team Ariana and Philip Berson specialize in providing deep-rooted Los Angeles real estate expertise with top-tier customer care and abundant enthusiasm. Their hands-on approach means that every client engagement receives a completely custom game plan that is always centered on delivering the utmost value in the most efficient manner possible.
By joining forces to serve their loyal clientele, Ariana and Phil also boasts the perfect, complementary combination of skills. Phil is a Certified Negotiation Expert known for his industry experience, vast network and strong work ethic, while Ariana delivers top-notch marketing expertise, insightful market knowledge and an important millennial perspective. Coupled with Compass' best-in- class technology, The Berson Group is the kind of powerhouse team you want on your side.
Honest, friendly and known for their round-the- clock availability and responsiveness, The Berson Group stands ready to make your real estate dreams a reality. As Phil sums up, "From our family to yours, it is our job to help you find your place in the world. A place where you and your family can live the lifestyle you deserve!"
Coast to Coast
The Berson Group's Listings
Listed By Compass
Pending
VIRTUAL TOUR