Social Media
Specialties
Buyer's Agent, Listing Agent, Relocation, Commercial Real Estate, Certified Negotiation Expert

Languages: Mandarin, English
Education
The University of Missouri - Kansas City - M.B.A
Central Conservatory of Music in Beijing - B.A., Music
Client Testimonials
Scroll down for more
★★★★★
"Calvin Xu was my real estate broker when I bought my two apartments in NYC. One for my primary residence, the other for rental income. My mother found Calvin and we learnt that he is a famed award-winning real estate broker in New York City, with many publicities in the Chinese community. Calvin is very personable, easy to talk to, and treated us like friends and family. When we were buying my primary residence, Calvin carefully listened and observed our needs and wants and showed us that he has a lot of resources in his industry. When my mother was still in the West Coast and had a 3-hour time difference, he always answered every phone and text message promptly no matter how late it was, sometimes even at midnight. When my mother arrived NYC, he showed us that he works with high efficiency and is a highly resourceful broker in a big firm. In just a few days, he showed us almost every property on the market within our budget and meets our needs. During the process of viewing those properties, we enjoyed it very much. I felt that he was a true real estate expert with a lot of professional knowledge. We learned a lot from him about New York real estate along the way. When we selected a duplex two-bedroom Condo and almost ready to sign the contract, my mother found a religious property not far away and it is in the view of this apartment. We believe it is not good Feng Shui to buy near a religious property because it brings lots of mixed energy. At that time, Calvin did not give up on us. Soon he helped us find another apartment in the same area, and it was even nicer, quieter, and with better feng shui, facing a beautiful courtyard, and with a private cabana on the rooftop. Calvin helped us get a big discount! His negotiating ability is first-class, we got it 10% lower than the normal market price. He also helped us with finding mortgage and real estate attorney. Since we were happy working with Calvin, a few months later we went to Calvin to buy another investment property for rental income. He found us an apartment, a property with high return in New York, and we bought it with a lease with tenants already in place. The area where he found this property for us is in Long Island City, a neighborhood with a 11% year-on-year growth. The carrying cost is low because there is a tax abatement for the building. We are grateful to Calvin! He has a wealth of contacts throughout the United States. Recently we went to see some properties in Florida we used the local agents Calvin introduced to us. We highly recommend Calvin Xu to everyone who is looking to buy or sell real estate in NYC."

​​ ​​
About Calvin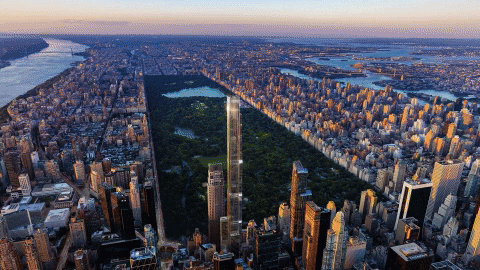 · MBA, Certified Negotiation Expert, Top English/Chinese Bilingual Luxury Real Estate Broker in NYC
· Dual Licensed in both New York and Florida, serving NYC and Miami market
· Experienced in both residential and commercial real estate transactions
· Expert Buyer's Agent
As a top Chinese-speaking Real Estate Broker in the No. 1 Independent Real Estate Brokerage in the US, Calvin has sold and rented over $100 million worth of real estate in his career. Calvin and his Calvin Xu Team offers clients strong product and industry knowledge, quick response to their requests, a warm, friendly personality, and a thorough approach to their real estate goals. As a bilingual broker, Calvin and his Calvin Xu Team specializes in helping international clientele in the NYC and Miami market, whether buying, renting, or selling, you can always depend on him to help you achieve smooth success. Calvin's team members speak English, Mandarin, and Cantonese. Calvin has a team of mortgage specialists and real estate attorneys that he often works with to help clients navigate through complicated real estate transactions. He understands the emotional and financial value of real estate and is truly empathetic to clients' unique needs. Calvin has a unique approach working with investors, he will listen to you in great detail, giving valuable suggestions and advice, identifying the best opportunities on and off the market, and helping you successfully acquire exactly what you are looking for. For sellers and landlords, Calvin and his team will give your property the maximum exposure, tirelessly promote the listing and get your property sold or rented for top dollar in the shortest amount of time.
Calvin holds an MBA from University of Missouri - Kansas City, and a Bachelor of Arts in Music from Central Conservatory of Music in Beijing. A few of his main interests include travel, fashion, yoga, and meditation. You can add him on WeChat: CalvinNYC2013 for any real estate questions.
Calvin Xu (徐超科) 是一位被客户称赞为纽约最专业的高端住宅房产经纪师,职称Broker — 地产经纪行业最高级别,供职于美国上市房地产经纪公司COMPASS,拥有超过一亿美金的个人销售记录。Calvin也是一名同时拥有纽约州和佛罗里达州地产执照的双执照经纪,主要服务于纽约市和迈阿密房产。COMPASS这家美国历史上最具创新精神的地产公司拥有最雄厚的金融资本支撑,包括来自软银、高盛等金融巨头的投资,上百名工程师日夜打造的最多高端新科技工具。公司目前在全美1000多座城镇设有办公室,拥有27000多名地产经纪,因此Calvin有能力可以帮助您在全美国范围内置业投资或出售出租房地产。Calvin Xu是全美销售业绩排名顶尖房产专家经纪师,于2019年建立了自己的地产团队The Calvin Xu Team,有多位有经验的地产经纪人协力合作,服务于中文、英文、韩文、日本,和西班牙语人群市场。Calvin的地产团队还有资深的国际教育专家,可以帮助客户申请纽约和全美的顶级私立学校。COMPASS公司因为有Concierge, Bridge Loan, Compass Coming Soon等创新服务项目,目前在纽约市场已经是拥有最多独家代理房源的地产公司,也成为全美第一大纽交所上市的房地产经纪公司,并已经跻身财富500强企业。
Calvin Xu也是美国中文电视台《安家美国》和《安家纽约》栏目的签约常驻客座嘉宾。他于2008年从北京移居到美国,获得密苏里州立大学工商管理硕士MBA学位。2011年定居纽约,他在纽约市的曼哈顿,皇后区和布鲁克林区都有过居住史,对各个社区了如指掌。无论您是寻找为孩子上学需要的学区房,还是寻找投资回报率高和升值潜力大的投资房,Calvin都是您值得信任的经纪人。他熟悉曼哈顿及周边的每一个区域,新建和翻新楼盘,出租房产筛选合格租客的整个过程和细节以及物业托管。Calvin是纽约房地产董事会(REBNY)会员,也是REBNY认证高级谈判专家(Certified Negotiation Expert)。纽约州为律师州,所有房产交易必须通过律师,Calvin有最专业的纽约地产律师团队为您讲解房屋购买合同和大楼企划书(Offering Plan),可以用个人名义购买或者隐藏个人身份以公司名义购买。国际买家也可以办理贷款,Calvin有最专业优秀的银行贷款团队,国际买家最高可贷款房价的70%,成功率100%。在纽约买房,买家不用支付任何佣金,佣金由卖方支付给经纪公司,我对您的一切服务免费。 Calvin以及他的团队将用深厚的人脉资源竭力为您提供在纽约看房买房以及出租房产和物业托管的服务,助您置业和安家纽约。欢迎添加我的微信,随时咨询纽约房地产的一切问题!微信号: CalvinNYC2013