Daniele Kurzweil
Licensed Real Estate Salesperson
Experience
Press
Questions To Ask A Real Estate Agent - Rockethq.com, June 9, 2020

How to ace your virtual co-op board interview - Brick Underground, Mar 25, 2020

Home Renovations that Hurt Resale - Interest.com, March 23, 2020

Here's Why You Should-and Shouldn't- Refinance Right Now, According to Experts - Apartment Therapy, Mar 20, 2020

Will virtual closings and co-op board video interviews become NYC's new norm? - Brick Underground, Mar 18, 2020

8 Ways to Make a Cookie-Cutter Rental Feel Less Sterile, According to Home Professionals - Apartment Therapy, Feb 12, 2020

7 Winter Photo Shoot Secrets to Make Your Home Shine in the Gloomiest Season - Realtor.com Feb 12, 2020

Prewar Apartment Pros and Cons for Buyers and Renters | realtor.com® - Realtor.com Feb 10, 2020

The most expensive neighborhoods in NYC: A buyer's guide for 2020 - Brick Underground Feb 4, 2020

The most affordable neighborhoods in NYC: A buyer's guide for 2020 - Brick Underground, Jan 29, 2020

5 Ways to Save Money on Your Next Move, According to Real Estate Pros - Apartment Therapy, Jan 24, 2020

8 Things You Should Never Do While Touring Apartments - Apartment Therapy, Jan 20, 2020

The landlord of the apartment I want to rent has several different buildings under different LLCs. Is this shady? - Brick Underground, Dec 17, 2019

5 Things Real Estate Pros Always Buy from Trader Joe's - Apartment Therapy, Dec 6, 2019

The "Why" Behind Bad Mortgage Reviews: Detailed Analysis of 1-Star Lender Reviewse - Best Company, Dec 9, 2019

Renovations To Make - and Skip - Before Selling Your Home - Yahoo! Finance, Oct 18, 2019

Decorating Trends Real Estate Agents Say You Should Avoid in 2020 - Apartment Therapy, Sept 25, 2019

What Is a Buyer's Market—and What Does It Mean If You're Buying, Selling, or Just Looking? - Realtor.com, Sept 18, 2019

How to ask someone to be your guarantor - Brick Underground, Sept 17, 2019

What Does It Mean When A House Is Described As A "Mother/Daughter"? - Brick Underground, September 4, 2019

Preventing Home Buyer's Remorse: 13 Common Mistakes and What You Can Do to Avoid Them - Best Company, September 5, 2019

Should you renovate or sell in a down market? Here are the questions to ask - Brick Underground, August 28, 2019

You Make the Call: Finding a Decent Kitchen in Bay Ridge - NY Times, August 22, 2019

Real Estate Agents Say This Is The Ideal Studio Apartment Layout - Apartment Therapy, July 28, 2019

The best tips from agents to sell your home quickly - Pressreader, July 28, 2019

Relocating to New York City—or know someone who is? FAQs brokers can (and can't) answer - Brick Underground, June 27, 2019

9 Advantages to Selling with an Agent - Best Company, June 26, 2019

Selling a Home Out of State: 5 Secrets for Streamlining a Sticky Situation - Realtor.com, June 25, 2019

16 Deal-Killing Mistakes First-Time Homebuyers & Sellers Make - The Close, June 12, 2019

These 3 Things Make the "Perfect" Home Office, According to Real Estate Agents - Apartment Therapy, June 11, 2019

Are You Killing the Mood? 8 Things in Your Bedroom That Freak Out Potential Buyers - Realtor.com, May 22, 2019

Why Real Estate Agents Are Warning Homeowners About 'Blooper Rooms' - Apartment Therapy, April 16, 2019
About Daniele
Daniele is a member of the new era of real estate sales professionals: She came to the industry as her original professional ambition. A graduate of New York University, Daniele maintained a long-term focus during her undergraduate work in communications. Approaching real estate with the same diligence that won her academic honors, Daniele has navigated intense and successful negotiations over luxury properties and demonstrated remarkable interpersonal skills. Empowered by both practical and theoretical real estate knowledge, she possesses every asset that clients desire and rely upon for smooth transactions.

Daniele speaks French, Hebrew & Italian.
Spotlight
41 Winding Way
Located on a quiet road in Water Mill is this charming three bedroom, two bath salt box. Downstairs has an open living/dining area with dramatic high ceilings, den and full bathroom as well as a bedroom and kitchen both with access to the expansive deck and pool. Upstairs hosts two bedrooms and another full bathroom. The backyard entails a large deck, pool and pergola with a breathtaking Farm view that cannot be missed!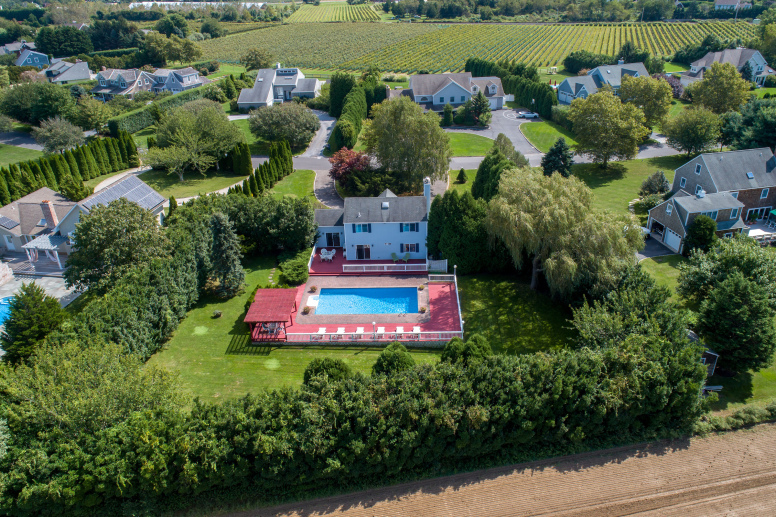 Daniele Kurzweil's Listings