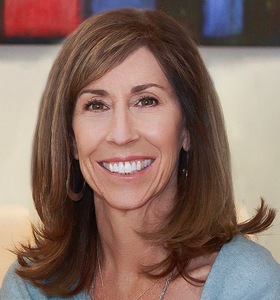 Denise Simons
DRE #: 01376733
About Denise
Denise has been a trusted real estate professional for a broad diversity of clients she has served throughout the mid-Peninsula. She brings deep experience, high energy and a strong commitment to honest professionalism with every transaction.

"I want to be my clients' realtor for life," says Denise. "I'm dedicated throughout the real estate cycle – in good times and bad -- to earning the trust and satisfaction of every one of my clients."

As a long-time, service-minded Palo Alto resident who has raised three children in the community, Denise has nearly unmatched knowledge of the area's neighborhoods, amenities and school systems. She draws on a high-caliber network of professionals that include mortgage lenders, finance experts, contractors, landscapers, architects and others who help bring her customers a full range of real estate solutions that go beyond buying and selling homes.

Before joining Compass, Denise leveraged her exuberance and project management skills by working in the public relations and marketing profession, helping a number of companies gain local and national recognition. She also has experience working in the biotechnology field.

In addition to her real estate license, Denise is certified as a Seniors Real Estate Specialist, providing special expertise handling issues related to individuals over the age of 55.

Denise is a graduate of UC Berkeley and has lived in the Bay Area for more than 35 years. She spent a year in Denmark as an exchange student before college and two years in Norway after college, and is fluent in Danish and Norwegian languages. Her international experience gives her an understanding of cultural diversity as well as an appreciation for making a home in a new community.

Testimonials

"We wanted to send you a note to thank you for all your hard work in selling our home. When we originally researched realtors, we heard from friends about your expertise, your professionalism, and your very hands-on approach, but the level of service we received far exceeded anything we expected. Your advice about prep and timing was spot on, and you skillfully took charge of essentially every aspect of preparing our house for sale. Having someone with your judgement and project management skills overseeing the process was a huge relief. Moving is stressful enough - it was really great that, thanks to you, we didn't have to worry about the sale of our former home. We both feel extremely fortunate to have been able to work with you. It was a real pleasure."
- E.R. & J.R.

"Denise Simons was a joy to work with, personable, detail oriented, helpful at every turn. Her professionalism was evident in helping me handle all of the details of getting my house ready for sale, putting it on the market, and helping me with the move to the east coast after my retirement. Her team of people: contractor, painters, cleaners, landscapers, handymen, etc. all did an excellent job."
- H.G.

"I wanted to thank you again for getting all matters for our house taken care of so promptly and so well. We feel like you did an excellent job and we got a good fair price for our house."
- W.J.