Revenue
Hervé is responsible over $2 billion in transactions.
Awards
Hervé is part The Leonard Steinberg Team, which is consistently ranked as one the top ten Teams in the United States The Wall Street .
Press
Leonard and Hervé are the publishers Downtown's monthly market ,
LUXURYLETTER
, which has been cited The New York Times, The Wall Street , The Observer, The New York Post, The Real , The London Times, Forbes, New York Magazine, CNN, ABC-TV, NBC, and FOX-TV.
Specialties
Leonard and Hervé are the marketing and consultants some Downtown's most iconic new buildings, including 560 West 24th Street, 7 Harrison, 150 Charles Street, 200 Eleventh Avenue, 54 Bond Street, The Townhomes Downing Street, 245 Tenth Avenue, 744 Greenwich Street, The Aberdeen Townhouses, 27 Wooster Street, and One Great Jones Alley.
Education
Hervé has earned two masters degrees in both Nuclear and Electrical Engineering.
About Herve
Hervé Senequier represents the truly modern real estate . He is thoroughly versed in his subject matter and brilliantly focused on the investment side real estate.

Born in France and a previous resident both London and Paris, Hervé has lived in New York City over 30 years. He is an established leader in the financial markets arena with a primary focus in Risk Management, Administration, and Information Technology. His experience as an investor in New York real estate spans almost 20 years. He currently sits on the Board the building in which he resides.

Hervé's extensive experience lends him astute financial expertise and an insider's understanding a building's management and inner workings. He provides the purchaser with an invaluable resource - a solid, informed mindset that fuels smart decision-making. His clients appreciate his thoroughness, consistency, and his insightful guidance.

He has traveled the world extensively and uses his broad range experience and resources to provide investors, buyers, and sellers (both seasoned and new) with maturity and knowledge that guides them toward informed, intelligent choices.

As a true Frenchman, Hervé enjoys cooking in his spare time.


Spotlight
347 Bowery
347 BOWERY is located on a south-west, light-infused corner at the crossroads of Noho and the East Village, across from the Bowery Hotel at the culmination of Great Jones Street. Comprised of a series of 5 stacked town-homes composed of 4 duplexes and one triplex penthouse with surprisingly impressive views both architecture and interiors are by world-acclaimed architect Annabelle Selldorf. Developed by Urban Muse, a developer known for developing extraordinarily special buildings such as 200 Eleventh Avenue, The Chelsea Arts Tower and the Townhomes of Downing Street, this building is destined to be an instant landmark.
Spotlight
152 Elizabeth
152 Elizabeth is an ultra-luxury condominium building—the first in New York City designed by Japanese master architect Tadao Ando. Located at the corner of Kenmare and Elizabeth Streets in Nolita, the 32,000-square-foot building will stand as a profound architectural statement and embrace the industrial character of the neighborhood. Gabellini Sheppard Associates designed the interiors of the highly individualized residences, which range from two to four bedrooms. The developer is Sumaida + Khurana, a New York-based luxury residential development firm with more than 20 years of construction and real estate development experience.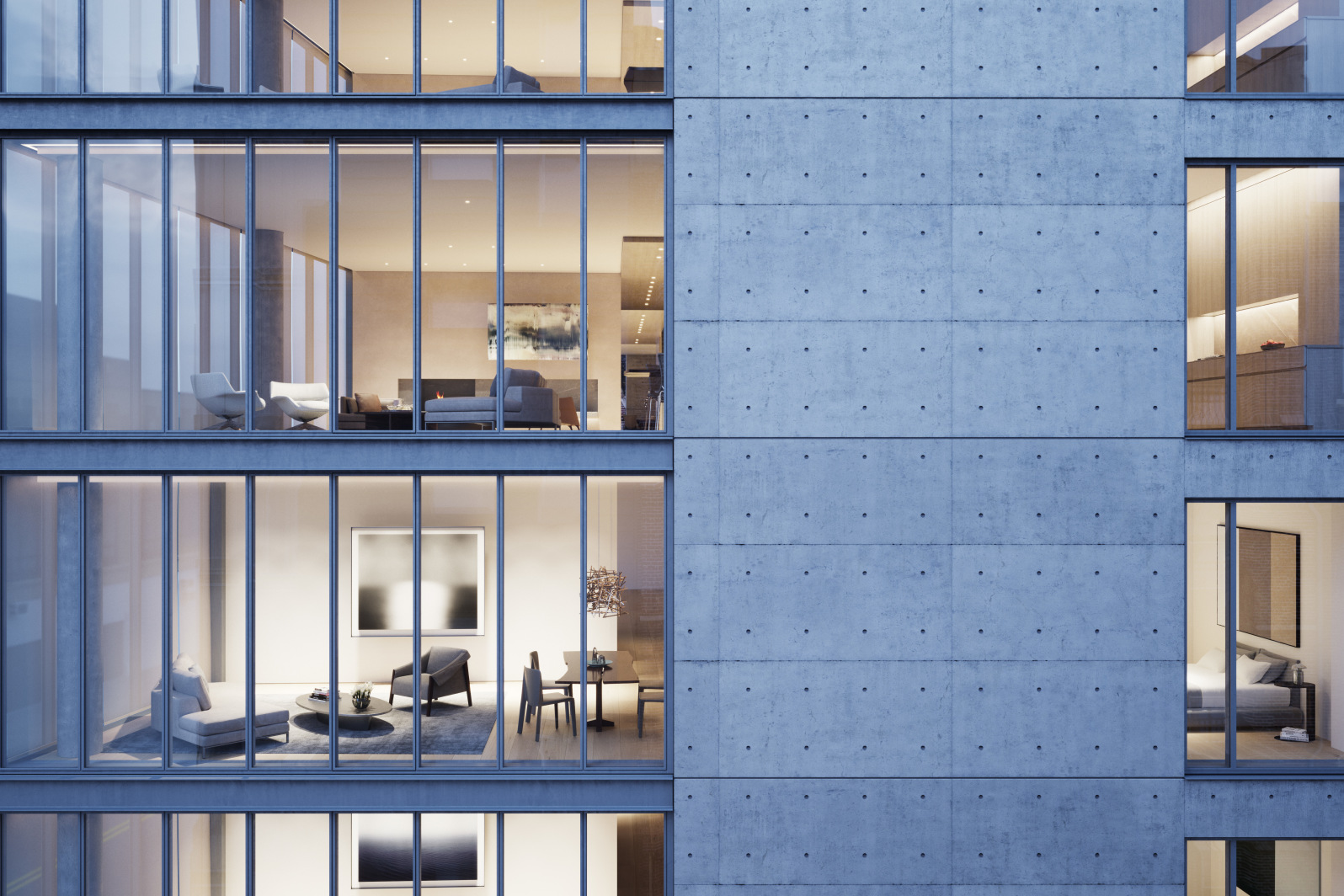 Herve Senequier's Listings