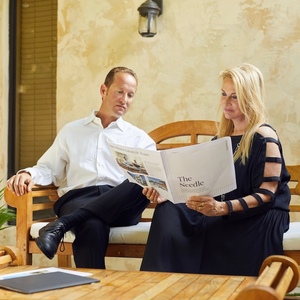 Hodor Hotchkiss Team
Luxury Waterfront Specialists
About Hodor Hotchkiss Team
Sheryl Hodor has been a top-producing Realtor in South Florida for over 32 years. She has extensive knowledge of the real estate market and offers her clients a premier level of service. Her perseverance and take-charge mentality is what makes her so successful, and she brings the utmost professionalism to every closing table. Sheryl has sold more than a half-billion dollars in real estate and developed a specialty niche in luxury waterfront homes.

Troy Hotchkiss began his real estate career in 2003, after ten years of working on location during the production of many feature length films. With a Master's degree in Business and as a native to South Florida, Troy combines his educational background with his professional experience, to provide an in-depth knowledge of the region's luxury real estate market. With over 17 years of experience, he is able to identify real estate opportunities on a personalized level, specific to any client's needs and provides them with the highest level of expertise, attention to detail and anytime accessibility.

Combining Sheryl's market knowledge and experience, with Troy's business acumen and expertise, together they embody the Hodor & Hotchkiss Team-a formidable South Florida real estate duo. Their unwavering commitment to their clients and proven track record for results has earned them an industry-wide reputation for professionalism and excellence. Let the Hodor & Hotchkiss Team show you HOME.
Hodor Hotchkiss Team's Listings
Listed By Compass
Pending
VIRTUAL TOUR
Listed By Compass
VIRTUAL TOUR