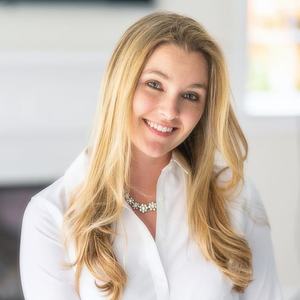 Hope Stone
Licensed Real Estate Salesperson | Licensed in NY & CT
Awards
Specialties
Hope's Concierge Page
Licensed in New York and Connecticut
Areas of Coverage
Westchester and Connecticut
Education
Marymount Manhattan College
Client Testimonials
Scroll down for more

★★★★★

"Hope was super professional, knowledgeable, and beyond trustworthy. I was relocating from Larchmont to Harrison and she gave 100% in finding me the perfect new home. It was a comfort to know that at any time during each stage of the process she was always a call away to answer any questions and provide the most accurate information in the search. Thanks to Hope I love my new home and I would recommend her to anyone who is looking for an HONEST and KIND broker/agent. She gets the job done and is reliable. Thank you Hope!" - Harrison Client



★★★★★

"Hope helped us navigate a tough market to find our first home in our target town and below budget - she showed us homes moments after being listed and was a pro at getting us showings before open houses to get a jump on competition - can't recommend her enough!"


★★★★★

"Recently my husband and I made the life altering decision to sell our home of 25 years and move into a luxury apartment. We were most fortunate to have met Hope Stone. Hope had the expertise to help make our move manageable and stress free. Hope was always available to answer questions and offer encouragement. Our home was sold as soon as it went on the market and our transition into apartment living went without mishap. We were extremely pleased with how Hope handled all phases of these events." - Susan and Barry P.


★★★★★

"Although, admittedly, I am not the biggest fan of real estate brokers - Hope was a pleasure to work with. She is a go-getter, knowledgeable, easy to work with and honest. Do not hesitate to hire her" - Holly O.


★★★★★

"I had the privilege to work with Hope during my last rental process. I was introduced to Hope as my wife and I have been clients with Julia Brasesco for many years now. Hope is extremely knowledgeable about the area of Westchester- especially Rye / Rye Brook which where we settled. We are picky to say the least, so I'm sure we drove her nuts at times seeing listing after listing but she was able to really streamline the process - booking viewing on our behalf after getting to know us a bit more, what would meet our needs and helped make this process that much easier. There are many phonies in this business that try to sell up or make empty promises to simply take your money, but you can tell she is far from that. She took that extra time, went that extra mile to ensure we were happy. Which I have to say I am more than thrilled with my house now in Rye Brook, it is just perfect and Julia and Hope made it happen without any issues along the way. I highly recommend her, she is charismatic, honest and a pleasure to work with !!" - Sarah M.

★★★★★

"Hope was fantastic throughout our entire process in buying our first home. She was always available and attentive and truly knows the business. She was there each step of the way and guided us in the right direction with all of our questions as well as made our experience fun and enjoyable. I HIGHLY recommend!!"

★★★★★

"Hope was very enthusiastic and helpful in finding us the perfect rental in our price range. She was super responsive, easy to get in touch with and open in regards to communication. I am very happy to have been able to work with her!" - Regina H.

★★★★★

"Hope has shown my partner and I a few houses in Rye, NY. Let me just say we are tough clients to deal with - typical story; I like open concept and he wants a separate kitchen/living room. I like all the bedrooms on one floor, and he likes it split. I'm willing to stretch our budget and he's... you guessed it - not!! However, Hope never flinched once at any of our requests, and always came through with great compromises and solutions for us. We are very busy, and Hope has never once wasted our time (which we experienced quite a bit with our last agent at a different company). We are still in process, but I know when we find the perfect home - we will buy with Hope. She's a smart young lady with some great real estate expertise and knows the area quite well, and is very open about what's realistic and what's not. She knows which properties will negotiate heavy with price, and which ones won't - this way we don't get our hopes up and she keeps us focused on what we really want in a house. Truly a dream to work with!" - Alex N.

★★★★★

"Hope was a very professional, understanding and accommodating realtor. She helped us reach a deal on our new Apartment and then some. She was incredibly responsive, which through-out my long winded search I found is a rare trait with some realtors. If we had a question, Hope would get us an answer, and as a dual-agent she represented both myself and her owners with the utmost class, professionalism, and courtesy. Would highly recommend Hope to anyone in search of a place to live!" - Andrew W.

★★★★★

"Simplify your life - hire Hope. As residents of Brooklyn looking for an upstate escape, it was easy to spend hours poring over online listings and comparing endless nearby towns. Hope took all of our criteria, confirmed that we were on the right path, and even recommended a few towns we hadn't considered yet - one of which was Millerton! In addition to being super responsive and knowledgeable, Hope has her own network of folks to support you throughout the closing process. She made a complicated process during a wild time as easy as can be." - Alyssa D.

★★★★★

"Hope was a pleasure to deal with and used the resources at Compass to the fullest extent. She was personable and kept us in the loop on everything. I would highly recommend her."


About Hope
Hope Stone proudly represents her Westchester and Connecticut clients with great care and professionalism. Whether it's a first time home buyer looking for an easy commute to the city, or the seasoned seller looking for a new, relaxing oasis to unwind, Hope excels in creating a positive experience for her deserving clients. Her level of personal attention matched with her acute negotiation skills make her an excellent partner in the real estate process.
Having grown up in the rolling hills and Equestrian country of Litchfield County, CT and spending the past eight years living in Manhattan, Hope appreciates the benefits of urban, suburban, and even rural living. Licensed in both New York and Connecticut, Hope works closely with her trusting clients to ensure their real estate goals are met. In addition to private residences, Hope often works with clients interested in investment properties. She handles the acquisition of the investment and then helps her clients find the perfect renter. Recognized by the industry for her quality of service, she is the exclusive leasing agent for Rye Village Apartments, a premier residential property in the heart of Rye.
Before pursuing a career in real estate, Hope was a marketing and communications professional in the luxury automotive industry. Hope's experience in Westchester and New York City, combined with her luxury marketing expertise, makes her an invaluable asset to those looking for a new place to call home. Hope earned her Bachelor's Degree in Communications and Marketing from Marymount Manhattan College on the Upper East Side of Manhattan. Hope is an active equestrian and loves riding in her free time. Hope resides in Greenwich with her fiancé. 
Hope Stone's Listings
Listed By Compass
Pending
VIRTUAL TOUR