Social Media
Awards
Realtors Association of Maui | Realtor of the Year 2021
Hawaii Business Magazine | Top Performer 2021
Hawaii Business Magazine | Top Performer 2022
Modern Luxury Hawaii | Dynamic Women 2022
Specialties
Listing Agent, Buyer's Agent, Relocation, Second Home, Vacation Rentals, Agriculture, First-Time Homebuyers

Languages: English, German, Spanish
Education
University of Michigan - Bachelor of Arts
Honors German, English
Client Testimonials
Scroll down for more
"Jessica Baker is the BEST! When we decided to sell our condo at the Masters at Ka'anapali we researched potential candidates, asked for referrals and checked their marketing and social media platforms. The winner and by far the best of the best is Jessica Baker! Jessica was amazing! She had a network of professionals to help us; photographer, stagers, cleaners and inspectors to name a few, all this without being pushy. When it came time to accept an offer her negotiation skills are topnotch! She's professional, knowledgeable, organized and dedicated. Jessica went well beyond what is expected of a real estate agent and we would definitely work with her again if given an opportunity. Thank you Jessica!" - Cathy
"Jessica Baker was an absolute pleasure to work with. We initially sat down with her to lay out our 3-4 year vision of acquiring property on the Westside. She treated us as though we were her top priority from day 1 even though it would likely be many years until we became clients. She asked great questions, listened intently, and advised us wisely on the specific areas of the Westside we should focus on. She had an incredible amount of knowledge on so many properties and developments. Unexpectedly a property hit the market and popped up in our email as a potential match. Again..we were 3-4 years out from being ready...or so I thought. 2 1/2 months after sitting with Jessica we made an offer on a property and opened escrow. She stepped up big time and took on full ownership of every aspect of the due diligence and closing process. She advocated and negotiated for us like a true pro. Her positive, upbeat attitude and outlook gave us confidence we were going to make the dream of Westside Maui ownership a reality. I feel we became friends in the process and truly believe our Westside life will include an occasional meetup with Jessica to enjoy a cocktail hour or even a Saturday morning swim at Airport Beach." - Don
"I cannot recommend Jessica highly enough! After my mother's death, I had contracted some realtors to help sell her home. I live on the Mainland, which makes things more difficult. When it became clear that my first agents were not working out, I was fortunate to find Jessica. We hit it off right away, and I could tell immediately that this woman can SELL! She saw the potential in the property and worked hard to re-imagine the home to make potential buyers want it. Despite the 3 hour time difference, she was never more than a phone call or a text away. She was personally a part of nearly every showing, and was able to provide me with necessary information to help me know about who was looking and what they liked/disliked. She worked hard, not only to find me the right people to do things around the house, but also did many of them herself! Needless to say, she was successful in the sale, and everyone was happy. Her sunny personality, attention to detail and determination are what got me through all of this, and I know that we will continue to be friends. She knows the island, she knows the right people, and she KNOWS how to sell!" - Cathy
"
My daughter's former Broker in Maui, HI recommended Jessica Baker to me. We were attempting to market a unique and difficult property, the former Waterfront Restaurant in Maalaea. Not only did Jessica provide a realistic Market Analysis, but also had a clear marketing plan. She displayed enthusiasm and optimism and made me feel very comfortable, even though I am now residing thousands of miles away from the island. She kept in touch with me, via phone and email, and was prompt and accurate in all of her follow up and paperwork. Her contacts in the commercial real estate business helped me tremendously. Jessica also went above and beyond the "normal" duties of a Realtor, and for that I will be forever grateful. Once a viable contract was presented, she stayed on top of the transaction, and went out of her way to see that the contingencies were met in a timely manner. She also reviewed the paperwork and scrutinized the closing documents with a keen eye, and caught a few discrepancies. Jessica, I won't forget both your kindness and professionalism! Thanks again for assisting me through this successful deal!
"
- Lorraine
"
Look no further. Jessica Baker no ka oi! Perfectly content as Maui condo owners/dwellers of 15+ years, we casually broached the idea of someday purchasing a house. We'd peruse listings here and there on our own but quickly concluded that finding something decent and affordable in West Maui was probably a pipe dream. Then a friend introduced us to Jessica, and all bets were off. Soon after, she alerted us to the most perfect, beautifully remodeled house right here in our beloved Napili. It was a rare find so we had to move FAST. Against all odds, with Jessica's expertise, hard work and sound advice, she got us our dream house. This was no easy feat. Jessica believed in us when really no sane person should have. She fought hard on our behalf and navigated every step of the process for us. She also pulled countless rabbits out of many hats to make it happen—including getting our condo sold for a great price ASAP. We truly believe that if not for Jessica, this house would not be ours today. Jessica not only provided us with timelines and deadlines for our house purchase, but she proved to be a marketing genius when promoting our condo for sale. Throughout both transactions, Jessica was patient, articulate, genuine and kind—the consummate real estate professional. We're forever grateful to have met and worked with Jessica and wholeheartedly recommend her 100%!" -
Jared and Tammy
"
We could not be happier with our experience and relationship with Jessica Baker. She worked as hard as anyone could hope for with her marketing, open houses, communication, guidance and the many counters that were involved in our closing the deal. We felt that she became our good friend and partner. Our situation was not an easy one either. The condo was in a trust for my husband and his three siblings. Jessica had patience and understanding many times while the four took time to make decisions. Plus, we all Iive in Oregon so most of our dealings and communications were from afar. Jessica always went the extra mile to do the little things as well...replacing broken items, cleaning a closet, working around our rental bookings and always having an eye for details. We appreciated her constant support, her cheerful and positive attitude and the feedback we always received after showings. Jessica is a hard working professional who we hold in the highest regard.
" -
Barbara
Charity
Realtors Association of Maui Presidential Scholarship Committee
About Jessica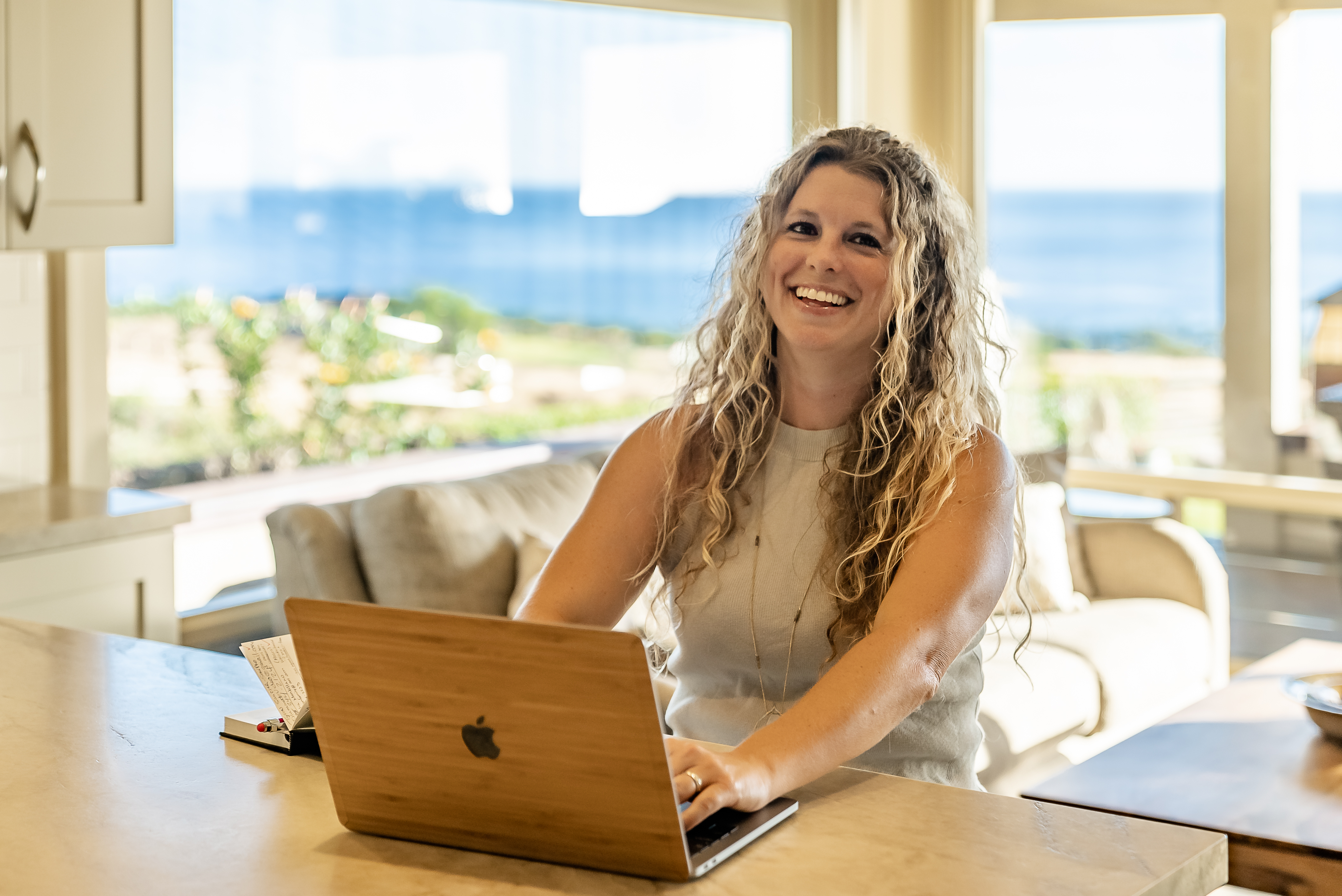 My journey to Maui began at a very early age! Well before I could read I always wanted to look at picture books of tropical fish and marine life. Eventually, I would share with anyone who would listen, "When I grow up, I am going to swim with dolphins in Hawaii!" This was a very big dream for a kid in Michigan.
Fast forward to 2006. After graduating summa cum laude from the University of Michigan, I was fortunate enough to take my first (and only) vacation here to Maui with my parents. While we were having dinner that first night at the iconic Pioneer Inn in Lahaina Town, I just knew that the island was calling me. Armed with two suitcases and a bicycle, my next flight back to Maui two months later was as a brand new resident.
Now I have happily lived in Lahaina for over sixteen years. As a child my parents couldn't keep me out of the water, I would spend as much time as possible in the chilly waters of Lake Superior, and I was a competitive swimmer in high school. Surfing was a natural progression, as well as snorkeling and open water swimming. I've completed both the Maui Channel Swim and the Waikiki Roughwater Swim. When I'm not in the ocean, I also enjoy hiking around the island, yoga, baking, reading a good book, and spending time with my dog Lucy.
I began my professional career here on Maui in Fine Art Sales then transitioned into Real Estate at the end of 2011. It was another natural progression based on my evolving interests and education. That first year I was awarded the Prudential Iwado Realty Rookie of The Year and worked almost exclusively in Commercial Sales and Leasing. Several years later I have now sold commercial properties, and even more single-family homes and condos, all across the island from Kapalua to Wailea, Wailuku to Kula, even Hana!
My mission is to help my clients achieve their goals, whether they're buying or selling, when the timing is right. I am strongly committed to providing clear, consistent communications and building long-term relationships, and have the diverse sales experience to back it up. I was most recently awarded the
2021 Maui Realtor of the Year by the Realtors Association of Maui
and named a
Hawaii Business Magazine Top Performer
in both 2021 and 2022. I was also featured as one of
Modern Luxury Hawaii's Dynamic Women in 2022
. I served on the Realtors Association of Maui Board of Directors from 2019 - 2022, and currently serve as the chairperson of the RAM Technology Committee and RAM Presidential Scholarship Committee member. Within our exceptional Compass agent community, I'm the exclusive Maui partner in both the
Private Client Network
 and the
Compass Elite
.
What are your Maui real estate goals and how can I help? Call, text, or email me anytime to talk story!
Oh! And did I ever swim with dolphins? Sure did. December 2007 was the first time of many. Life goal achieved.
Much Aloha from Maui,
Jessica