Social Media
Specialties
Buyer's Agent
Listing Agent
Client Testimonials
Scroll down for more
​★★★★★
"John has helped us buy several homes over the years. We always choose to work with him because of his professionalism, generosity, and attention to detail. We bought our current home through John in 2011. We ended up bidding against another highly qualified buyer, and John's approach made all the difference. He presented our offer directly to the sellers, knowing they had a strong emotional attachment to the house. Without his unique presentation we wouldn't be living in our home today."

★★★★★
"John Faulkner is patient, persistent and professional, not to mention a really terrific human. He will find the "just exactly perfect" property and take as long as needed to do so. He listens to and understands his clients needs, wants and wishes, and will tell you what the real deal should be rather than what would benefit him the most. He definitely has your back."

★★★★★
"My husband and I had the pleasure of working with John in our search for a home in Santa Barbara. John is professional, with a high level of integrity, and a sincere interest in getting the utmost for his clients. He extended himself beyond the role of realtor in introducing us to other local professionals who could facilitate our needs. Our experience and working relationship with John was superb."



​
About John
•
Website
•
Instagram
For the benefit of his clients, John brings to the negotiating table his own extensive real estate experience. Since 1976 John has bought, renovated, built and sold homes and is well versed in the fine points and subtleties of the real estate transaction. John takes pride in his ability to create and maintain a high level of mutual respect with his clients and attributes part of his success to his full understanding of the financial and emotional scope of buying or selling a home.
John is a California native who has had the privilege of studying in Thailand, Malaysia, Australia, and the USA. John graduated in 1973 from the Art Institute of Chicago where he studied Photography, Film, Painting, and Sculpture.
John has fallen in love with Santa Barbara, his home for 41 years, where he lives with his artist wife Nancy and their rescue dog Emma. John is passionate about the arts, design, living spaces, cooking, and entertaining.
John is thrilled with the opportunity to show off Santa Barbara region to those who are considering moving here and to those who presently have a home here, but are ready to make a move to enhance their personal lifestyle. A patient listener, with a keen eye and vision for his client's individual needs, John is ready to assist you in your next important real estate decision.
The Faulkner Group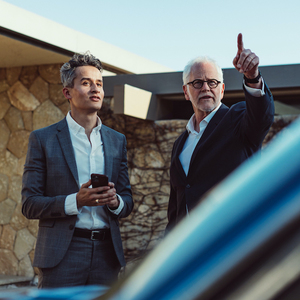 The Faulkner Group is a mindful merger of a classic and modern approach to real estate. We understand that today, with a definitively online world, it is critical to have a real estate group that understands the magnitude and power of technology along with a creative and energetic approach for the benefit of their discerning clientele.
John Faulkner's Listings
Listed By Compass
VIRTUAL TOUR