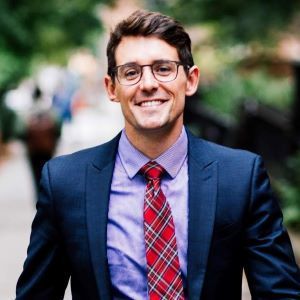 John McGuinness
Licensed Associate Real Estate Broker
About John
After obtaining his license in 2009, John grew a successful business based on originally branding himself as a Harlem agent who lived and worked in the neighborhood. The geographic area was his original focus, and over the years, John's business has grown by referrals and word-of-mouth and how he covers several areas of the city and several types of asset classes including Townhouses (SRO, Class-A, and Class-2A, Class M and others) Condominiums (Primary homes, investment property, pied-a-terre) Co-ops (Pied-a-terre, primary home, and HDFC), Commercial Leasing (Storefronts, retail, office, manufacturing) Development sites (land-leasing, land sales, and new development marketing)

Due to his original focus in Harlem, John has become known as one of the top townhouse brokers in Upper Manhattan. This skillset is transferable to many other areas of the city, since deals in Harlem and Washington Heights tend to have some of the most unique and complex situations to overcome. His contact list of architects, expediters, attorneys, and mortgage lenders plays an important role in his success and the success of his clients.

John is frequently quoted in the press as a reference and expert in the Harlem marketplace. He prides himself on doing a great job all of his clients, no matter where they might be.

He lives in Harlem with his wife, Carol, and his son, Liam, in a multi-family building they purchased in 2015.

For fun, you can find him biking around the neighborhood, playing golf, or hanging out at one of the many parks the city has to offer.





Client Testimonials

★★★★★ Bryan Lip
"Was an absolute pleasure working with John. I found John after a search brokers on Zillow. After speaking with a number brokers I was hyper impressed during our initial conversation where he would genuinely listen and understand my requirements rather than lecture to me. He also took the time to explain to me the nuances purchasing property and when I made a visit, he showed me around 20+ properties in a single day and across a very large area. It helped me appreciate the area, local history, and most importantly understand which area I'd most like to live in. When it came to negotiating the right property, John's knowledge many the other brokers in the market allowed him to understand what we could properly flex to. I've recommended John to a number my friends and if you need anyone in the city, I'd recommend John as the person to speak to, plus he's a really awesome guy."

★★★★★ Kasheem Jones
"As a property manager with hundreds units under management, I have to say that John is one the best I've had the pleasure working with. My experience has been flawless with John & his team. I can enthusiastically recommend John and his team real estate professionals all of your real estate needs."

★★★★★ Rechard Nelson
"John helped us to sell our brownstone. He is extremely professional and polite. We really enjoyed working wih him and would do so again if we had another to sell!!!"

★★★★★ Guy Vidra
"John McGuinness and his team are absolutely the best! John helped us find our new home. He's patient, knows everyone, gave us fantastic advice, and is a wonderful, fun person to work with. Couldn't be happier!"
John McGuinness' Listings