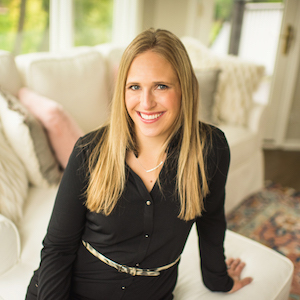 Kelly Stetler
Real Estate Broker
Social Media
View My Website
Client Testimonials
Scroll down for more
​ ★★★★★
"We worked with Kelly on a home sale in Elmhurst. Have lived here my whole life and know many of the in town. She is truly unique in terms of expertise and understanding the best way to sell a house – using social media and other strategies – not just traditional methods used others. Her personality is infectious and her work ethic is tenacious. Can't recommend her enough…you won't be disappointed. "

★★★★★
"As first time home buyers, Kelly made what seemed like a daunting and confusing process painless, fun, and exciting. She is incredibly organized and detailed oriented. After many years of city living, the transition to the suburbs was something of an unknown for our family. Kelly demonstrated a great deal of knowledge on a variety of neighborhoods in the western suburbs and did an incredible job of finding the right fit for us based on our long list of wants and needs. My wife and I had many questions, and Kelly was always attentive, available, and eager to help. All our questions were answered in a timely manner, which only increased our confidence in Kelly's support and guidance of our home search. My wife and I cannot say enough positive things about Kelly. If you are looking for a realtor to help you buy a home or sell your current home, we highly recommend her."

★★★★★
"I had a great experience working with Kelly on a recent transaction for the purchase of my new home in Elmhurst! Kelly the seller (in this case, the builder of a new construction home) and the process could not have been better. Specifically, Kelly did an excellent job focusing on the features of the home that would benefit me/my family (like how kids beds/baths were arranged, proximity to the elementary school) while also pointing out the unique qualities that her builder brought to the table (like unique woodworking, ceiling heights, customer service post-close). Kelly also did a great job of telling me about local services and businesses we could use once we moved into town (park district, daycares), which got me really excited about the move! Kelly was personable, responsive, and often followed up to make sure I had everything I needed. I highly recommend Kelly as a buyer or seller agent!"

★★★★★
"Kelly was our agent for a home in Elmhurst. She clearly understands new construction – who the builders are in town, what differentiates them, how the build process works (plans, specs, design, etc.) and the most important elements of the transaction, including builder warranty. Would absolutely work with her again."

★★★★★
"Kelly Stetler was the driving force behind the sale of our home. Her media savvy, the anticipation of market moods, and persistence to close, paved the way for selling our home at the price."

★★★★★
"Kelly was wonderful to work with in renting out our home! She was always incredibly responsive, friendly and resourceful. I'd recommend her to anyone looking for a home in the Chicago suburbs."

★★★★★
"As first-time home buyers moving out of the city, Kelly was such an incredible agent to partner with. She was so patient with us, making the entire process less confusing while answering all of our questions along the way. What makes Kelly most special is her personality and willingness to drop everything to see a house same day. If it was not for her willingness to make time and fit us in her busy schedule, we would not have been able to purchase our home so quickly. Her attention to detail and thoroughness makes her an astounding agent and we would highly recommend her."

★★★★★
"Kelly helped us search for a rental house in Naperville. Coming from Europe we really needed someone with good expertise not only about the house but also about the area. In Kelly we found an amazing, pro-active, enthusiastic agent. She is very professional in her job and a very warm person who understands her customers well. She doesn't give up until she finds you a perfect house. We highly recommend her!"

★★★★★
"We used Kelly as our real estate agent for our to Arlington Heights. We needed to find a place rather quickly and Kelly made our process less stressful and we found the home of our dreams. Kelly was very impressive, organized, and friendly. Kelly would send us houses based on our criteria from the private listings that we would not have found without her help. She also would print out information for each listing in a nice binder that helped us stay organized. We looked at 20+ houses and she was patient with helping us find us our perfect home based on our criteria. Kelly also helped us navigate all the logistics and negotiating process, as this was our first home buying experience. I would highly recommend Kelly if you are in the market to buy a home in the Western or and Northwestern Suburbs."


​
About Kelly
Kelly specializes in residential real estate, representing buyers and sellers in the Western Suburbs of Chicago. She has experience working on all types of situations ranging from first time and new construction to downsizing, relocating and renting. Kelly brings enthusiasm to and takes great pride in managing all aspects of a transaction providing exceptional service, deep market knowledge and attention to every detail. She understands the critical importance of trust, integrity and confidentiality and has been consistently recognized as a top agent through the testimonials of many clients.
Prior to her real estate career, Kelly was trusted to lead strategy for some of America's best-known Fortune 500 companies including: MillerCoors, Conagra Brands, Yum! Brands, Nestle, Fifth Third Bank and Dow Chemical. Her extensive experience in both traditional and digital / social paired with ' industry-leading technology ensure that her clients receive best-in-class service.
Kelly grew up in Naperville and lives in Elmhurst, which provides her significant understanding of the local housing market. As the oldest of five she is very social and enjoys answering questions and offering recommendations on everything from daycares and doctors to activities and restaurants. Kelly is passionate about helping clients feel immediately at home.
She is involved extensively in the community, including as a Board Member for Foundation D205 and ambassador for Bomb Moms. Kelly is also a member of the Elmhurst Chamber of Commerce and Spring Road Business Association.