Specialties
Relocation Specialist, Luxury Home Specialist, Waterfront & View Home Specialist, Buyer's Agent,  Landlord
Client Testimonials
Scroll down for more
★★★★★
"I have had two rental properties sold Ken Harrison. He is the ultimate professional. My wife had suggested him because she heard that he was very good and I of course reserved judgment. But now after two sales about a year apart from each other I am convinced I would go back to him at the drop of a hat for my next transaction. He knows how do assess things he is right on time in fact he's always ahead of time he thinks of things that the individual won't think of and more. He has a very diligent directed resourceful approach to realty sales." -

★★★★★
"Ken was great to work with and responded to me with up to date information. He was very knowledgeable about the area. Also very passionate about this beautiful part of the world. I would highly recommend working with Ken.." - Debbie

★★★★★
"Our experience with Ken Harrison was quite pleasurable. We live in a different state from the property we were selling so most of our communication was via email. He was responsive and knowledgeable and created an excellent video of our property in a timely manner. Our property sold in three days. He made it seem easy." -

★★★★★
"Ken made the purchase of a rental investment property a seamless process. Exceptional knowledge and communication throughout the process. I would be confident in his ability for any type of real estate transaction." -

★★★★★
"Ken has handled the sale of a high-end house for us and purchase of a medium-priced home. He is professional, organized, effective and well-known in this market as a Real Estate Professional, and active in the community. We always recommend him to others as a knowledgeable and honest realtor!" -

​​
About Ken
Ken's journey from being an award-winning composer for television and film in Hollywood to becoming a successful real estate agent in Bellingham and Whatcom County is a testament to his willingness to follow his heart and passion for the natural beauty and serenity of the northwest. Through his frequent visits to Washington State, he developed a deep appreciation for the area, and his enthusiasm to share it with others led him to transition into his career.

His transition to real estate was not only a career change, but it was also a chance for him to utilize his skills in technology to their fullest. His expertise has enabled him to bring people from all over the world to discover the wonders of Bellingham. Ken's dedication and one-stop-shop approach for buyers and sellers make the buying or selling of real estate in Bellingham and Whatcom County a seamless and pleasant experience.

Ken's passion for the area is not only reflected in his work but also in his exceptional performance as a real estate agent. His consistency in being in the top 10% internationally since he joined the business in 2004 is a testament to his hard work and commitment to his clients.
Ken's success in the industry is a testament to his dedication and unwavering enthusiasm for helping others discover the wonders of Bellingham and Whatcom County. Learn more about Ken and his Real Estate business by clicking 
HERE
!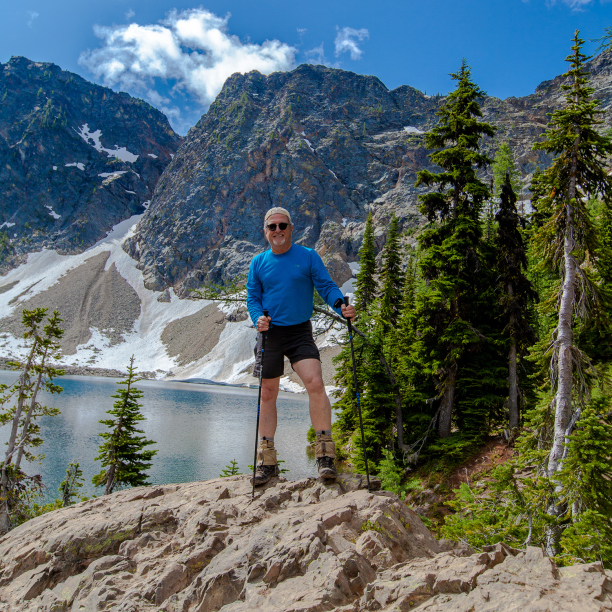 Visit Ken's
Boomers Hiking Club
website for photos and information on many adventures he has been on here in The North Cascades and beyond. Ken shares these adventures with colleagues, friends, and clients. Come Be Part Of The Adventure!