Experience
Social Media
LinkedIn     
​
Facebook     

Instagram     

Twitter     
  
  Yelp     

Kirsten's Concierge page

Kirsten's Bridge Loan Services page
  
  Ratemyagent.com     


Specialties
Buyer's Agent, Listing Agent, Relocation, Probate, Seniors
​
Client Testimonials
Scroll down for more
​ ★★★★★
"Knowledgeable, sharp, patient, and perfect! We worked with Kirsten for about 7 months before she got us to our first house. Even though it took 7 months for us to get a place, Kirsten was friendly and patient. Out of everything we looked at and made offers on, the one we got was the best. It did need some work, and she was great in pointing out building problems and errors that we should avoid when repairing. Her best advice came when we went to make a counteroffer. I had a number I thought was good and at the max, I could afford. She gave me a pep talk and got me to increase the offer by $25k. Even still we weren't the highest bidder but had no contingencies, and they sold to us. I am confident if I had stuck with my original counter offer we wouldn't have got the house. Spread over the 30 years of the loan the additional $25k will not make a difference. I am very grateful for her help and knowledge. " - Brian

★★★★★
"Kirsten Hagen did a great job and is especially good at following up and keeping in contact with everyone involved with the home buying process. She was not my original realtor but stepped up during the corona virus lockdown, forging ahead, following precautions to make the sale successful. A top notch realtor who really knows the Half Moon Bay market. Thank you Kirsten for your continuous monitoring and ongoing concern during the stressful ordeal of bidding, financing and making a home purchase. Half Moon Bay 7/20/2020 " - A.G.

★★★★★
"Kirsten made our house buying process extremely easy. My wife and I were being moved by the military at the end of 2019. We called Kirsten and she understood what was needed at every turn. While waiting for the military to figure out its process Kirsten made the time to show us homes that fit our needs. We thoroughly enjoyed the time spent looking at houses and learning about real estate with Kirsten. When we move to a new base with the military we will be sure to call Kirsten for advice." - Will and Alice

★★★★★
"Kirsten helped my daughter and son-in-law find their dream home in Half Moon Bay. They were purchasing a home while living in another state, so she was their eyes and ears and did a lot of leg work in filtering all the listings to find the perfect house for them. Kirsten and I looked at a lot of houses and sent videos to my daughter, and they rushed out when they found "the house" as soon as they could catch a flight. Multiple buyers were interested in the house, and Kirsten's recommendations and communication with the listing agent were instrumental in them having the winning offer. She also helped with the closing as they were still out of state, and even kept an eye on the empty house until their move was complete. She went out of her way to help them into their dream home and I would recommend her to any perspective buyer or seller." - Michelle

★★★★★
"Kirsten Hagen provided superb strategy, preparation, and presentation for selling my home in Montara CA. My home was beautifully staged and sold within 30 days of listing. Though I live in Illinois, Kirsten arranged bids, prioritized and scheduled resurfacing hardwood flooring and replacing carpeting, interior and exterior painting, sealing the deck, landscaping, plumbing, and extensive kitchen re-modelling work along with all necessary inspections and repairs within sixty days prior to listing. The target back in April was June 1st, we listed on June 4th of 2019 and closed escrow on July 3rd. It doesn't get any better than that. If Kirsten Hagen is your agent you can reliably expect a strong work ethic and excellent attention to detail and follow through. Kirsten Hagen is well-connected, resourceful and communicative. A good resource for the coast." - Carl

★★★★★
"Kirsten is a Wonder Woman Realtor! We bought our house in HMB, CA, while living out of state, and we had complete confidence in her every step of the way. Kirsten has a wonderful combination of business savvy and people skills. She helped bring humanity to very intense market, and we knew her number one priority wasn't making the sale, but rather helping our family find the ideal home. We have been in our home for over 6 months now, and couldn't be happier. Kirsten is still a great resource for us - she recently gave some great recommendations for a handyman and hardwood installer. We would absolutely work with her again (although we hope not to move anytime soon)! Thanks, Kirsten and Keller Williams for helping us buy our dream home."

★★★★★
"Kirsten Hagen is a very professional real estate agent, whose thorough service comes first from her knowledge of all local resources, from city regulations of building and expanding, to home renovation design and construction experts, and a lot more than that. Her emphasis is not only about selling/buying a property, but about clients loving their new home. Kirsten is a detail oriented realtor, and always stretched her schedule to meet clients' last minute request. It was a pleasure to have Kirsten representing us."

★★★★★
"Kirsten helped to buy our dream house in peninsula, where it has been seller's market for long time. We are so glad to buy our house in such a short time based on her timely and appropriate suggestion."

★★★★★
"We invited Kirsten to sell our home, and she did a superb job! Guiding us through every step throughout the process, she made it very easy. We found Kirsten to be thoughtful and insightful about the local real estate market, and her excellent negotiation skills closed the deal. We have already recommended her to others in the area and would definitely work with her again."

★★★★★
"Kirsten was a joy to work with! We had a number of hurdles thrown our way on the sale of our land, but she handled all of them very professionally. I would definitely use her again."

★★★★★
"Kirstin is a great agent! We strongly recommend her and will use her again for future real estate needs. She would answer my texts and calls anytime of day and meet us if we wanted to see a house. She worked so hard to help us did our home."

★★★★★
"Was a joy working with Kirsten, she is a highly organized, knowledgeable real estate professional. Kirsten did a fantastic job helping us sell our multi-family home in Half Moon Bay. In our case, she had to navigate many challenges, including scheduling showings with tenants living in the building, managing several repairs and inspections. We couldn't have gotten it done without her organization skills and list of useful contacts. I highly recommend Kirsten to anyone looking to buy or sell a property in the bay area."

★★★★★
"Kirsten has been our agent since 2013. She represented us twice as buyer and once as seller. She is the goto person for all our real state needs. Throughout the years, we get to know her really well. She is through, detail oriented, extremely patient, extremely responsive and most of all trust-worthy. Our last purchase, we looked well over a few dozen houses. She accommodates our working schedule and goes over seeing them with us all hours. We are more than impressed by her professionalism and enormous capacity of patience. We have no doubt she has our best interest in hear and do all she can to help us find that one house that fits our need and she did! We'd recommend her to any of our friends any time and we have total confidence that she will provide top quality service anyone can possibly hope for in pursuit of finding their dream home." - Peter and Peihuan

★★★★★
"We are very excited about the lot we have purchased in Half Moon Bay with Kirsten's help. We worked with her for about 6 months to find what we wanted. Kirsten is clearly an expert on the Half Moon Bay area and she always went the extra mile to watch out for our interests, including helping us to secure water rights. We would not work with anyone else in real estate! Since purchasing the lot, Kirsten has continued to help us move forward on building our dream house. She is dedicated, knowledgeable, and truly a pleasure to work with."

★★★★★
"We feel incredibly lucky to have Kirsten as our realtor. We chose her because we heard that she had years of experience and a deep knowledge of the area where we were buying, and we were not disappointed! Due to the nature of the property, it was a very complex sale and took months of negotiations and due diligence. Kirsten was our trusted guide every step of the way. She was organized, and kept us on track throughout the entire, complicated process. We were also buying the property from afar, but Kirsten was our eyes and ears on the ground. She went above and beyond her job description for us so many times it's hard to count. She gives great advice, has very good judgement and intuition, and is simply a pleasure to work with. We highly recommend her and have many times to our friends."

★★★★★
"Thanks, Kirsten, for your help in buying our beautiful home! Kirsten recently helped my wife and me to buy our first home, in Half Moon Bay, and we were very happy with the help she gave us throughout the process. We want to leave a strong, positive recommendation here for anyone else considering working with her! She was a patient and knowledgeable guide throughout the process, and was our advocate every step of the way. Kirsten used to work in the software industry, and I think it shows. She answered my questions with data when possible, or rigorous logic whenever it wasn't. Also, my wife and I thought that Kirsten struck the best balance of responsive-but-not-overbearing among all the real estate agents we encountered. She made herself available to us over the weekends, later at night, or whenever we had a question. Thanks, Kirsten, for your help in buying our beautiful home!" - Kit C., Buyer, Half Moon Bay, CA

★★★★★
"It was a pleasure to have Kirsten representing us! Kirsten Hagen is a very professional real estate agent, whose thorough service comes first from her knowledge of all local resources, from city regulations of building and expanding, to home renovation design and construction experts, and a lot more than that. Her emphasis is not only about selling/buying a property, but about clients loving their new home. Kirsten is a detail oriented realtor, and always stretched her schedule to meet clients' last minute request. It was a pleasure to have Kirsten representing us! "- Connie, Buyer, Half Moon Bay, CA

★★★★★
"Kirsten Hagen provided superb presentation for selling my home in Montara CA Kirsten Hagen provided superb strategy, preparation, and presentation for selling my home in Montara CA. My home was beautifully staged and sold within 30 days of listing. Though I live in Illinois, Kirsten arranged bids, prioritized and scheduled resurfacing hardwood flooring and replacing carpeting, interior and exterior painting, sealing the deck, landscaping, plumbing, and extensive kitchen re-modelling work along with all necessary inspections and repairs within sixty days prior to listing. The target back in April was June 1st, we listed on June 4th of 2019 and closed escrow on July 3rd. It doesn't get any better than that. If Kirsten Hagen is your agent you can reliably expect a strong work ethic and excellent attention to detail and follow through. Kirsten Hagen is well-connected, resourceful and communicative. A good resource for the coast "- Carl, Seller, Montara, CA

★★★★★
"Home Purchase Kirsten was able to help us purchase a home where we had to negotiate a price that would work for the seller and us. We were at a point where I was ready to walk away and Kirsten found a way to make it work for both of us, she went above and beyond to make the sale happen and we are so happy to be in our home on the Coastside. "- Bryan and Patricia, Buyer, Half Moon Bay, CA

★★★★★
"Kirsten was attentive and professional Kirsten gave us a great real estate experience. She managed to meet our housing needs several hours from her home office. We never felt pushed into making any decisions, and she frequently gave us advice that was great for us, even when it might not have been to her own benefit. We highly recommend her. Thanks Kirsten! "- Brennen, Buyer, Escondido, CA

★★★★★
"Total Confidence that she will provide Top Quality service Kirsten has been our agent since 2013. She represented us twice once as buyer and once as seller. She is the goto person for all our real state needs. Throughout the years, we get to know her really well. She is through, detail oriented, extremely patient, extremely responsive and most of all trust-worthy. Our last purchase, we looked well over a few dozen houses. She accommodates our working schedule and goes over seeing them with us all hours. We are more than impressed by her professionalism and enormous capacity of patience. We have no doubt she has our best interest in hear and do all she can to help us find that one house that fits our need and she did! We'd recommend her to any of our friends any time and we have total confidence that she will provide top quality service anyone can possibly hope for in pursuit of finding their dream home. "- Peihuan, Buyer, Cambrian Park, CA

★★★★★
"We would definitely recommend Kirsten as a representative in the sale or purchase of a home. Kirsten was very professional, efficient and hard working. "- Ivan and Ruth, Buyer, San Mateo County, CA

★★★★★
"Bought a manufactured home (aka: mobile home) Coming through a divorce and unfortunately, I was all over the board on what to do. The house I owned with my wife was paid off so it was just a matter of taking my equity and moving on. Buy a house and be saddled with a mortgage payment for 30 years. I'm 63, probably not a good idea. Or buy a mobile home outright and be done with it. Had Kirsten jumping through hoops as I really didn't know what to do. She was a trooper and was extremely patient with a guy who is usually very decisive but stumble, fumbled for a few months. Finally got on track and the sale went through without a hitch. Glad she was on my side. "- Ross, Buyer, Half Moon Bay, CA

★★★★★
"With you every step of the way Kirsten was wonderful in helping me prepare, list, and sell my home. We worked together over several months and she was consistently knowledgeable and available to help me coordinate upgrades and renovations prior to sale. Kirsten has a great network of people to draw on and she kept the process moving forward. She was flexible as things changed around the shelter in place orders. I highly recommend Kirsten! "- Deb, Seller, Half Moon Bay, CA

★★★★★
"Kirsten was extremely pleasant and positive, truly wonderful to work with. I had been looking for over 3 years for a special property on the coast. Kirsten was very patient, kind and when she found "The One" that was perfect for me, she told me about it, got me in to see It and we made the offer before the "For Sale" sign ever went up!! "- Pat, Buyer, Moss Beach, CA

★★★★★
"We had a great experience with Kirsten as our agent to purchase an empty lot in El Granada CA. She was always professional and helpful with a lot of detailed questions. She took the time to investigate all the potential issues we could have encountered with this purchase. We highly recommend her! "- Aaron and Ingrid, Buyer, El Granada, CA

★★★★★
"Kirsten Hagen did a great job and is especially good at following up and keeping in contact with everyone involved with the home buying process. She was not my original realtor but stepped up during the coronavirus lockdown, forging ahead, following precautions to make the sale successful. A top-notch realtor who really knows the Half Moon Bay market. Thank you Kirsten for your continuous monitoring and ongoing concern during the stressful ordeal of bidding, financing, and making a home purchase "- A.G. Buyer, Half Moon Bay, CA

★★★★★
"Kirsten Hagen Rocks! We recently sold our Aunt's Home using Compass Realty. Our agent, Kirsten Hagen, was professional, conscientious, and a pleasure to work with. Acting as the project manager, she advised us on necessary updating and pricing decisions throughout the entire process. Through her many resources, all work was done right and on a timely basis. One of Compass free services was The Capital Concierge. The service offered assistance to pay for updating expenses which are repaid upon the sale of the house. With no fees whatsoever. We highly recommend Kirsten as an expositional real estate agent. "- David Hanna, (Seller) 30 March 2021


Education
Southern Methodist University
• BBA, Business emphasizing Management Information Systems
• BS, Psychology
Professional Certifications
• Accredited Buyer Specialist (ABR)
• Senior Real Estate Specialist (SRES)
• Certified Negotiation Expert (CNE)
• Certified Probate Real Estate Specialist (CPRES)
• Certified International Property Specialist (CIPS)


About

Experience the difference. Exceptional Real Estate service with a personal touch. With over 15 years of experience as a Realtor®, Kirsten is well-equipped to understand today's buyers and sellers. By listening and asking the right questions, she loves helping them articulate and achieve their goals.

Kirsten is a veteran of challenging management and technical customer support positions. She draws on this experience to deliver exceptional service navigating the complexities of contractual clauses, timeframes, and contingencies. You can count on her to plan and manage client projects with an eye for detail as well as the bottom line, informed by her background in construction.

She values personal relationships and her clients often remark on the quality of her chosen network of financial, logistical and other specialists. As a Real Estate professional since 2005, these skills and relationships provide her clients distinct advantages when buying or selling a home.

Kirsten works with the world-class experience, marketing, technical resources, and negotiation skills of our team of seasoned professionals at Palermo Properties. Because of her personal knowledge of the area, Kirsten can connect clients on both the Ocean and Bay sides of the San Mateo Peninsula with their home in the world. After moving to the Bay Area more than 30 years ago, Kirsten lived in Redwood City and Santa Clara, and worked in San Mateo, Palo Alto and Redwood Shores. She currently lives in Half Moon Bay and loves her active coastal lifestyle.

She's always valued community, supporting many local organizations and holding leadership positions with San Mateo County Association of Realtors, Sea Hugger, Half Moon Bay Coastside Chamber of Commerce, and BNI Mavericks chapter. She earned BBA in Management of Information Systems and BS in Psychology from Southern Methodist University.




Spotlight
17300 Cabrillo Hwy S
One-of-a-Kind idyllic piece of the California coast with breathtaking views of the Pacific Ocean. Rarely available, this stunning 28.5 acre property stretches from Highway 1 to the Pacific Ocean and offers an old farmhouse and accessory buildings waiting to be brought back to life. Planned Agriculture Development (PAD) zoning allows for many possible uses. Exciting place to bring your own coastal vision to fruition and enjoy the ever-changing sights and sounds of the ocean. Easy access to the Ritz Carlton and firepits, coastal trail and stairs to beach, historic downtown Half Moon Bay. Convenient location near commute routes to San Francisco and the San Mateo Peninsula. Note that square footage and year built are numbers from old appraisal - no info found in county records. Buyer to determine to their satisfaction.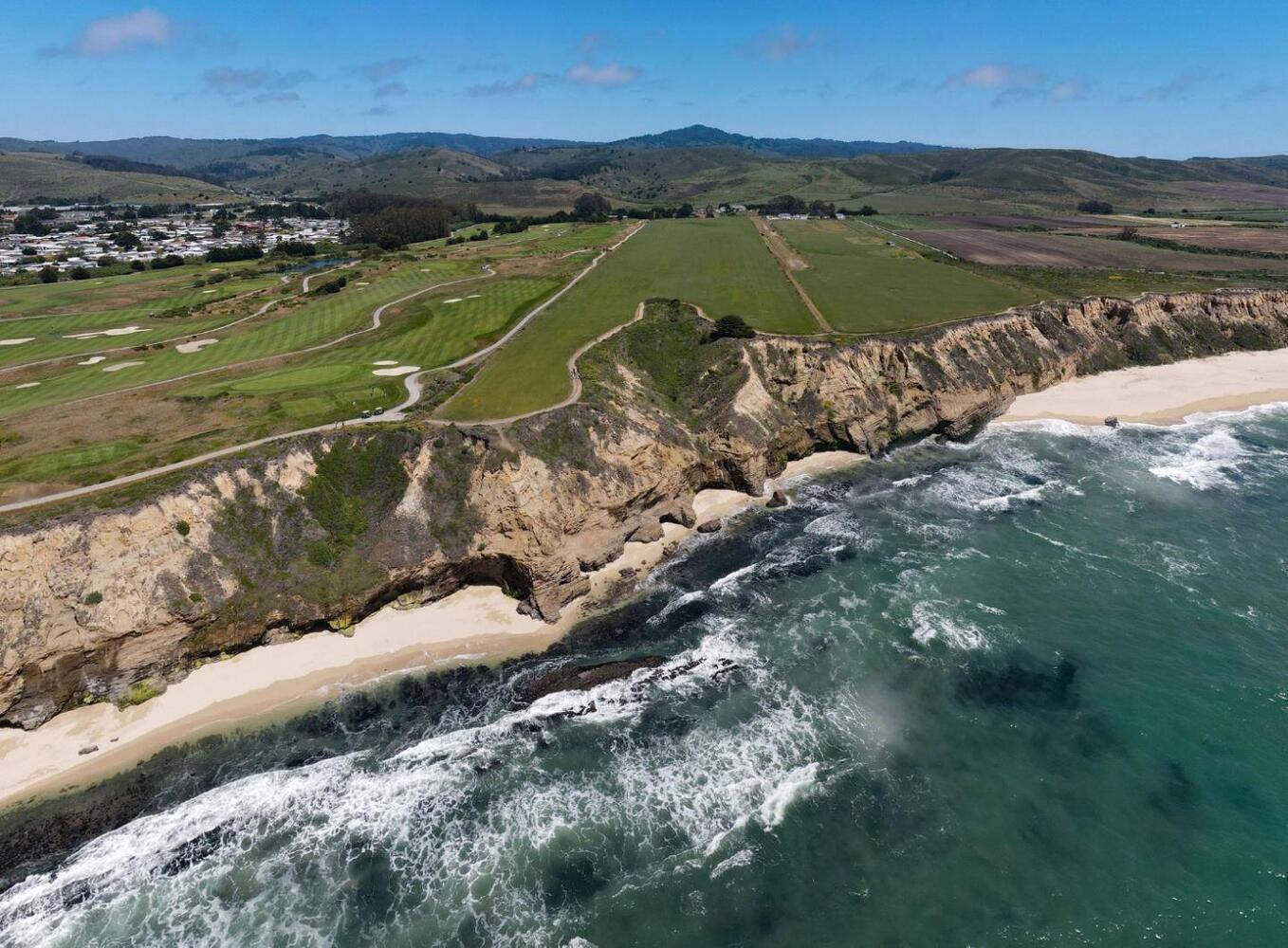 Spotlight
728 Arroyo Leon Dr
Stunning design and gorgeous craftsmanship on display at this beautiful Craftsman-style home just blocks away from historic Half Moon Bay Main Street. Welcoming you is the vaulted-ceiling formal entry which leads to living and dining rooms with 9ft ceilings, rich hardwood floors and extensive custom moulding and trim. Custom carpentry includes 3 unique fireplaces, Anderson windows, hardwood and slate floors, tasteful chef's kitchen with high-end appliances and fabulous walk-in pantry. Kitchen is open to the family room and access to the private backyard featuring patio & lush landscaping - great for entertaining! Downstairs offers office and full bathroom; upstairs are primary bedroom suite with fireplace, walk-in closet and enticing tub, 3 additional bedrooms, bathroom, convenient laundry. Great finished garage - this home has it all including easy access to highways 1 and 92 to SF, SFO & Silicon Valley.
Kirsten Hagen's Listings
Listed By Compass
Pending Do Not Show
Listed By Compass
Pending Do Not Show