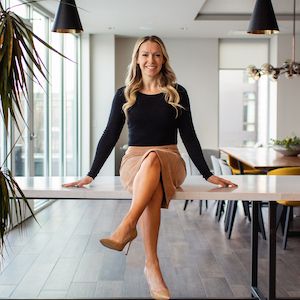 Lauren Traficanto
Licensed Real Estate Agent
Social Media
Specialties
Buyer's Agent, Listing Agent, Relocation, Consulting, Property Management, and Staging
Education
Roosevelt University - Marketing
About Lauren
Starting in residential real estate at the age of 21 wasn't easy, but starting when the economy was still recovering from its downfall in 2009 made it even worse. I started my business doing a lot of rentals and working extra hard to gain the trust of my peers and clients during a time that was difficult for so many. Over the years, my business has been 90% repeat clientele and referrals from those clients. I feel like in a business with such high turnover and so many realtors to choose from, it's an honor to be working with the same clients multiple times and see their lives and family dynamics change over the years.
I focus on Chicago and all of it's wonderful neighborhoods. I work with all types of buyers and sellers starting from first time home purchases to single family residences and multi family units. I also specialize in getting homes ready to hit the market and handle everything from repairs, cleanings, and staging to getting it sold for top dollar. I've been a broker for almost 15 years and have gained an abundance of knowledge to make sure each transaction is smooth for my clients whether you're buying or selling. 
What sets me apart from other brokers is not treating my clients/customers as a number or statistic. Understanding that purchasing a home is one of the biggest commitments in someone's life and not about my paycheck. I work for a large company that supports me, but at the end of the day, I am the face of my business and I try my best to give 100% to every client whether they're renting, buying, or selling. I truly lookout for their best interest so they have the knowledge and tools to make the best investment they can with what they have.
I love living and working in Chicago and truly feel lucky to be living in World class city. Having an opportunity to give back to the community is a big deal to me. Residing in a major city creates several volunteer opportunities. I have chosen to work weekly with The Greater Chicago Food Depository. They need daily volunteers to pack up the food they receive in order to get it to people in need. GCFD has been servicing less fortunate families in Chicago for a little over 40 years and in 2019 alone, served 62.4 million meals. They depend solely on volunteers to get the food packaged and labeled for delivery. It's a small contribution on my part but has a large impact on the community and GCFD's strive to a make sure people down on their luck don't go hungry.
Lauren Traficanto's Listings
Listed By Compass
Contingent
Listed By Compass
VIRTUAL TOUR