Revenue
The Barak/Blackburn Team closed over $140M in closed sales in 2017

The Barak/Blackburn Team has in excess 1B since 2006.
Awards
Recognized The Wall Street as one the 250 Top Teams in the Nation in 2017.
Press
Crafty Combo in Prospect Heights,
Dwell
; In East Williamsburg, an Updates the Streets His Youth,
NY Times
; Barak and Blackburn hop to from Corcoran,
The Real Deal
; Team tally hits $88 million,
Real Estate Weekly
; South Williamsburg Candy Factory Makes Sweet Switch to Rentals,
Curbed
; In Williamsburg, upping fees to match expectations,
The Real Deal
; Barak/Blackburn Group plans rental expansion after Corcoran move,
The Real Deal
; Williamsburg warehouse set to become apartments,
The Real Deal
; Dunham Place reaches 50% leased mark,
The Real Deal
; Brazilian ragdoll artist Maria Lynch buying $2.8M B-burg pad,
The New York Post
; Williamsburg's 'Charred Wood' Condos Get New Renders, Name
Curbed
; These condos stink on purpose
NY Post
Sleek Williamsburg Townhouse With Gas Fireplace, Modern Updates Asks $3.15 Million,
Brownstoner
; A view-toting 'Skyhouse' in the erstwhile Williamsberry wants $3.5M,
Curbed
; Unusually Well-Preserved 'Burg With Details, Working Fireplaces Asks $2.995 Million,
Brownstoner
; Tiny perched atop Williamsburg's Mill Building seeks $2.85M
Curbed
Specialties
Languages: Hebrew.
About Lior
A top-producing, multiple award-winning , Lior is a 25-year NYC resident and longtime investor in several properties in North Brooklyn and Lower Manhattan, fueling his vast knowledge and expertise. Key to Lior's success in helping clients is his thorough, comprehensive knowledge New York real estate.

Specializing in North Brooklyn and Lower Manhattan, Lior works effectively with individual buyers and sellers as well as developers with whom he's forged strong relationships, helping all parties make good decisions and sound investments. His diverse experience has included renting and selling hundreds properties, from new construction sites and condominiums to multi-family houses, brownstones and commercial properties. Working in partnership with Christine Blackburn, the Barak | Blackburn Team has delivered astounding since its inception in 2006.

Since selling out their first project, Roebling Square, at the highest price per square foot, the Barak | Blackburn Team has worked on an array Brooklyn's most prominent new developments. The team out 201 N. 11—a spectacularly building outfitted Atelier New York, and the most expensive condo to date in the Williamsburg waterfront region. Also in Williamsburg, the team jumpstarted sales at 55 Berry Street, a "dead ," selling out 31 units in a condo conversion in Williamsburg; launched The Jacksonia, 56 townhouse-style condos that out in five months in a down market; launched 129 Metropolitan Avenue, a 12- new that out in three months; handled 5-15 Roebling St., a 20- condo they moved in a down market, achieving $100 more per square foot than the competitor across the street; and out an 8- new , 868 Metropolitan Avenue, in a record seven weeks. The Barak | Blackburn Team also launched 111 Kent, an ambitious ground-up the team has consulted on from the very beginning. They found the site, its developer, the land, and worked with architects and designers on maximizing stability and designing for the market. Elsewhere in Brooklyn, the Barak | Blackburn Team launched Clermont Greene, a 74- condo in Fort Greene, Brooklyn, as well as 228 16th Street, an 8- new in Park Slope.

Prior to entering real estate, Lior spent 12 years in the food business. He is originally from Israel, and has lived in Williamsburg with his family for the past 15 years. Both his kids attend public schools here, and he loves being an member this vibrant neighborhood.
Spotlight
480 Degraw Street
Welcome home to 480 Degraw, spacious modern condominiums in Carroll Gardens. Thoughtfully crafted, these unique homes feature soaring double heigh ceilings and generous private outdoor spaces. Designed and developed by Build 360, a NY based architecture and design firm known for their innovative approach to design- these homes exude a unique airy quality unlike anything else on the market.

480 Degraw is a unique hybrid of indoor and outdoor living. Each home features either a private garden or sizable private terrace fully equipped with direct gas and water lines. Sweeping scenes of the sparking downtown skyline contrast with the lush foliage of Degraw street as well as beautiful views of St. Agnes church.

Inside, crafted steel features, sustainable Blonde Douglas Fir, built-in paneled appliances, and double drawer dishwashers by Fisher and Paykel adorn custom kitchens. Bathrooms feature Jason Wu matte black bath hardware, terrazzo floor tiles and full wall back painted glass and mirror accents. But this home isn't just about it's appearance. Behind it's beautiful exterior, radiant floor heating, multiple zone split system heating and cooling, as well as energy efficient double-pane windows and doors deliver exceptional utility.

A collection of 13 premium residences, 480 Degraw offers your choice of townhouse, duplex, or penthouse. Each offering access to a state of the art, automated parking garage with space for up to 21 cars and 11 EV charging pads. There is also bike storage and a dog washing station.

The location is the perfect mix of historic Carroll Gardens brownstones and the fun and creativity of Gowanus. Have access to it all, and be close to both Smith and Court Streets as well as Whole Foods and the restaurants along Court Street and Union Ave.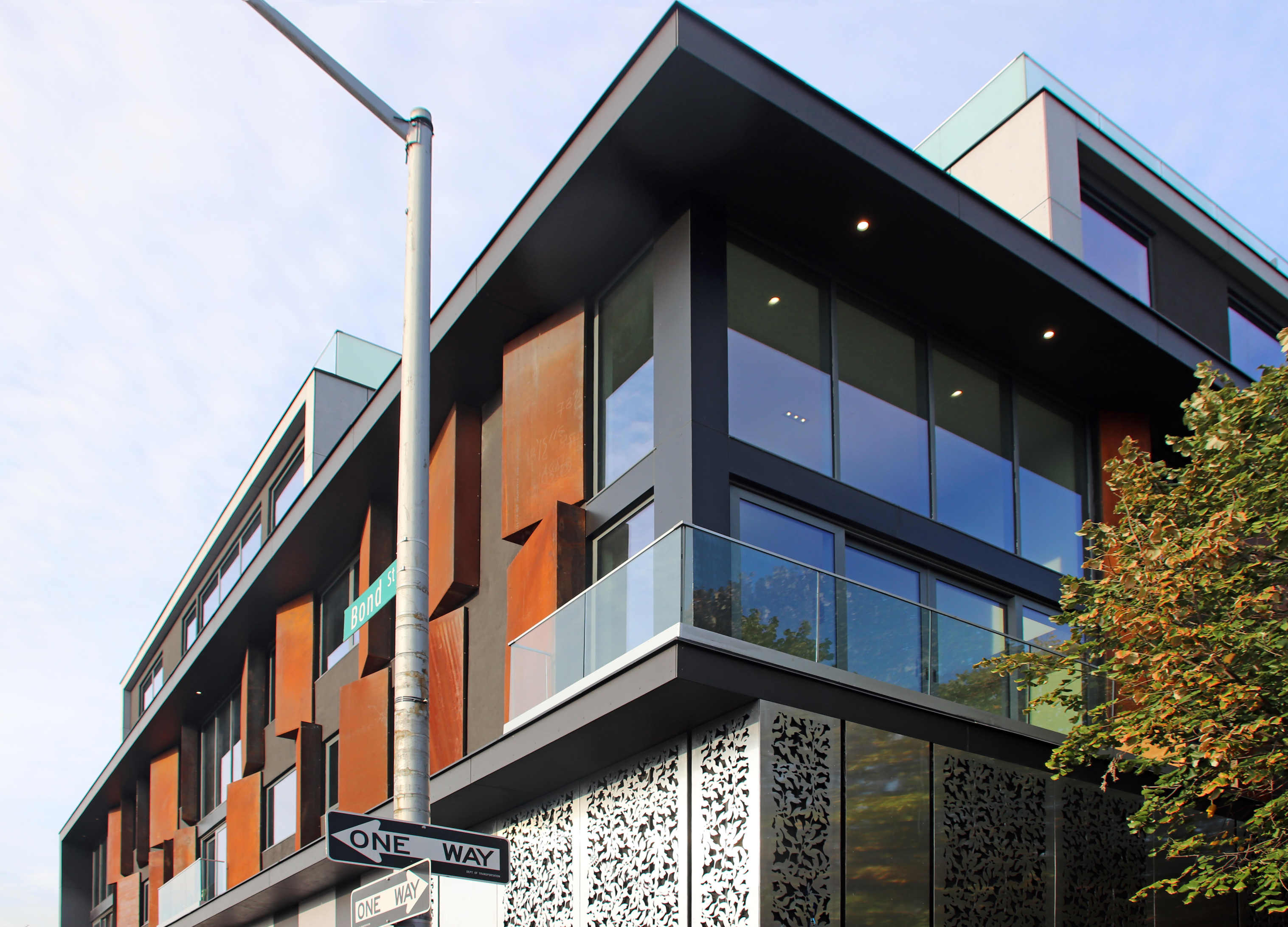 Spotlight
The Bath Haus
Originally constructed in 1903 as one of 13 Public Bath Houses in New York City, this architectural jewel has now been reimagined for 21st century living. Unique and distinctive, the facade of the Bath Haus preserves architect Louis H. Voss' original vision, maintains and restores its original architectural elements, and pays homage to the spirit of the City Beautiful movement in New York of which it was born. With only 9 residences, the Bath Haus offers a rare opportunity to purchase a home with architectural provenance in the heart of Greenpoint- quickly emerging as one of the most desirable neighborhoods in all of New York City.

Designed by award-winning NYC design firm Meshberg Group- the residence interiors at the Bath Haus are elegant and minimalist. Natural Carrara and Bello marble reference the building's history, while 7" PID European Oak flooring and oversized custom windows bring warmth and sunlight into each home. Kitchens feature a fully integrated Bosch and Leibherr appliance package with matte white and brushed metal finish cabinetry, and each residence comes with a Bosch Washer and Dryer. There is a common roof deck, available storage, and a common recreational room for resident's use. Closings anticipated early 2021.