Experience
Revenue
The Barak/Blackburn Team closed over $140M in closed sales in 2017
The Barak/Blackburn Team has in excess 1B since 2006.
Awards
Recognized The Wall Street Journal as one the 250 Top Teams in the Nation in 2017.
Press
Crafty Combo in Prospect Heights, Dwell; In East Williamsburg, an Updates the Streets His Youth, NY Times; Barak and Blackburn hop to from Corcoran, The Real Deal; Team tally hits $88 million, Real Estate Weekly; South Williamsburg Candy Factory Makes Sweet Switch to Rentals, Curbed; In Williamsburg, upping fees to match expectations, The Real Deal; Barak/Blackburn Group plans rental expansion after Corcoran move, The Real Deal; Williamsburg warehouse set to become apartments, The Real Deal; Dunham Place reaches 50% leased mark, The Real Deal; Brazilian ragdoll artist Maria Lynch buying $2.8M B-burg pad, The New York Post; Williamsburg's 'Charred Wood' Condos Get New Renders, Name Curbed; These condos stink on purpose NY Post Sleek Williamsburg Townhouse With Gas Fireplace, Modern Updates Asks $3.15 Million, Brownstoner; A view-toting 'Skyhouse' in the erstwhile Williamsberry wants $3.5M, Curbed; Unusually Well-Preserved 'Burg With Details, Working Fireplaces Asks $2.995 Million, Brownstoner; Tiny perched atop Williamsburg's Mill Building seeks $2.85MCurbed
Specialties
Languages: Hebrew.
About Lior
A top-producing, multiple award-winning , Lior is a 25-year NYC resident and longtime investor in several properties in North Brooklyn and Lower Manhattan, fueling his vast knowledge and expertise. Key to Lior's success in helping clients is his thorough, comprehensive knowledge New York real estate.
Specializing in North Brooklyn and Lower Manhattan, Lior works effectively with individual buyers and sellers as well as developers with whom he's forged strong relationships, helping all parties make good decisions and sound investments. His diverse experience has included renting and selling hundreds properties, from new construction sites and condominiums to multi-family houses, brownstones and commercial properties. Working in partnership with Christine Blackburn, the Barak | Blackburn Team has delivered astounding results since its inception in 2006.
Since selling out their first project, Roebling Square, at the highest price per square foot, the Barak | Blackburn Team has worked on an array Brooklyn's most prominent new developments. The team out 201 N. 11—a spectacularly building outfitted Atelier New York, and the most expensive condo to date in the Williamsburg waterfront region. Also in Williamsburg, the team jumpstarted sales at 55 Berry Street, a "dead ," selling out 31 units in a condo conversion in Williamsburg; launched The Jacksonia, 56 townhouse-style condos that out in five months in a down market; launched 129 Metropolitan Avenue, a 12- new that out in three months; handled 5-15 Roebling St., a 20- condo they moved in a down market, achieving $100 more per square foot than the competitor across the street; and out an 8- new , 868 Metropolitan Avenue, in a record seven weeks. The Barak | Blackburn Team also launched 111 Kent, an ambitious ground-up the team has consulted on from the very beginning. They found the site, its developer, the land, and worked with architects and designers on maximizing stability and designing for the market. Elsewhere in Brooklyn, the Barak | Blackburn Team launched Clermont Greene, a 74- condo in Fort Greene, Brooklyn, as well as 228 16th Street, an 8- new in Park Slope.
Prior to entering real estate, Lior spent 12 years in the food business. He is originally from Israel, and has lived in Williamsburg with his family for the past 15 years. Both his kids attend public schools here, and he loves being an member this vibrant neighborhood.
Spotlight
220 North 6th Street
Simply Stunning. 220 North 6th Street is a new boutique condominium which offers three distinctly unique residences. Perfectly located on a leafy block just around the corner from the Bedford L, 220 North 6th spares nothing in terms of finish and attention to detail.
Built with hand-made Peterson bricks from Denmark, Mahogany shadowbox window trim, floor to ceiling accordion windows which open the entire wall width, and duplexes featuring double height windows overlooking a tranquil garden- these are anything but cookie cutter. Interior finishes include imported german kitchens with integrated Bosch and Liebherr appliances, Grohe bath fixtures and custom cabinetry throughout. Kitchens have separate Bosch cooktop and double wall ovens, a wine fridge, and an island with waterfall edge.
Situated in the heart of Williamsburg close to absolutely everything- Whole Foods, Lilia, Domino and East River Parks, McCarren Park tennis center, Llama Inn, the Hoxton and Wythe Hotels, Equinox, Nitehawk Cinema... the list is endless.
The garden residence (#1) features an enormous private garden, great room with double height ceilings, two full bedrooms plus a large sitting room which easily becomes a 3rd bedroom, as well as a rec room with floor to ceiling windows. An excellent townhouse alternative for those who want the space of a house without the responsibility of maintenance.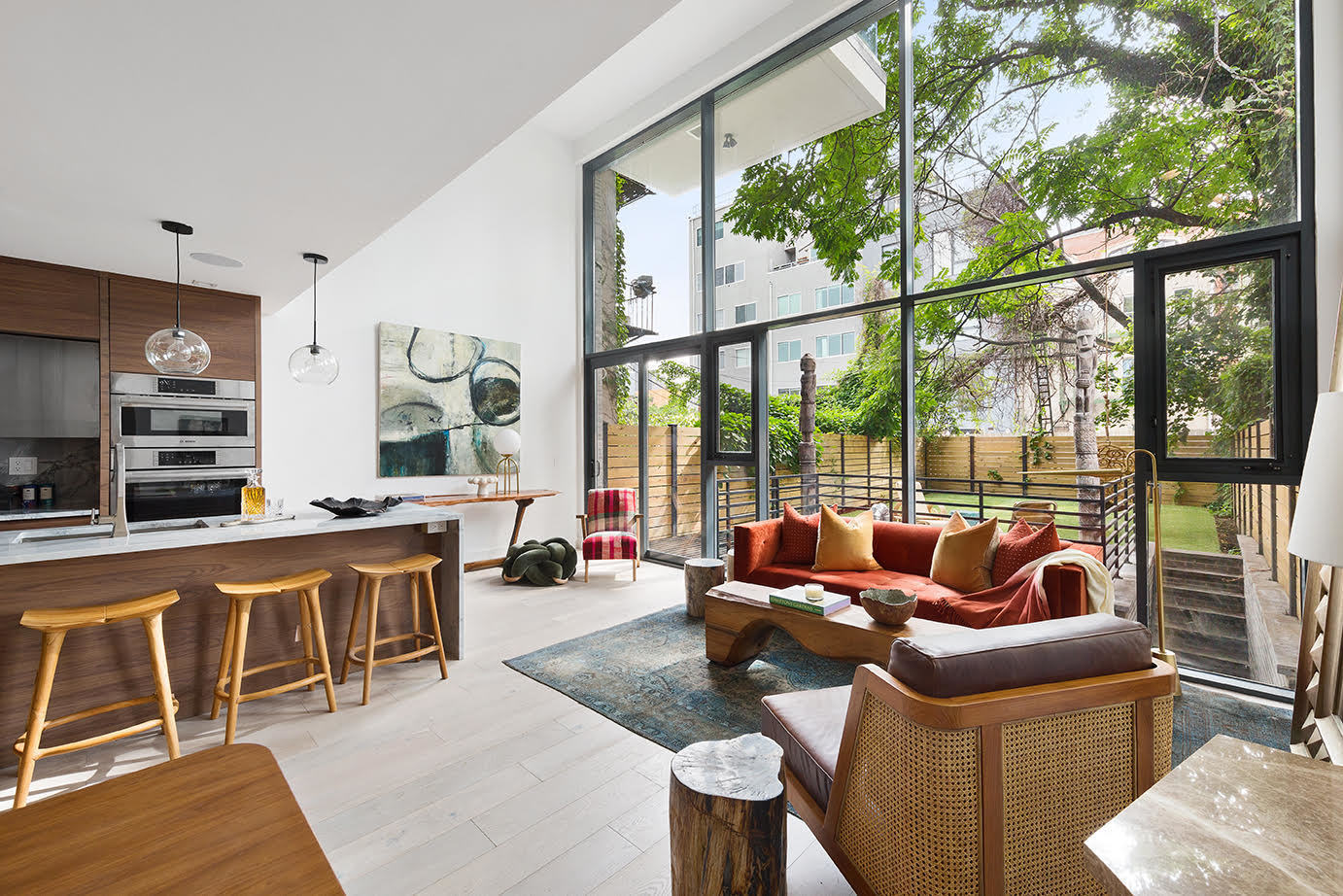 Spotlight
111 Montgomery Street
Welcome to 111 Montgomery, the first full-service condominium in Crown Heights.
From the cultural epicenter of Brooklyn comes a collection of 163 refined homes where the pride of ownership in one of New York's most historic communities is rooted in a rich heritage of diversity and charm.

Poised at the nexus of two legendary destinations: Prospect Park and the Brooklyn Botanic Garden, 111 Montgomery is a brand new condominium with amenities never before seen in Crown Heights. Communal spaces abound, including a sumptuous, sunny co-working space and resident's lounge, community garden, BBQ / terrace dining area, fully equipped fitness center featuring Peloton bikes, an inventive wilderness themed children's playroom with floating canoe installation, and spectacular landscaped roof terrace crowned by Brooklyn and Manhattan skyline views.
111 Montgomery is the new standard for design in balance. Soothing palettes, natural materials, and a focus on bringing botanical elements into every aspect of the interiors and common areas. Residences feature 5' white oak floors, honed quartz sleek concrete countertops, an all-Bosch appliance package and Palm-Springs inspired baths with floor to ceiling stacked tiles and elegant matte black hardware.

Manhattan is less than 20 minutes away (2,3,4 and 5 express trains), but there are endless reasons to stay local. Sophisticated cocktail lounges, Michellin recommended restaurants, the Brooklyn Museum, Prospect Park and the summer bandshell concerts, Grand Army Plaza Greenmarket- and so much more. Come discover, come play, come explore!