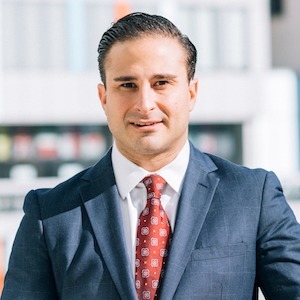 Michael Mandile
Licensed Real Estate Broker
Education
DePaul University
Client Testimonials
"
Michael was FANTASTIC, went above and beyond in finding us the perfect condo. We had been looking by ourself and trying out other brokers, however when we met Michael he took charge and showed us he meant business right away. He fine tuned exactly what we were looking , and got us an amazing deal we would have never thought we could have gotten. He was persistent in his negotiations, he was always prompt and available, and he was informative. We will not think twice about using Michael again, he has surely gained our trust and future business.
"
"
Michael was essential in the sale of our home, did a fantastic job start to finish! His listing was stellar, we've yet to see a listing with the features of video walkthrough, a drone, and virtual tour on top of the photos. Everything was beautiful, the was above and beyond what we would have expected or have seen! We had multiple offers our first day on the market, and ended up selling for way more than we anticipated. Michael is a true professional whine we trust and are glad we chose as our real estate professional.
"
"
Michael recently helped me buy a condo in River North, Chicago. This was my first time buying real estate, and Michael's expertise and advice was priceless. He was very patient and helpful, and maintained a great line of communication throughout the entire process. The listing agent was not such a pleasure to work with, and it seemed very difficult at times. He always stayed optimistic and assured me we'd get things done and to leave the worrying up to him. Among other things, the seller left the storage locker with junk, including some very large pieces. If we had raised a issue at final walk through, it could have delayed closing. Michael volunteered to help and disposed of everything himself as I was busy with movers after the closing. He went above and beyond in every way possible. I cannot thank or recommend him enough, he is the go to guy from here on out.
"
About Michael
Michael P. Mandile, a graduate of DePaul University, has an extensive background in real estate sales, property investments, and property management. Being raised in a family of real estate investors, Michael has gone from observing the family business to working his way into the world of real estate, and has surely made quite the splash along the way. Starting early in 2017, Michael closed 75 transactions in his first year as a licensed broker, and was awarded "The Rookie of The Year Award" by The Chicago Association of Realtors. This is a coveted award that was awarded to a single agent who out performed 2200 other rookie brokers that year. Since then, Michael has been recognized as a Top producer in 2017,2018, 2019, 2020, 2021 and was awarded as one of the Most Influential Brokers in Real Estate on social media via Property Spark, and has been recognized as Who's Who in Real Estate in 2017, 2018, 2019, and 2020 by Chicago Agent Magazine. In 2018 Michael and his business partner Tim Lorimer joined Compass as founding agents and started The Mandile + Lorimer Property Group at Compass, a team that now has 10 members and over $170,000,000 in sales since then.
Michael is best known for his incomparable customer service and takes pride in his C.L.I.E.N.T philosophy which stands for Customer Service, Loyalty, Integrity, Energy, Negotiations, and Triumph which are 6 actions he guarantees his client to receive from him.
Michael is an enthusiastic member of the community and spends his time volunteering with The River North Residents Association, traveling, catching a Blackhawks game, dining out, and showing his clients the best of what Chicago has to offer. When real estate comes to mind, Michael is your guy!
Michael Mandile's Listings