Experience
Education
Graduate:Wake Forest University

Undergraduate: Appalachian State University


Client Testimonials
Scroll down for more
★★★★★
"Michelle was extremely helpful to my boyfriend and myself as we were researching purchasing a first home for ourselves. Michelle was able to give us a ton of information, not only about the condos themselves, but also what to look for and ask about in general while going through this process. She is always very responsive, knowledgeable and very pleasant and kind person to work with who understands how stressful a process home hunting can be!"

★★★★★
"Michelle is a fantastic Real Estate Broker. She goes above and beyond to help you find your perfect home. We had a great time working with her as she is extremely passionate and knowledgeable. She not only understands the market well but also makes sure that every detail such as roof-age, HVAC, foundation, structure, etc. are in perfect shape. She is willing to work as per your schedule and makes the entire process of buying home very smooth. She makes the home-buying process and documentation as smooth as possible and very carefully plans and executes the closing. We would certainly highly recommend her."

★★★★★
"Michelle is relentless in her knowledge of the local market. I have never had an agent update me so frequently on new listings- or upcoming listings- on the market which is important in the Boulder real estate scene. It is a dynamic market and her work ethic is insane! Does she sleep?"

★★★★★
"Michelle is great to work with. She is professional, prompt with paperwork and appointments, and well-informed about local listings. She efficiently and knowledgeably guided us through an often confusing process. We highly recommend her."

★★★★★
"Michelle is a top-notch professional that is not only organized, efficient and responsible - she is trustworthy and incredibly competent as well. I would absolutely recommend her to help with your purchase and/or sale of a home. Michelle is an excellent active listener and will take into consideration all of your needs, questions, and concerns. I am happy to give my highest recommendation of Michelle!"

​
About Michelle
Michelle has lived in Colorado since 2004 after spending 30 years in beautiful North Carolina. Growing up with real estate as one of her family businesses, it runs deep in her blood! She is widely connected in the area via many community footholds such as sports, volunteer work and local schools.

Michelle has demonstrated consistent professional success. In her first year in real estate, she was awarded Rookie of The Year as the top producer among all new agents in the largest real estate brokerage in Boulder, CO. She founded and operated an innovative retail venture in Boulder while still working in her prior career as a physician assistant. Not only is she accomplished in business, she has two decades of experience in both clinical medicine and late-stage pharmaceutical research.

She consistently implements her expertise in working side-by-side with people through some of their most challenging and rewarding life experiences. She knows firsthand that people want their needs recognized in order to feel supported, particularly in a life-changing real estate transaction. Responsive and prompt communication are two of her greatest strengths which are highly valued by her clients.

Michelle works with clients and investors all over the Denver Metro area. She resides in Boulder with her husband Charlie, their daughter Siona, and Goldendoodle, Oscar. She embraces her community by volunteering at her daughter's school and coaching indoor cycling at Colorado Athletic Club. As a cyclist, she has celebrated first place wins in the overall and master's female divisions of the famed Mt. Evans Cycling Hill Climb. Hiking, cycling, yoga and nordic skiing…nothing is off limits for her in the Colorado outdoors.
Spotlight
3784 Ridgeway Street
Modern elegance in one of the most coveted duplex townhomes in Northfield Commons. Crisp and clean interior with high end kitchen appliances, exquisitely large windows, endless natural light, 10+ foot ceilings. Flowing floor plan, perfect spaces for everything. 5 bed/4 bath home has expansive panoramic views to the east and west. Pergola patio with outdoor gas fireplace overlooks lush greens. Green Built/Energy Star certified. Easy maintenance in a gorgeous home that leaves you more time for Colorado's outdoors.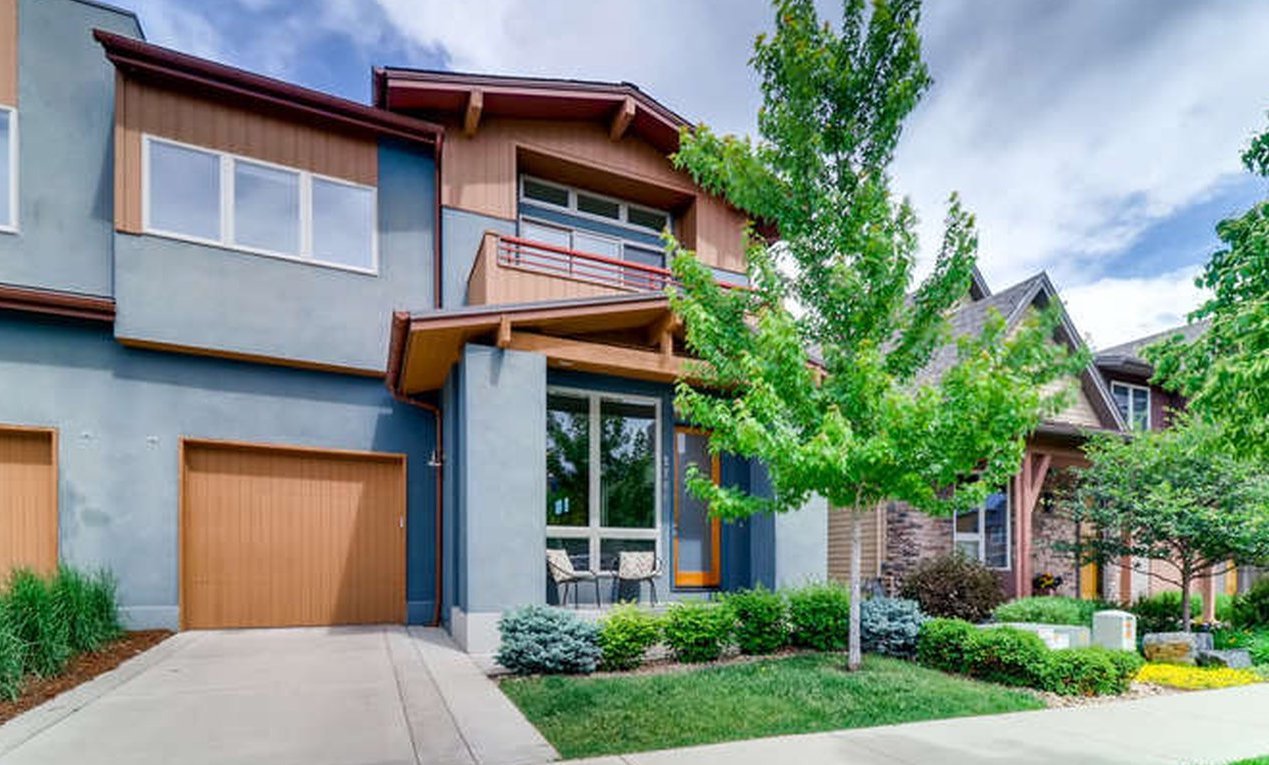 Spotlight
3665 Paonia Street
SOLD
My buyers chose this home for multiple reasons. First, it is almost-new construction with a beautiful, well-built modern aesthetic and open concept design. Second, the location of central North Boulder will give them access to everything Boulder has to offer without the dense downtown feel. Finally, the yard is easy to maintain yet offers ample back and front yard spaces. This leaves them with time to enjoy the vast outdoor Colorado wilderness, just minutes away.
Spotlight
6632 Fairways Drive
SOLD
My buyers chose this home, but specifically chose this neighborhood. Lake Valley is one of the most beautiful neighborhoods in Boulder County. The location provides access to the Lake Valley Golf Club, open space trailheads and an easy drive to Boulder, Niwot or Longmont. The foothills vista views are unparalleled and a central lake in the neighborhood provides access for swimming, stand up paddleboarding or canoe/kayaking. It is one of my choice neighborhoods as a broker!