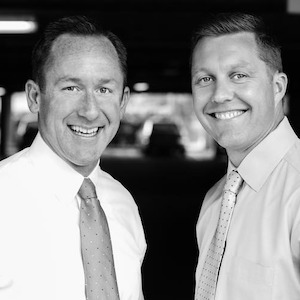 Mueller Zanger Group
Chris Zanger DRE# 01426723 | Matt Mueller DRE# 01903148
About Mueller Zanger Group
There's a reason why 100% of Chris and Matt's business is derived from referrals and repeat clients. While the veteran Realtors consistently rank in the area's Top 1% of sales volume, it's their kindness and compassion that make them uniquely special. Built on the bedrock of ethics, integrity, and transparency, the team makes it a habit of treating their clients like family.

Teaming up in 2010, the pair forged a solid partnership that coalesced their collective talents and combined 23 years of real estate and executive management experience. A bona fide force in the real estate realm, they co-founded and built a 35-agent boutique brokerage from the ground up, cultivating Mainstream Real Estate Group from humble beginnings in plastic lawn chairs (true story) to a well-oiled machine that amassed $500M in sales before being acquired by Climb Real Estate in 2017.

Driven by the same relentless passion, collaborative synergy, and forward-thinking tactics that made their brokerage a breakout success, Chris and Matt joined Compass in 2020, bringing their signature blend of hustle and humor with them. Recognized by clients and colleagues alike for their refreshing warmth and candor, the duo has no shortage of happy client testimonials.

Inherently grateful for the lifelong friendships they've forged, Chris and Matt are abundantly aware of the financial freedom that real estate provides and how privileged they are to give back to their community. Family men at heart with two little ones apiece, the duo knows the value of finding a place to call home. Heavily involved in their kids' schools and sports teams, they've found the sweet spot of inner peace, cultivating both strong families and communities. I think you'll find that Chris and Matt approach client care with the same passion for purpose.
Mueller Zanger Group's Listings