Social Media
Specialties
● PRICING STRATEGY ADVISOR®
● SENIORS REAL ESTATE SPECIALIST®

● LISTING AGENT
● BUYER'S AGENT
● RELOCATION
● DOWN PAYMENT ASSISTANCE
About Nina


As a licensed real estate professional and a Bay Area native, I have good and helpful knowledge about the many cities that comprise the Bay Area and the surrounding region. I offer insider knowledge and bring a wealth of expertise in buying and selling real estate here.
With almost two decades in sales, I have developed excellent communication and negotiation skills, which enable me to confidently present buyers and sellers in their best light. I can balance the art of sales with exceptional service for each client I serve.
It was my intrigue of the unique Bay Area market, after struggling to get into my own perfect home, that led me to a career in real estate. I am fully committed to helping people find or sell their homes by demystifying what can be a complex process. I take great pride in the relationships I build and will always work relentlessly on your behalf to help you achieve your real estate goals. As your Realtor®, I am dedicated to becoming a trusted advisor to you and your family, to educate and keep you fully informed, provide you top quality, personalized, and exceptional service throughout the entire process and beyond.  I truly believe that buying and/or selling a home is more than just a transaction: it's a life-changing experience.

Who am I beyond real estate? I am a wife to my high school sweetheart and a mommy to two great kiddos. I recently have become a plant mom and am having fun with that. I enjoy reading, attending concerts, traveling when I can, trying local restaurants, hanging out at any local beach or hiking throughout the bay area. I have a passion to grow in my faith and a calling to serve in my community.
/ / / \ \ \ / / / \ \ \ / / / \ \ \ / / / \ \ \ / / / \ \ \ / / / \ \ \ / / / \ \ \ / / / \ \ \ / / / \ \ \
CONSIDERING SELLING YOUR HOME?
What if you could sell your home faster and for a higher price?
Hassel free, no upfront costs or interest ever!
Together we can maximize your home's value.
/ / / \ \ \ / / / \ \ \ / / / \ \ \ / / / \ \ \ / / / \ \ \ / / / \ \ \ / / / \ \ \ / / / \ \ \ / / / \ \ \
THINKING OF PURCHAING A HOME? 
The process of buying a home can be overwhelming at times, but you don't need to go through it alone. 
You may be wondering if now is a good time to buy a home... or how much money you will need to have saved, if you can sell your current home and buy your replacement simultaneously, how your credit score plays a role in buying, or if interest rates are projected to rise or fall.
I have the answer to all of these questions as well as information on things you likely didn't even know you should consider when buying a home. Todays real estate market is complex and highly competitive. Having a trusted professional who has been there before and can guide you through the entire process will give you a huge advantage. 
/ / / \ \ \ / / / \ \ \ / / / \ \ \ / / / \ \ \ / / / \ \ \ / / / \ \ \ / / / \ \ \ / / / \ \ \ / / / \ \ \

​WHO YOU WORK WITH MATTERS! 
Client Testimonials
★★★★★ "Nina Brown was an incredible agent to work with throughout the entire process. From the beginning, she put in the time to outline, organize and explain all the details and nuances of the homebuying process and was incredibly responsive when it came down to looking at properties of interest.
★★★★★ Being a first time home buyer my partner and I were overwhelmed and nervous we also had questions but didn't know how to ask, from how the process is began to the closing documents and walkthrough. Fortunate to have worked with Nina and Shamina as they both eazed the process for us, gave us honest thoughts about the home we were interested in, and taught us about the housing market/ strategies to go about to have the winning offer, we felt we were in very good hands! There are days where you find the home you really want but late in the day, but Nina and Shamina continue to pull through and somehow still manage to write the contract in time. In the end, my Partner and I are very happy with our first purchase and would not hesitate to contact Nina and Shamina in the future. - Mark S.
★★★★★ Nina was such a delight to work with! As a first time home buyer, this process was completely new to me and required a lot of hand holding. Nina went over and beyond, she was very knowledgeable, professional but very sweet and attentive to things I'd like in my soon to be new home. She even referred me to a Lending Company, who was absolutely great to work with. Not to take away the highlights of how wonderful Nina was. I truly felt like it wasn't just a business transaction but that I was working with a good friend, that's how comfortable I felt through the whole entire home buying process. If you're looking to buy or sell, Nina Brown is truly the best out there! -Susan T.
★★★★★ So happy to have found Nina! Nina and Shamina were able to help my partner & I find our first home in less than 3 months of searching! Not only did she provide us helpful resources around lending, inspections but also really ensured we understood the process and all the documents we were signing. Nina was super responsive and always answered all out questions (no matter how repetitive they were). She truly made the process as stress free as possible and we felt super comfortable the entire time. I highly trust and recommend Nina to help you find your ideal home. - Raquel B.
★★★★★ "My family and I had the honor of having Nina Brown as our family realtor. She helped my daughter and her family find their "starter home". Nina also helped me sell my house and find "my forever home". Which I totally love!!!!! Nina is an impeccable realtor who works tirelessly looking for the perfect home and negotiating the best contract for her clients. What we loved mainly about Nina was her complete loyalty, trustworthiness, and integrity for everyone involved both seller and buyer. I highly recommend Nina Brown to anyone looking to buy or selling your home. Nina is a realtor you can trust." - Josie R.
★★★★★ "Nina Brown was an incredible agent to work with throughout the entire process. From the beginning, she put in the time to outline, organize and explain all the details and nuances of the homebuying process and was incredibly responsive when it came down to looking at properties of interest. Nina paid close attention to our needs and budget, and when the right home popped up she took the initiative to put together a compelling offer that was accepted, and kept things moving smoothly until our close (despite a few bumps along the way!). She is passionate, dedicated to her work and is highly recommended." - Sean C.
 
★★★★★ "Nina was amazing to work with! She was there every step of the process of buying my first home. She was great at explaining the different options so I could make an informed decision, especially on an often quick time frame! Even after the purchase went through, she is a great resource always willing to help answer a question." - Laura C.

★★★★★ "Nina Brown I would say changed my family's life forever!!!!!! I will never forget the day that I made a phone call to just inquiry about buying a home and how to proceed. Not thinking that we could save enough money at the time, she sent us an email about the LIFT program offer in which gives you 25k forgivable after 5 years. Then we were selected to be in the program!!! This was amazing due to us not having much for the down payment. After that, she helped us throughout the whole process, was very professional, and became someone we could trust. There were numerous hurdles we encountered but no matter what Nina always prevailed. My family and I will never forget what she helped us accomplish in life and that was buying a beautiful home in Oakland!!! I could keep going on and on, but she was a blessing to our life and helped us reach a milestone never in our wildest dreams we thought was possible. If you are looking into buying, I HIGHLY SUGGEST HAVING NINA BROWN AS YOUR REALTOR. She will not let you down." - Diego M.

★★★★★"Nina and I met at an open house a year before I was ready to purchase my first home. Not only did she continue to follow up with me over the course of a year but she truly understood what I needed as a first time home buyer. When I was finally ready to start shopping the market I continued to be impressed with Nina's responsiveness and attention to details. She was incredibly flexible and focused on my housing requirements. The process was pretty seamless despite the typical ups and downs of home buying. She kept a positive attitude and open mind to all of my questions and concerns and she was realistic with me when my ideas required some additional effort to execute. In the end I landed in the perfect home for my family and I and couldn't be more grateful for all of the support and guidance that Nina offered." - Joel M.

★★★★★"We had the pleasure of working with Nina on our long search for our first home. Nina gave us amazing advice along the way! She was incredibly responsive and helpful in guiding us throughout the process. It's intimidating buying your first home and Nina is someone you can trust for honest advice along the way. She is patient and will truly listen to all your needs and concerns. We have already recommended Nina to our friends and they are having the same incredible experience as us. We will call her if we ever have plans to move again in the future." - Laura T.

★★★★★ "Where do I start! Oh man what a wild ride. We picked Nina to be our realtor so we can sell our house and buy a new home in a community we fell in love with. We had plans to use the concierge service with compass and just finished packing up a house and then came Covid. Scared, lost and way over our heads Nina was with us every step forward and all of the backwards step. She was like our realtor fairy godmother that guided us through a dark time. She sold our house, helped explain every document and also helped get us into our dream home. If you are looking for a Covid battle proven realtor, then look no further! We really couldn't have done it without her. Thank you Nina for all the extra time, effort and tissues you gave us. The best!" - Ariel L.

★★★★★ "Nina was awesome. We found a home within days and closed in record time. She is very detailed oriented and follows up frequently with us, the seller's agent and the bank to make sure things are moving along. Highly recommend Nina." - Richard B.

★★★★★ "Nina was amazing. We were first time home buyers and she was very patient with us and walked us through everything and answered all of our questions. She had great resources for us as well from mortgage brokers, inspectors, and insurance brokers. She was so fast with the contract and all updates to the contract. She kept us well informed at each stage. She worked all hours of the day/night to get us updates. You will not be disappointed with Nina!!!!" - Mary W.

★★★★★ "Nina! Nina! Nina is amazing. I honestly didnt think purchasing a house was in the books for me. I have 4 kids and didnt think we could ever afford it. How I came across nina IG page is still a mystery but I love to think my dad helped me find her. She is everything and more. We came in she walked us through everything and called us through every step. She talked us through everything we thought it was going to be more complicated but Nina guided through everything! From the start to handing over our keys to our new house!!!! Nina helped us find OUR FAMILY HOME! And I couldn't thank her enough. I would recommend her to anyone!" - Elena C.

★★★★★ "Nina is the best! My wife and I were first time home buyers and were pretty intimidated by the whole process, but Nina made everything so easy and made sure we understood and felt comfortable with everything. She worked quickly in all steps of the process, and ultimately found us the perfect home in a great neighborhood, at a more than fair price. I would absolutely recommend Nina to anyone looking to buy a house in the Bay Area." - David W.

★★★★★ "Nina is the best! She helped us buy our first home. As first time home buyers, the whole process was intimidating and we didn't know how or where to start. Luckily we found Nina, she made the process easier to handle and we learned alot from her. We were about to give up on buying a house, since we put 5 bids on different homes and we kept getting out bid. Our buying experience was definitely a Rollercoaster. We were so lucky to have Nina, she was patient and understanding of our situation. She worked day and night for us, always keeping us informed and was always quick on giving us information and paperwork. I would definitely recommend Nina to anyone trying to buy a home and specially for those first time home buyers that might be on the fence of taking this big step like we were. Thank you Nina for being kind, patient and understanding." - Louie M.
★★★★★ "To Nina Brown-What can I say? She is AMAZING! Anyone that is on the hunt and is mindset ready to purchase a home...She is the perfect Agent you can ever wish for. She listens to your want and needs and immediately starts the search for your perfect home! She is ready and available anytime you need her. Just say the word and your wish is her command! Ready to put in an offer? She will make sure that offer letter/contract is drawn up before you even blink! Please give her a chance and you will never look back at any other agent.

Thank You Nina for assisting me with all my questions...Concerns....and going that extra mile! This home transaction has helped not only myself but my parents as well!

#theagentforyou"  - Jacqueline B.
★★★★★ "Nina was really great in helping us get our first home ever. She worked diligently and with a sense of urgency to provide us with the best opportunities to get our first home. It was hard and competitive and she was always on top of everything. I highly recommend her.
  - Virginia R.
​​FREE DOWNLOADABLE EGUIDES:
Things To Consider When Buying A Home
Things To Consider When Selling A Home
Spotlight
What can Compass Concierge do for your home?
Exclusive to Compass, our Concierge program helps you easily prepare your home for sale by fronting the cost of home improvement services, so you can sell it faster and for more money. Whether you're facing basic wear-and-tear or your home requires more significant upgrades, Concierge has the power to transform a property — and the price it can claim.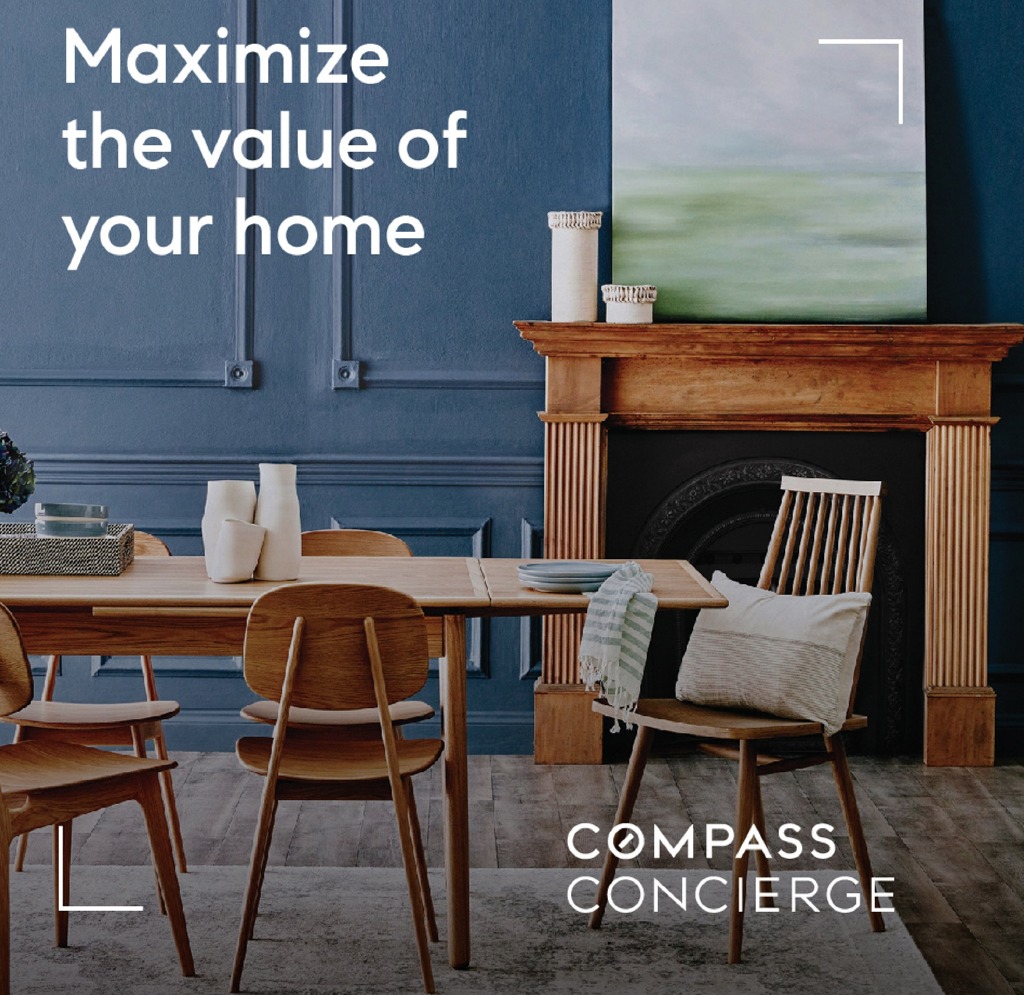 Spotlight
Bridge Loans
Compass Bridge Loan Services provides access to competitive rates and dedicated support from industry-leading lenders, with the exclusive option to get up to six months of your bridge loan payments fronted when you sell your home with a Compass agent.


Nina Brown's Listings
Listed By Compass
VIRTUAL TOUR
Open: 8/13 1:00pm - 4:00pm