About Kathy
A leader in luxury real estate for more than two decades, Kathy has managed full life-cycle sales and marketing for more than $5 billion in new development inventory and represented both buyers and sellers in significant resales. During her career, as a key strategic force as Senior Vice president for The Related Companies , Kathy led the sales teams for such high-profile developments in New York as Superior Ink, The Caledonia, The Brompton, The Veneto, One Carnegie Hill, Astor Place, and also for The Century in LA, The Clarendon in Boston , and The Viceroy in Aspen Colorado. Most recently as President of Sotheby's International Realty Development Advisors, Kathy sourced, staffed and created a business platform designed to support agent sales in new development, including winning and branding new projects and supporting the successful sellout of existing business.
She has been designated a Certified Negotiation Expert and New York Residential Specialist by the Real Estate Board of New York, where she serves as a member of its New Development committee. She was selected to speak at the 2014 Real Estate Weekly Women's Forum along with other industry icons.
Kathy is an active volunteer in her community, serving on the board of the City of Hope's East End Chapter/Jeanne Kaye League, named for her mother, and remains active in the SAG-AFTRA Foundation utilizing her skills as a former performing artist.
Kathy earned a bachelor's degree in communications from the University of Miami in Florida and a master's degree in education from Bank Street College of Education in New York.
LinkedIn |
Instagram |
Kathy Kaye Real Estate

---
Exclusive Contemporary Miami Beach Full-Floor Private Penthouse $6.9M
Click here to connect about this fantastic opportunity!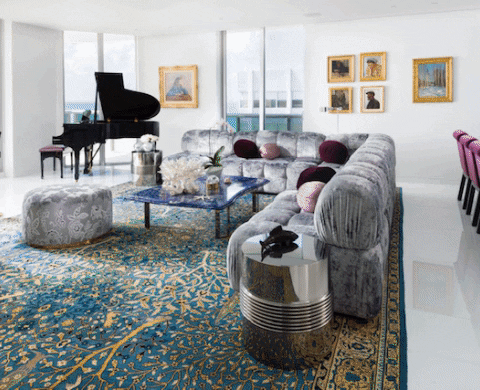 ---
Client Testimonials
Scroll down for more
"I have had the pleasure of working with Kathy for a number of years and found her to be a driven professional with a thorough understanding of the markets she represents. She is accessible and responsive, providing invaluable insight. I highly recommend Kathy for her sales and marketing expertise." Jonathan M., President/CEO, Miller Samuel Inc.
"Having worked with Kathy both on new development initiatives at the Real Estate Board of New York and consulting with her on various developments in New York City I would highly recommend Kathy to anyone looking for a detail-oriented, forward-thinking professional to assist them in taking their real estate business to the next level. Kathy is a marketing and sales expert who can see 3 steps ahead and works tirelessly to position her product above the competition. Kathy's knowledge of the sales and marketing process second to none and is always willing to share her experience with others." Stephen K., Executive Director, Halstead Property Development Marketing, LLC
"Kathy is very conscientious and eager to assist in all areas of the business. While at Related, she assumed a leadership role in the management of all sales data to ensure accurate data input and data management for all of the digital marketing assets and analytical reporting." Dawn D., Marketing and Sales IT Manager, The Related Companies
"I met Kathy before my family moved into the Harrison, a Related property on the Upper West Side in New York City. She went out of her way to welcome our family, give advice about being new home owners in a new, luxury building, and helped us to swiftly navigate the move-in process. She is a class act and led us to feel fortunate about being a part of her company and their development. She has since become a friend of ours and someone we trust. Kathy has gone above and beyond in creating a relationship with my husband, me and our two little girls." Top qualities: Great Results, Personable, High Integrity Valerie G.
"Kathy is a fantastic broker, who I cannot recommend highly enough. She is unbelievably hard-working. We first spent a great deal of time discussing what I was looking for, after which she sent me numerous listings that exactly fit with my criteria and gave me invaluable advice throughout my search about things to look for and what would be valuable over time. She is incredibly responsive and helpful and has gone out of her way so many times to make sure I found my ideal apartment and the approval process (and even decorating) went as smoothly as possible." Jennifer D., Vice President, Principal Investment Area at Goldman Sachs
Notable Sales
Scroll down for more
150 CENTRAL PARK SOUTH APT 803 279 CENTRAL PARK WEST PH 21A 300 CENTRAL PARK WEST APT 2L 400 EAST 51ST STREET APT 21AB 201 EAST 66TH STREET APT 7B 200 EAST 69TH STREET APT 42A 114 EAST 72ND STREET APT 7C 114 EAST 72ND STREET APT 8/9B 125 EAST 72ND STREET APT 11B 190 EAST 72ND STREET APT 23D 174 EAST 74TH STREET APT 5E 175 EAST 74TH STREET APT 18B 180 EAST 79TH STREET APT 3C 131 EAST 81ST STREET APT 7A 140 EAST 81ST STREET APT 8B 300 EAST 85TH STREET APT 3301 40 EAST 88TH STREET APT 5A 181 EAST 90TH STREET APT 7B 60 EAST END AVENUE APT 42C 580 PARK AVENUE APT 5C 710 PARK AVENUE APT 3E 733 PARK AVENUE FL 22 785 PARK AVENUE APT 6DE 829 PARK AVENUE APT 3/4A 969 PARK AVENUE APT 7C 870 UNION PLAZA APT 37/38B 7 WEST 81ST STREET APT 3C 20 EAST 9TH STREET APT 3M 411 WEST END AVE APT 5D 30 EAST 85TH STREET APT 10AB 406 WEST 46TH STREET APT 4A 186 WEST 80TH STREET APT 3B 188 EAST 78TH STREET APT 11A 188 EAST 78TH STREET APT 12C 188 EAST 78TH STREET APT 14AB 188 EAST 78TH STREET APT 17C 188 EAST 78TH STREET APT 20A 188 EAST 78TH STREET APT 22A 188 EAST 78TH STREET APT 30B 188 EAST 78TH STREET APT 31B 188 EAST 78TH STREET FL 29 188 EAST 78TH STREET PH B 215 EAST 96TH STREET APT 26A 215 EAST 96TH STREET APT 27M 215 EAST 96TH STREET APT 29M 215 EAST 96TH STREET APT 32A 215 EAST 96TH STREET APT 33G 215 EAST 96TH STREET APT 33H 215 EAST 96TH STREET APT 34BC 215 EAST 96TH STREET APT 35H 215 EAST 96TH STREET APT 40G 215 EAST 96TH STREET APT 40H 205 WEST 76TH STREET APT 4L 205 WEST 76TH STREET APT 7C 205 WEST 76TH STREET APT 7K 205 WEST 76TH STREET APT 8B 205 WEST 76TH STREET APT 8D 205 WEST 76TH STREET APT 8G 205 WEST 76TH STREET APT 704 205 WEST 76TH STREET APT 1101 205 WEST 76TH STREET APT 1102 205 WEST 76TH STREET APT 1103 205 WEST 76TH STREET PH 1A-N