About
THE PRIVATE CLIENT TEAM is different. Like Compass, Kevin Sneddon believes in doing things differently – not as things have been done, but as things should be done. In fact, he joined forces with Compass to elevate each client's real estate experience to the next level by deploying a "high-touch meets high-tech" approach to luxury residential brokerage. The objective is to exceed client expectations in every possible way.

THE PRIVATE CLIENT TEAM is experienced. We know luxury real estate – and we know the market. We are hard-working and accomplished professionals with high standards and endless drive. We use our extensive knowledge to help our clients successfully navigate the complex real estate landscape. We leverage our marketing, sales and financial services experience in concert with our deal-making prowess to deliver for our clients – each and every time.

THE PRIVATE CLIENT TEAM is limitless. We believe in the power of a team - where complementing skill sets align to create an unparalleled level of service. This strategic method, where everyone plays to their strengths, consistently delivers the desired result. But our service goes way beyond the transaction. With a professional network that extends to architecture, design, construction, financing, legal representation and more, we are a full-service operation that is second to none.

THE PRIVATE CLIENT TEAM is seamless. We recognize that real estate has become a global asset class - and that many of our core clients now own multiple properties in several markets. That's why we're positioned to deliver a seamless experience across our clients' entire real estate portfolio, including strategic advice and consultation. Because real estate is so dynamic and hyper-local, we are building a unique nationwide team of high-performing and like-minded associates to service the needs of our clients – wherever they might be. We are presently in New York, Los Angeles, the Hamptons and Greenwich – and will be expanding to additional markets moving forward.

THE PRIVATE CLIENT TEAM is at your service. Experience the difference.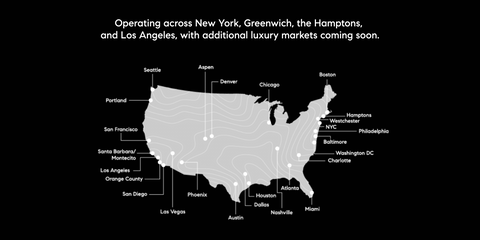 Spotlight
Kevin Sneddon | Managing Partner - NYC + Greenwich
As the founder and managing partner of The Private Client Team at Compass, Kevin Sneddon leads a nationwide sales team of client-driven, results-oriented luxury real estate professionals of the highest integrity. Like Compass, Kevin rejects a business-as-usual approach to real estate. He believes in doing things differently, leveraging state-of-the-art technology to elevate the client experience. By deploying this "high-touch meets high-tech" methodology, Kevin is uniquely positioned to help clients successfully navigate the increasingly complex luxury real estate market.

Operating his own brokerage for 15 years, Kevin cultivated his formidable broker prowess by closing over $750 million of transactions across every property type. Among his prolific sales in NYC, the Hamptons and Greenwich, you'll find a multitude of record-breaking deals upwards of $38 million. You'll also find an array of unique properties – including NYC townhouses & penthouses, Hamptons oceanfront & equestrian estates, as well as grand Greenwich compounds. His abundant industry accolades include being ranked one of the top 250 brokers in the U.S by The Wall Street Journal.
Spotlight
Emily Bregman | Partner - Los Angeles
Emily Bregman is much more than a top-1%-producing agent—she's a concierge, an advisor, and most notably, a connector. "My clients are for life," she likes to say. "Our relationship doesn't end because a transaction does; I'm always in place and ready to help with anything, from a specialty painter to a good area doctor. My goal is to match up dream homes and lifestyles, and that's as exciting to me as the transaction itself." A former successful stock broker known for her work ethic, Emily also has a key ace up her sleeve: Her husband, Merlin, an experienced builder, expert construction consultant and a licensed real estate agent. He's an indispensable resource and advisor to her clients, and with her on point assistant, Bethany, is also a pivotal member of her team. Those two, alongside Emily's extensive network gleaned from more than a decade spent living in Santa Monica—specializing in Westside properties from Venice to Beverly Hills—allows her to offer a keen market savvy and a down-to-the-studs understanding of each property. She's a source for both pocket and "whisper" listings too, and her combination of discretion and discipline has won her both A-list and international clients.
Spotlight
Joy Bender
As co-founder of Aumann Bender & Associates, Joy Bender has leading sales in the area's most exclusive neighborhoods. Joy continually generates noteworthy results for accomplished entrepreneurs and HNWI. Applying impeccable instincts to her extensive knowledge of the San Diego real estate markets, Joy is celebrated for her intuitive ability to locate and close the perfect property for each client. Identified in the elite 2015 list of top real estate professionals compiled by Real Trends, published in the Wall Street Journal, Joy Bender ranked #49 nationwide of 1,100,000 licensed REALTORS® for average sales price.
Spotlight
Rob Aumann
As co-founder of Aumann Bender & Associates, Robert Aumann specializes in the coastal markets of La Jolla, Del Mar, Rancho Santa Fe, and Solana Beach with seven years of luxury real estate experience. As a former marketing executive for 10 years prior, he understands the art of quality service, creative problem solving, and effective negotiation. Recognizing the unique personal lifestyles of high level executives, successful entrepreneurs, and international investors, he is committed to providing the highest level of service and representation. Robert graduated from the University of San Diego with a degree in Business Administration with an emphasis in Finance.
Spotlight
Dale Boutiette
Dale is affectionately known among our clients as "The Rock" for his steadfast approach and creative trouble shooting. With over 20 years of real estate and legal experience, Dale has truly seen it all, which gives him a calm resolve in guiding clients through anything that can arise during the buying/selling process. Before working as a Realtor, Dale founded a thriving law practice specializing in trusts and probates in 1995. After more than 20 years of investing in San Francisco real estate, Dale left his law practice to follow his passion for real estate and has been helping clients navigate their own real estate ventures ever since. In his free time, Dale volunteers at several San Francisco non-profit organizations, enjoys poker night and golfing with "the boys", and cherishes time with his two college-age daughters and wife, Alla.
Spotlight
Alla Gershberg
Alla's strategic business acumen, passion for real estate, and friendliness are the hallmark of her success. Before dedicating herself to Real Estate full time, Alla received her MBA and worked as a SVP of Marketing for a Fortune 500 Company. Now, after more than 20 years in the Real Estate business, she is cherished by clients as a trusted resource—her commitment to them continues long after the close of the transaction. Whether it involves advice for a remodeling project, questions about attracting good tenants for investment properties, or referring a great handyman, our clients can always count on Alla. Outside of Real Estate, Alla loves SF's food culture—she is the ultimate restaurant junkie and is a great resource for recommendations on where to eat. She also loves traveling with the family and volunteering.
Spotlight
Steven Shane
One of Aspen's most successful real estate brokers, Steven Shane, is consistently one of the top producing brokers in the Aspen area. Since moving to the region 20-years ago, he has leveraged his expertise and integrity to grow his personal client base as well as establish Shane Aspen Real Estate, which has remained the region's highest-producing, independent brokerage for the past four years. Heeding his community's need for committed, knowledgeable brokers, Shane built his business on creativity, industriousness, and business acumen. He firmly believes that real estate is a full-time job, and if you don't love it and breathe it every day, you can't possibly expect to excel. After electing to partner with Compass in 2016, Shane continues to lead his local team of imaginative, energetic, enthusiastic, and like-minded brokers, as well as represent the national company's presence in the competitive Aspen market.
Spotlight
Matt Breitenbach
Since entering real estate as a first career at 22 years old, Matt has sold over $1.5 billion in real estate and has over 12 years experience representing celebrity and luxury real estate clients. Known for his high net worth and celebrity clientele, which most recently saw him work with NBA superstar Kyrie Irving, Matt believes heavily in white glove service and honest real estate wealth advising. This client first attitude, combined with Matt's naturally calming and humble demeanor have helped him build a vast portfolio of some of the wealthiest and most influential people in the world that can range from hedge fund billionaires and hall of fame athletes to local builders, developers, and investors.
Spotlight
Margie Halem
Margie was voted one of the Top Realtors by the Readers of Bethesda Magazine from 2012-2017. Margie has not only enjoyed prominence in her profession since 1984 as a Washington D.C. Metropolitan real estate specialist but popularity in her neighborhood as an active, longtime member of her Rockville community. Over the years, she has earned a reputation as a consummate professional, knowledgeable, and a reliable resource for the countless buyers, sellers, investors, and developers whom she's helped to realize their unique real estate goals. Margie's unparalleled expertise, service, market pricing insight, and negotiating skills are what ensure utmost success with every deal. Margie's experience and winning performance have been recognized many times over.
Spotlight
Gianna Cerullo
Gianna Cerullo is committed to providing an outstanding depth of real estate expertise that ensures her clients successfully accomplish their personal real estate goals. As a specialist in the Acquisition and Marketing of Residential and Distinctive Luxury Properties in all price points; Gianna offers exceptional representation and is dedicated to providing crucial, in-depth local market knowledge. Her love for Dallas and its wonderful communities is very present as she caringly serves her client's specific real estate goals. As a Sports & Entertainment Division specialist and with over $300 Million in sales, Gianna ultimately ensures that each client receives the highest level of real estate services and truly impressive results.
Spotlight
Elliot Koolik
Specializing in exclusive real estate, including luxury condominiums, gated communities and waterfront properties in the greater Boca Raton, Highland Beach and Delray Beach area in Southern Florida; Elliot Koolik has demonstrated that as the market moves, so does he. With over 25 years of experience in the residential real estate market in Boca Raton, Florida, Elliot Koolik, will help you every step of the way, from buying to selling, to moving on with your life. Elliot Koolik has consistently ranked as one of the top area agents throughout his career by offering his clients a unique marketing plan and an unparalleled level of customer service.
Spotlight
Josh Dotoli
As a real estate agent with a hyper-local focus on east Ft. Lauderdale, Josh Dotoli is an expert in everything in his community centered around Las Olas. He's a "power broker" and frequent contributor to ABC News Local 10 on real estate topics impacting South Florida residents. Recently, he was recognized by South Florida Business & Wealth Magazine as a finalist for 2018 Up and Comer Awards in residential real estate, one of only three chosen of all the eligible Realtors in Palm Beach, Broward, and Miami Dade County. Additionally, he has been honored with many Top Producer awards throughout his career as a top one percent agent in Broward County. Bank of America endorses Josh Dotoli as a preferred real estate advisor for their banking and wealth management clients.
Spotlight
Audrey Ross
Often called, "Miami's Woman At The Top", Audrey opened her own real estate firm in Miami in 1984 and has established herself as one of the city's preeminent purveyors of luxury homes. As a longtime resident of Coral Gables, Audrey has watched over the bustling activity that has transformed Greater Miami from a world class beachside resort city to a dynamic international trade mecca. With the foresight to research this incredible growth as it was happening, Audrey learned what this influx of people would mean to both current residents and those relocating here. Her uncompromising policy of privacy keeps her clients referring friends and colleagues to her. This unique service is what has led Audrey to success, listing and selling many of the most significant estates in the history of Miami and a clientele list of veritable 'who's who' including Fortune 500 executives, film stars, international entertainment figures, sports celebrities and heads of foreign countries.
The Private Client Team's Listings
The Private Client Team's Recent Transactions