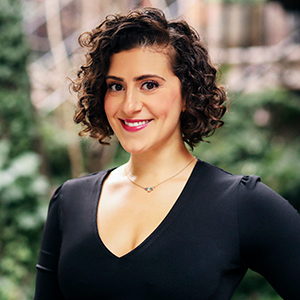 Rachel Policar Marrandino
Licensed Real Estate Salesperson | Licensed as Rachel Policar
Social Media
Instagram
Specialties
Buyer's Agent, Rentals
Education
Manhattan School of Music, Master of Music, Classical Voice
Arizona State University, Bachelor of Music in Vocal Performance
Arizona State University, Bachelor of Music in Musical Theatre
Client Testimonials
Scroll down for more
"Rachel Policar is the absolute sweetest. We would not have been able to make it through this process so easily without her kindness and warmth. In addition, she was always available for me if I had questions. Her answers to my questions always were transparent. I did not feel pressured by her to sign a lease only for her profit, but she cared about what we really wanted and needed in our new home. Cannot recommend her enough!" - Jake

"I loved working with Rachel Policar when I moved to NYC. I was impressed with how knowledgeable she was of each neighborhood she showed me. I actually worked with two other realtors from other companies while working with Rachel but quickly stopped because Rachel was best. I'd say I was a difficult case for her but she never gave up. I'd definitely only use her in the future and refer others to her." - Wykella

"This review is for Rachel Policar. Rachel was superb! I honestly can not rave about her enough. She went above and beyond for my roommates and me. She was timely and professional throughout the entire process. I wish all agents could be like Rachel. She truly considers your needs and does whatever it takes to secure the space you want. Thank you so much for your service Rachel, you're the best!" - Elissa

"I worked with Rachel Policar. She's so amazing! From the first time I contacted her, she was very hands-on and gave me great advice on the relocation process. Each time I saw a place that I liked, she had no problem going out and getting physical videos being that I was not yet residing in NY. I would definitely recommend using her!" - Tiesha

"Rachel was very supportive and helpful throughout this process. When we first moved in a lot of what was remodeled in our apartment was either not done or done poorly. She helped us out in making sure the super and property management were on top of it as soon as possible. We loved Rachel. We would love to work with her again for when we are interested in buying." -Steven

About Rachel
As a licensed real estate salesperson, Rachel provides an unparalleled level of customer service and attentiveness for all of her clientele, be it sales or rentals. She is a full service agent with extensive knowledge of Manhattan's many neighborhoods, and takes pride in helping her clients hone in on exactly what they are looking for in this great city. Rachel's strengths lie in her ability to tailor your experience to fit your needs, offer you a personalized search and genuinely invest in getting to know you as an individual.

As a 10-year resident of New York City, Rachel can help to demystify the home-buying process for you, and will work tirelessly on your behalf to get any questions answered, provide you with referrals, or tackle whatever else the process of renting or purchasing might throw your way.

Rachel is also a working opera singer and performer originally from Seattle, and has performed across the country. She is known for her portrayals of Gretel in Hansel and Gretel and Gilda in Rigoletto, and if her clients are lucky, she will treat them to a bit of her Bernadette Peters impression. She devoted much of the last decade getting to know the best coffee shops and cocktails in each neighborhood of Manhattan, so if you need a recommendation she's your girl. Rachel lives with her husband in Chelsea, and enjoys running, playing the ukulele and making a huge mess in the kitchen.