Sara Khan
Luxury Property Specialist | DRE 01359955
About Sara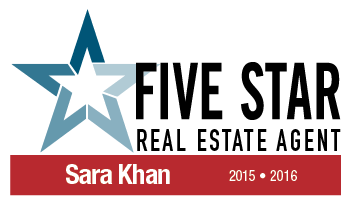 Sara began her career in real estate at Prudential California Realty where she quickly rose to the rank of number-one agent in her office and to the top 1% of agents nationwide. Next, she joined Compass where she has continued her success as a consistent top producer and where she feels fortunate to be backed by a solid, supportive team committed to the highest standards in quality service and innovative tools. She has been featured in the Wall Street Journal for her achievement in the top 1% of agents nationwide and in San Francisco Magazine as a multi-year Five Star Real Estate Agent award winner for delivering outstanding service and client satisfaction. In 2019, she was recognized by REAL Trends as one of the country's best real estate agents. 
Sara's clients range from first-time home buyers to professional investors. Her geographic territory encompasses San Francisco and many cities along the Peninsula, from Burlingame to Palo Alto, as well as parts of Marin and the East Bay. This coverage enables her to assist clients who are making the move from the city to the suburbs or vice-versa, or who are simply open to both lifestyles. In San Francisco, she has extensive experience representing buyers and sellers of tenancy-in-common and multiunit properties. She is also a relocation specialist and has worked with many executive-level clients moving to and from the Bay Area. Sara's professional experience includes working as a senior marketing representative for IBM, as a management consultant for Mercer, and as senior vice president, Business Development for SCAN Health Plan. She holds a BA in economics from the University of California, Berkeley and an MBA from Columbia University where she graduated Phi Beta Kappa.
As a longtime Bay Area resident, Sara grew up on the Peninsula and has lived in the East Bay as well as Marin. For the past 20 years, she has called both San Francisco and Palo Alto home. Her personal interests include global travel and she has had the opportunity to live in and travel to countries as diverse as Pakistan, Nigeria, Indonesia, Chile, Japan, and Denmark. Her father's work with the United Nations and her experiences with developing countries helped to instill in her a sincere commitment to help those in need, and she is an active supporter of various non-profit groups including Women for Women International and Doctors Without Borders.
TESTIMONIALS
"Thank you, thank you, thank you! Through the experience of buying a home in San Francisco, we have a new appreciation of the expert knowledge and professionalism required of a real estate agent and you are the best of the best. You have taken care of us above and beyond the call of duty...We will enjoy our home so much more because of you." - Fred and BinRo, San Francisco (Buyer)
---
"We just wanted to take a moment to express our sincere gratitude to you for all you did in helping us sell our home. You have always gone above and beyond for us - getting our home on the market in less than a week, helping us stage it, arranging contractors, and making sure all our paperwork was perfectly in order. Because of your attention to detail and consistently proactive nature, our closing went smoothly and we cannot thank you enough." - Brian and Pam, San Francisco (Buyer/Seller)
---
"Thank you - you have made the entire journey and experience as painless and stress-free from the buyer's point of view as it could possibly be. You certainly exceeded all our expectations with the level of service and performance you delivered, and it has been an unprecedented pleasure to work with you. You are one of a kind. Please keep doing what you do to help people. We look forward to staying in touch and to referring you to people we know." - Yoni and Hadas, Mountain View (Buyer)
---
"Thank you very much for helping us to find our home! We greatly appreciate all your hard work, patience, and kindness throughout the whole process. We could not have found a better agent to represent us than you." Seni and Christina, San Francisco (Buyer)
---
"Thank you very much for looking after us with our recent purchase. As you know, Polly and I needed to see quite a few properties to determine what might best suit us. Complicating matters was the fact that we were often not available, or even in the same country, at the same time to see those properties. Through it all, you were incredibly patient and helpful. We especially appreciated your attention to detail and your alerting us to potential issues. We were also impressed by your knowledge of the intricacies of the San Francisco real estate market and your preparedness. We look forward to using your services again in the future." - John and Polly, San Francisco (Buyer/Seller)
---
"Quite simply, Sara has been a joy to work with. I quickly sold my home in San Francisco under challenging market conditions. Her clear planning and attention to detail helped me navigate the selling process better than anyone else could have. She truly understands the unique market that is San Francisco. I really appreciated her professionalism and frequent communication. Not only is she an expert when it comes to the complexities of buying and selling real estate, but she has a real knack for it. I decided to self-stage my property and it was Sara who made that successful. She has an artistic eye for presentation. Her passion for her work is obvious. You are certainly in good hands with Sara." - Dan, San Francisco (Seller)
---
"Sara gave us what we needed most when selling our home: peace of mind. Our family was relocating to another state, which entailed juggling two moves – one to temporary housing and another to our new home, two school-age children, and two very busy work schedules. It also meant prepping our for sale and putting it on the market on a fixed and tight schedule. Everything from minor home improvements, painting and staging through pre-sale inspections, property photos and our first went smoothly and according to schedule. Sara is professional, knowledgeable, very organized, and dependable. She is informative and provides excellent advice, helping to ensure you get the best possible results. She truly understands how to present and market a property, and provides stellar service from start to finish. We could not have done it without her and feel incredibly fortunate to have had her on our side as our realtor." - John Mark and Cathy, San Carlos (Seller)
---
"Sara Khan came highly recommended to me by a friend who engaged Sara to represent them in the sale and purchase of their homes in San Francisco. From our first meeting to the close of escrow on the sale of our San Francisco home, I thoroughly enjoyed working with Sara. She is knowledgeable, trustworthy, confident, informative, level-headed, realistic, reliable, focused, detail oriented, articulate, accommodating, compassionate, and understanding…all wrapped up into a top-notch realtor!
Sara easily explained in layman's terms the various nuances of selling property in San Francisco. Always attentive and proactive, she stayed in constant contact via phone and email, keeping us updated at every step. She made herself available whenever needed, accommodating our schedules and needs without hesitation. Sara is a true professional and so pleasant to work with. Even during extremely stressful periods, she remains calm and focused which, in turn, reduces your own stress level. She works in her client's best interests. She consults with you and assists you in making well-informed decisions. You feel confident you have received the best outcome when you have Sara representing you and you have that same feeling after the transaction is completed. We have another San Francisco property we may be putting on the market and the only realtor we would consider using to represent us is Sara Khan. She is the complete package. She is fantastic!" - Lesly, San Francisco (Seller)
---
"In 2009, I decided to sell my Pacific Heights Victorian. I did not hesitate to call upon Sara, my original purchasing agent on the property. She had helped me to acquire the property in a rising market in 2004, and was everything I could have asked for: detail oriented, highly organized, and with an exceptional sense of how to present and negotiate an offer in a highly competitive environment.
I let Sara know that I was not keen to sell in a down market but, for personal reasons, I wished to do so. We had several strategic conversations about when to enter the market, what our level of risk was likely to be, and what it would really take to market this property given our target buyer profile. We also delved into the unique attributes of the San Francisco market at both the macro and micro levels. These conversations underscored the fact that I did not need just any agent for this sale - I needed someone who could add tremendous value from start to finish.
We agreed to some renovations and to sell in the spring. Sara did not hesitate to jump in and organize a project schedule, and to assist me in selecting highly competent contractors, painters, stagers, and others who were critical to getting what we needed done. At that point, she could have been hands off. Instead, she was instrumental in keeping the project schedule on track and in providing sound advice on everything from the paint scheme to bath tiles and lighting fixtures.
The bottom-line result was that we had competing offers in a down market and accepted an offer significantly over our asking price! If you are seeking real talent, real tenacity, real attention to detail, look no further than Sara. I highly recommend her. - TJ, San Francisco (Buyer/Seller)
---
"Sara has been our realtor for several years now and that is honestly, because she is the best at what she does! She initially assisted me with the purchase of a condo in San Francisco. Not only did I have a positive experience during that transaction, but I also walked away feeling like she was the most level-headed, straightforward, and honest realtor I had ever met. She is very smart and well-spoken and has an MBA from Columbia, among other many accolades. She is a true professional in this trade and very well liked within the real estate community. This helped during negotiations because other realtors understand the value of an excellent realtor with whom they may find themselves working on a transaction.
Years later, when my husband and I were looking to upgrade our single family home on the Peninsula, we knew there was no question as to who would be our realtor. Sara went above and beyond the call of duty to help us find our dream home, and continued working hard to help execute a difficult and complex transaction. Concurrent with our new purchase, she listed our existing home for sale and was extremely diligent in ensuring we got the most value out of our home during challenging economic times. We received compliments from our neighbors on how professional our listing agent was. She left no stone unturned during that escrow.
In my opinion, you really forge a relationship with your realtor as you navigate the key decision points, unanticipated issues, and stressful moments that may arise during the process. This is where I believe Sara is head and shoulders above the rest. She provides sound advice and has a large network of referrals that can help you get the information you need to make informed decisions. She makes an excellent business partner who is trustworthy, reliable, and always on your side. I wish my humble words could truly express what a fantastic realtor she is and how much we enjoyed working with her. We would recommend her without hesitation." - Dave and Elvia, San Francisco, Emerald Hills, and San Mateo (Buyer/Seller)
---
"Sara Khan possesses all the qualities you'd expect in an excellent realtor. She knows the complex Bay Area market. Her attention to detail is meticulous. She makes sure her clients know what's happening at all times. What makes Sara a superlative realtor is her ability to listen to what her clients want, then formulate a plan that achieves their goals. Over the years, Sara has represented us when we've been buyers and when we've been sellers. Each time, her hard work has made the transaction go smoothly. Thanks to Sara's advice and planning, our most recent sale had multiple offers, all above the asking price, and closed very quickly. Once again, we are so grateful to have worked with Sara." - B&C, San Francisco and East Bay (Buyer/Seller)
---
"Sara is an absolute pleasure to work with. She provided guidance and insight throughout a very stressful and complex process. She was also able to work around my very hectic and unpredictable schedule. Sara has a unique understanding of the San Francisco real estate market and is widely recognized around the city as one of the premier agents. She is professional, thorough, and has a tremendous knowledge base. Having her in my corner was a huge advantage. I highly recommend Sara to anyone looking for a thoughtful, dedicated, and all-around outstanding agent who will help you find a wonderful place to call home." - Michael, San Francisco (Buyer)
---
"My wife and I purchased our first home in 2012, after searching for more than a year. Sara worked with us throughout this period, patiently guiding us through the process which, for first time home buyers like us, could be an emotional roller coaster. We began our home search by exploring different neighborhoods on the Peninsula. Sara openly and objectively discussed with us the pros and cons of those neighborhoods as well as the individual properties that caught our interest. She instinctively understood our apprehensions and provided great advice, helping to make us feel comfortable with the decisions we needed to make each step of the way. At no time did we feel pushed outside our comfort zone. When we lost out on a few properties, she helped us to stay positive and to keep moving forward with finding our new home when it would have been easy to give up at that point.
Patience and knowledge are just a couple of Sara's virtues. She is also incredibly thorough and proficient at what does, and is always accessible. The fact that she loves her work comes through in multiple ways including the time she invests in prepping for each meeting or in gathering intelligence on properties that catch your interest. She is prompt with her reminders, which we found to be extremely useful when we were going through the escrow process, and a godsend in getting you through the insane amount of paperwork that is part of the home buying process. After we closed escrow, we had an issue with our water heater and it was the home warranty that Sara purchased for us that came to the rescue. Sara also provided us with referrals to various people and products that we used when we remodeled our kitchen and master bath.
We would definitely recommend Sara to anyone in need of an incredibly capable, highly dedicated, and genuinely nice real estate agent!" - Ram and Sri, Foster City (Buyer)
---
"Selling a is never easy, but Sara made the whole experience completely painless and, at times, even fun. We had a very aggressive schedule to get our on the market in time for peak season and we were truly grateful for Sara's follow-up and attention to detail. Her experience and intuitive sense for the industry is without match. We leaned heavily on her for her professional advice and occasional off-the-record advice, thoughtful competitive analysis, property prep references, and vendor scheduling and coordination. I know she was juggling other clients at the time, but we were truly amazed at how she gets it all done. We feel extremely blessed to have met her when we did and now that the property is sold, I miss talking to her every day. She is a truly amazing real estate agent and has become a great friend." - Pam, San Francisco (Seller)
---
"I have worked with Sara for many years and value her services in the utmost. She has proven herself time and time again to be detail oriented, patient, and dependable. With San Francisco being such a unique and difficult real estate market, having someone with a steady hand and such thorough knowledge of the entire city is a true asset. I found her ability to help individuals buy and sell properties across many different neighborhoods and at many different price points, a great indication that her talents as a realtor would pay dividends for me for many years to come, and the fact that she is quick to respond, attentive, and calm under stress, proof that I made the right decision.
About seven years ago, Sara helped me to purchase my first home in a highly competitive market. Her estimates of the eventual sales price were spot on and put me in a position to be competitive with each offer I made. She was thorough and diligent, always ensuring that my best interests were represented in every aspect of the transaction, for which I am incredibly grateful. More recently, she helped us to sell that first home, a process that began with guiding us through minor renovations and self-staging. I am still astounded with the patience she exhibited as she helped to ensure we received the best price possible for our home. The subsequent purchase of our new home was especially challenging given all the features we desired, but again, she walked us through every step, pointed out many things that we would have missed on our own, and really made it possible for us to remain calm and collected until we found the home of our dreams.
In the end, I am so grateful to be working with Sara. Her communication skills are top notch and she always seems to have time to discuss any detail with you to keep you as informed and aware of the process as possible. I feel that I can always pick up the phone and get her opinion on all the decisions that we need to make, and she is always there to help us along. So for that and all the things before, I simply cannot recommend her enough." - Arash, San Francisco (Buyer/Seller)
---
"Sara is very thorough and professional in her approach, and makes the often stressful, difficult process of purchasing a home seem as if it were very easy.
From the moment we first spoke to Sara, we felt comfortable and at home. Even before we met her in person, she had done her homework on several properties we had indicated were of interest. Sara spent a considerable amount of time with us walking through various houses, pointing out the pros and cons of each, and helping us decide what was most important to us. Being first time home buyers, she guided us through the entire process, calming our nerves at every step. She was always on top of every detail and was available 24*7. Sara ensured we did not get into a competitive bid situation and through her diligence, the sellers accepted our offer in just two hours.
We especially loved the way Sara organized a calendar for us that highlighted things we needed to do at every step, and her attention to simple details like email subjects made it very easy for us to track everything. She went out of her way to get us a recommended contractor for some repair work that needed to be done. We have already referred Sara to a few of our friends and will continue to do so. In Sara, we found a highly professional realtor whom we are happy to now call a friend." - Roshan and Chandni, Foster City (Buyer)