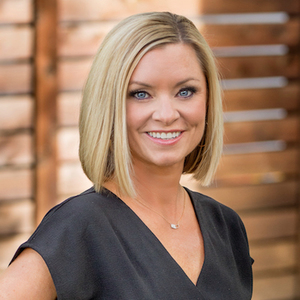 Sarah Thomas
Broker Associate, Kindred Realty Group
Experience
Education
University of Kansas, BS, Journalism


Client Testimonials
Scroll down for more
"We are so happy to have worked with Kindred. It was such a smooth process from start to finish, and working with three excellent agents rather than one really elevated the high quality of representation that we received to another level. Kindred demonstrated that they had a sophisticated understanding of the marketability of our home and always had our best interest in mind. We received multiple offers after only one weekend on the market and accepted an above-asking price with very favorable conditions. We couldn't be more pleased with Compass and specifically, Kindred. We would absolutely recommend Kindred to anyone looking for a team to trust to take care of selling their home." - Carrie & Chad L

"We are so grateful to Kindred Realty Group for bringing our hopes for this process to life. Kelly, Sarah and Danielle were critical at every step of the process: Strategizing a date to maximize exposure, advising us on resources to stage our house for our target market and finally, using their social media skills and connections to create an exciting preview & open house that resulted in 3 offers and an over-asking price contract. We definitely had the "A Team" on our side, with communication and advice that kept us sane and empowered throughout the entire sale. Choosing them to represent us was by far the best decision we made in selling our home." - Jason & Meredith G

"Bottom line: We received a full-price offer before our house formally went on the market. Was sold off The Kindred Realty Group's internal website prior to MLS. But the process was equally as important. We were convinced to hire Kindred based on their very thorough and credible proposal. Including in-depth comparables that convinced us our property was worth a bit more than we thought. As for the group itself. Danielle, Kelly, and Sarah are genuinely caring, thoughtful, and qualified. Consummate professionals. We will be recommending them widely." - Jeppe G

"Kindred made a great team and were in constant contact with us throughout the complicated selling/buying process. Perhaps most impressive is that they worked late into the night helping us on many different issues; and we know this because on many different occasions, they responded to questions and provided updates via email and text message late at night. Together, they made our dream become a reality! We are so grateful to have had the pleasure of working with them on our first and second home purchase and would absolutely recommend them to anyone looking to buy or sell a home." - Jacqui B

"Kindred came highly recommended to me by a friend who moved from NYC (like myself) and purchased a home in Tarrytown. They come with a multitude of experience on the builder and buying side of real estate, real win-win. I can't emphasize enough how meticulous and thorough they are—no key is left unturned, no cabinet door unopened (real estate pun intended). I was looking for something very specific in Clarksville and had complications along the way—when things don't go smoothly, the team is exactly who you want on your side. They are patient, honest, thoughtful, experienced, professional, kind and will negotiate like hell on behalf of their clients." - Christie G

"The Kindred team was great to work with in buying my first home! As a first time home buyer I was nervous and had SO many questions. They were always so quick to answer and provide me with everything I needed for a smooth transaction. They made the home buying process such a breeze! I would definitely recommend the Kindred team to anyone looking to buy in the Austin area!" - Kaitlyn N

"I can't say enough how wonderful my experience was with Kindred. I am a single foster mom and when I started looking for houses I had a 12 year old foster daughter (who Danielle made sure to bring snacks for when we looked at houses) and then the week before closing I brought home an infant. Danielle, Sarah, and Kelly went so far beyond what I would expect from a realtor. They brought me meals and helped me pack. Honestly, these three women have become my friends and I know God brought them into my life at just the right time. I have bought 4 houses in my lifetime and this was the best experience I have had and I am so thankful for these women and how they have cared for me and my little family throughout this process!" - Katie R

"This is the second time we worked with Kelly, Danielle and Sarah and both times have been wonderful! They were very informative and give wonderful advice! We gave our full trust to them and could not have chosen a better trio to do this job! They were very professional and very strategized. They had an entire timeline and they did the rest for us! Moving and selling can be very stressful, but Kindred Realty made it very easy for us to sit back and relax! They'll be our first point of contact if we ever decide to sell our home again!! We definitely recommend Kindred for anyone planning to sell our purchase!" - Vanesa & Oscar O

"I am so grateful for everything Kindred did for us! The entire experience, from us being on the buying side, to leasing, to then selling for us has been so unbelievably wonderful. I take a lot of pride in what I do professionally and I have an immense amount of respect for others that approach their work in the same fashion. Their team delivers a platinum level of service in every aspect, and I really appreciated that in working with them." - JR R

"I highly recommend working with this team when you are looking to sell your home. My husband and I used their services to sell our home and they were great every step of the way. They had stellar and cost efficient recommendations for everything – from staging to the final cleaning and all of the home inspection repairs we needed. We received TWO offers within 2 weeks. Very happy to have found this team!" - Christine K

About Sarah
Sarah's real estate career began in Chicago in 2006, and she made her way to Austin in 2009. She spent 9 years working with PSW Real Estate, first as their Sales Agent, then advanced to their Sales Manager and Managing Broker. Sarah was instrumental in four market launches and helped hundreds of families through the home buying and selling process.

Sarah has a relationship driven business and prides herself on service that goes above and beyond what is expected. Sarah's focus on top notch client service and creative solutions comes from her background in marketing and advertising. She has deep roots in new construction and developments but also has impressive resale experience.

Sarah is a part of Kindred Realty Group, along with her partners, Kelly Ilse and Danielle Reali. Kindred Realty Group uses their experience to develop a unique, collaborative approach, which allows all three team members to be involved in every transaction. This dynamic ultimately adds value and allows them to create a personal and enjoyable experience while maximizing investments.

Sarah is a Kansas City native and proud graduate of the University of Kansas. In her spare time, she can be found exploring Austin with her husband, son, and daughter – from Downtown to greenbelts to Zilker Park. Traveling is a top priority – two of her recent favorites were Croatia and Tulum. Sarah also enjoys volunteering for her kids' school in Clarksville.