About


THE SUMMERS GLOBAL TEAM headed by Lee Summers, is a global network sales team serving residential and commercial real estate needs across four continents. The team consists of professionals throughout the world with an informed view of the global market. THE SUMMERS GLOBAL TEAM is uniquely positioned to cover real estate around the world covering all price points. No matter what city in what country, our team can provide their expertise and knowledge of the global marketplace.

Our marketing program is worldwide, technology driven and personalized for each client. For buyers, we provide informed information, travel to property visits and finalize the deal by working with accountants, lawyers and management companies creating a seamless experience. Confidentiality is always key from beginning to end. If one wants to buy or sell a property, THE SUMMERS GLOBAL TEAM will provide the worldwide experience and professional assistance to do so.
Spotlight
Lee Summers | Team Leader - New York & Europe
Lee believes in using her extensive worldwide network to its' fullest extent. She works with brokers and clients both nationally and internationally. With over 20 years of global real estate experience with Sotheby's International Realty, Lee brings her knowledge and broad network to market homes globally. Her clients have included European royal families, international art collectors and leaders in the business world. Lee is known for her travels throughout the world and her wide-ranging contact list.

Lee Summers also heads THE SUMMERS GLOBAL TEAM, a global network sales team serving residential and commercial clients across four continents. The team consists of professionals throughout the USA, Asia, Europe, United Kingdom, Dubai and UAE with an informed view of the global market that covers all price points.
Spotlight
Eduardo Moriano | Team Agent - New York & Spain
In real estate, a serious work ethic and problem solving mind set are critical, according to Eduardo. He has perfected these qualities along with the tenacity, financial expertise and negotiating skills he brings to every deal. As a former lawyer for an investment banking firm in Germany and Spain, Eduardo negotiated multimillion dollar transactions. He also worked for a venture capital firm in Tel Aviv, Israel, was a development aid project manager in the Middle East, and a development aid consultant in Spain,and Brussels.

Originally from Madrid, Spain, Eduardo speaks fluent Spanish, English, German, French and Hebrew. He holds a Masters in International Private and Public Law from Sorbonne University in Paris, a Ph.D in European Law from GW Goethe University in Frankfurt, and a Law degree from Universidad Autonoma de Madrid. His international experience living, studying and working in Spain, Germany, France, Israel and the U.S. gives him a unique global perspective and keen ability to understand a diverse clientele's needs. Whether you are relocating to New York from overseas or are moving to a new part of town, he will serve your needs with complete dedication and accountability to ensure that your goals are met.
Spotlight
Lisa Summers | Team Agent - New York
Lisa Summers joins the Summers Global Team at Compass with an impressive portfolio of accomplishments. Having resided in Manhattan, Los Angeles, Silicon Valley, Napa Valley and London, each city has afforded Lisa a myriad of opportunities in the marketing and public relations fields. Lisa's focus throughout her illustrious career has been the crossroads of the entertainment, tech, fashion, real estate, pop culture and hospitality industries.

Before joining Compass, Lisa was an agent at Sotheby's International Realty. Previously, during her 15-year PR career, Lisa has been a Senior Vice President of Communications with some of TV's renowned networks, fashion houses and hotels, including CBS's Entertainment Tonight, HBO, OWN: Oprah Winfrey's Network, Vogue Magazine, Hilton Hotels, Kate Spade and The Metropolitan Opera. 

Lisa's relationships throughout the entertainment and lifestyle industries have generated enormous results of winning new real estate business and a demonstrated track record of delivering results. She is deeply committed to exceptional client service and has earned a reputation for professionalism and perseverance. Her expertise skillfully guides clients through the process of selling, buying, and investing in real estate.
Spotlight
Sophie Panizzo | Network Advisor - UK
LONDON UK ARGENTUM PROPERTY
Spotlight
Susie Hollands | Network Advisor - Paris & South of France
CEO VINGT PARIS & SOUTH OF FRANCE
One of the trailblazers of the real-estate world, Scottish-born Susie Hollands founded her Paris-based property company, VINGT Paris, in 2003. Today, they are the leading agency in the French capital for the international community, helping busy clients from around the world to find their dream home in Paris, the South of France and now globally, specializing in the luxury market.
Spotlight
Philip Verzun | Network Advisor - Dubai & Europe
Philip Verzun is an International property Award-winning real estate broker with over 15 years' of experience. In 2008 while living in Dubai he founded VERZUN - a boutique real estate agency offering a limited sales collection of properties in the most sought after destinations, matching sophisticated clientele with exceptional homes globally. Philip has built-up an extensive worldwide network of real estate industry professionals that allows him regular and early access to property offerings and full assistance by on the ground experts. Philip is also a passionate Proptech entrepreneur: currently the CEO and Founder of Consorto - the first pan-European online marketplace for European commercial real estate. Proud father of two and a competitive golf and tennis player.
Spotlight
Scott Gorelick | Network Advisor - Los Angeles, California
For Scott Gorelick, a career in real estate is the natural culmination of a lifetime spent in and around the industry. His mother was an interior designer, which nurtured an early love for homes and architecture. By the time he was in college at the University of Michigan, Scott obtained his license and spent summers working in commercial real estate in Long Island.

Today, he combines skills garnered as a successful entrepreneur and respected mortgage broker to provide exceptionally well-rounded real estate and business expertise to his clientele. Known as a diligent hard worker, Scott prides himself on his ability to assimilate information and present it to his clients in a way that's actionable and digestible. "I love finance, I understand the process, and I'm able to walk clients through it in a way they can understand and trust," says Scott.
Spotlight
Liz Hogan | Network Advisor - Miami & Palm Beach, Florida
Consistently ranked as one of the top-performing agents in South Florida, Liz Hogan has helped customers buy and sell real estate throughout the Miami-Dade County market for over 15 years.

Liz closed over $100M+ in both 2017 & 2018, and was ranked the #1 agent for Florida for both years. The Wall Street Journal/Real Trends ranked her #17 for the State of Florida and #178 in the Nation.

Raised in Miami, she specializes in residential properties ranging from homes for first-time buyers to luxury custom estates, commercial properties, and leases. Liz services several Fortune 500 companies, private equity funds, family corporate offices and private businesses handling their housing and relocation needs. Customers look for Liz's insight, particularly on local market dynamics, her strong knowledge base of market statistics and investment and financial opportunities.
Spotlight
Peter Barkin and Mark Gilman | Network Advisors - Fort Lauderdale, Florida
Peter Barkin and Mark Gilman have been successfully supporting the real estate dreams of buyers and sellers in South Florida for over 20 years. In 2002, Peter and Mark teamed to create the Barkin-Gilman Group, a highly respected and successful brand within the South Florida real estate community.
Spotlight
Luis Diez de Onate | Network Advisor - Portugal
ARGENTUM PROPERTY
Spotlight
Jon Granston | Network Advisor- San Diego, Rancho Santa Fe & La Jolla, CA
Jon Granston has been a trusted real estate advisor for more than 16 years, providing clients with unparalleled service, discretion, a unique vision and negotiation prowess. The Granston Group works with various types of clients ranging from high net-worth individuals to first time homebuyers - with differing backgrounds and circumstances, yet ALL receiving the same level of excellence in representation. His team leverages innovative technology and data to deliver the very best results for his clients.
Spotlight
Irina Zharova-Wright | Network Advisor- Moscow & St. Petersburg, Russia
Irina Zharova-Wright and her SESEGAR team is an established leader in the areas of high-end real estate brokerage, development consulting, property and resource management, as well as financing. During the last 15 years, she has acquired a solid reputation in the Moscow and St. Petersburg regions. In addition, she has developed international relationships engaging in real estate projects in the UK, France, Italy, Israel, Spain, Turkey, Ireland, Greece, Switzerland, Montenegro, and the United States.
Spotlight
John Green | Network Advisor - United Kingdom & France (Commercial)
John began running a multi-family office largely for HNWI's and institutions in CIS countries, catering predominantly to their commercial real estate investment needs in Western Europe. John particularly specializes in UK and French commercial real estate. Green Intermediary LLC
Spotlight
Upper Brook St off Grosvenor Sq. London, England
Grade 11 listed Georgian Townhouse, Mayfair London, England. Price on Request
Spotlight
721 Fifth Avenue New York, New York Apartment 57L
This premier 2,510 sq. ft. three-bedroom, three-and-a-half bathroom apartment occupies one of the best real estate corners in the world, boasting spectacular panoramic views of Central Park to the north, sweeping west to the Hudson River, and south with breathtaking views of Manhattan's most iconic buildings. $8,995,000
Spotlight
Latigo Estate 3420 Brinkerhoff Avenue, Santa Ynez, CA
The 13,000+ square foot main residence offers everything from a movie theatre, expansive wine cellar, library and 6 spacious bedrooms all with en suite bathrooms. The master bedroom, complete with dual bathrooms and walk-in closets, has its own private outdoor balcony situated perfectly to take in the surrounding mountain views. The large patio area off of the home features an outdoor fireplace with sitting area, a gorgeous custom pool adorned with boulders for diving and plenty of entertaining spaces.

The property offers several accessory buildings from a 3 bedroom, 2 bathroom guest house and a large workmans garage, to one of a kind equestrian facilities with a 10,000+ square foot barn, several grazing paddocks, an oversized arena and fieldstone watering pools. Also on the property is a separate work out studio, 4 car garage, a picturesque tennis court and helipad for easy travel. Though not currently being used for agricultural purposes, the property lies deep in the heart of California's wine country. The soil remains untouched and is asking to be planted with multiple grapes that can be grown in different locations around the property. With two private wells and water cisterns included in the acreage, irrigation for crops is available. This large patch of land is ideal for the future wine maker or anyone looking to own a piece of history and enjoy the peacefulness and privacy that this estate has to offer.
Spotlight
2100 Sunset Plaza Drive Los Angeles, CA
Extremely rare and unparalleled development opportunity on prime Sunset Plaza Drive. Gated and private, the property has vast park-like grounds with a championship-sized tennis court, walking paths, and an observatory. Feel like you're on top of the world in this 11,000+++ square foot estate on a 2.19-acre promontory with endless jetliner views. The home offers 6 en-suite bedrooms and 11 total bathrooms, plus incredible entertaining spaces including a 3-story theater, bar and billiards room, and Moroccan-themed meditation room. Additional features include a gym, elevator, 1000-bottle wine cellar and 5-car garage. Numerous balconies, patios and rooftop decks highlight the unobstructed city and ocean views. Remodel the existing home to your tastes or use the included Richard Landry-designed plans for a contemporary masterpiece.
Spotlight
Saint Germain des Pres, Paris, France
A true haven right in the heart of Paris, this charming property is set in an enchanting garden filled with mature trees and leafy shrubs. Built in the 1920's, the Arts and Crafts exterior hides a completely open-plan Bauhaus design inside.
Spotlight
19th Century Apartment in 'Golden Triangle', Paris, France
In the heart of Paris' famous 'Golden Triangle' and steps from the Champs-Élysées, this magnificent 2 bed/2.5 bath property occupies the third floor of a historic 19th century building and boasts a large balcony overlooking the streets below. The historic apartment features parquet flooring, exquisite mouldings and a wood burning fireplace. The entrance hall opens onto two salons - one a reception lounge and the other a TV lounge - both with access to the balcony. Both bedroom suites are spacious with dressing rooms and en suite bathrooms.
Spotlight
Exquisite Triplex Penthouse next to Retiro Park. Madrid, Spain
750m² plus a 220m² terrace Asking €14,600,000

This breathtaking apartment occupies the top 3 floors of a brand new building, refurbished to fit in perfectly with its historic surroundings in one of the most exclusive neighborhoods in the Spanish capital. This is a landmark of luxury and comfort with no-compromise fit and finish throughout, including common areas by contemporary artist Carlos Cruz-Diez. This apartment is the crowning glory of the development, with beautiful living spaces and epic views from private terraces on every level, including a private pool on the 8th floor with a truly unique outlook over the city. Meanwhile, large windows and a contemporary design with open spaces ensure that the sweeping interiors are flooded with natural light. Of course, everything else about the property is designed for comfort and privilege, and in addition to their own unparalleled private space, residents also have access to the finest communal facilities including gardens, gym, spa and a pool, with plenty of parking and storage.
Spotlight
La Ferme Blanche Cap d'Antibes, South of France
6 bedrooms & private guesthouse. La Ferme Blanche, a luxury property by the Mediterranean Sea not only has a soul but also some very unique features. Between tradition and modernity the villa, which dates back close to two centuries, has been fully and luxuriously renovated to offer all of the modern comfort and amenities expected by discerning guests.

The villa can be enjoyed year around. During the winter months the under-floor heating and the use of the four fireplaces will provide all the comfort needed whilst during the warm summer months the use of the central air-conditioning will be a welcomed feature.

Heated pool, fully equipped fitness room, sauna, steam bath, home cinema, tennis court, large landscaped garden ornamented by Mediterranean trees and plants, century old olive trees producing their own olive oil and independent guesthouse. Price on request.
Spotlight
Magnificent palace in the Salamanca district. Madrid, Spain
15 Bedrooms | 13 Bathrooms | 2,732m² plus 146m² terrace & 467m² garden. This imposing mansion dates from 1845 and overlooks the Plaza del Marqués de Salamanca. It is a historic landmark that offers extensive living space across 5 floors with the added and rare privilege of a large private garden. This is a very special opportunity to create a spectacular family home in the heart of Madrid, or to take advantage of the location and space to serve a range of commercial activities. There are two swimming pools, indoor and outdoor, both in surroundings that are worthy of such a historic property. In the same way, all the inside spaces are rich with the distinguished majesty of the time, with huge reception rooms, a ballroom, library, chapel, impressive hallways, marble and parquet floors and a carriage area for parking. Price on request.
Spotlight
11090 Snapper Creek Road Coral Gables, FL
A rare offering of one of the finest waterfront homes in Snapper Creek with private dockage for serious boaters and direct bay access. This custom home, designed by David Johnson, resides on almost 1.5 aces of lush landscaping, including exquisite lawns, mature trees, ½ basketball court, resort like pool, and 2 story guest house. The 16k SF house, wrapped with wide porches, has 6 bedrooms and 6.5 baths, a gourmet eat in kitchen, 2 family rooms, formal living and dining rooms, 5,0000 bottle wine cellar, gym, media room, game room, dedicated play area for kids, wood cloaked office, 4 car garage with multiple storage areas and generator which can power the house for 2 weeks. A truly one of a kind exceptional residence.
Spotlight
2512 San Elijo Avenue Encinitas, CA
Quite possibly one of the most iconic homes in all of North County, this is a once in a lifetime opportunity to own a true legacy property. Offering unobstructed Cardiff Reef whitewater and lagoon views of the 915 acre San Elijo Lagoon Ecological Reserve, home to over 700 species of plants & animals, this home is genuinely one of a kind. The second you step through the front door you are greeted by an environment of serenity and privacy, despite the abundance of glass that illuminates the extraordinary panoramic views. Complete studs-up remodel finished in 2015 and it shows. Don't miss this rare chance to own a piece of Cardiff history!
Spotlight
2501 Mercedes Drive Fort Lauderdale, FL
Set against the backdrop of the Intracoastal Waterway this breathtaking point lot offers 450 ft of deep waterfront in the exclusive subdivision of Harbor Beach. Ideal for the yachtsman who desires straight line dockage in excess of 262 ft on the north & 148 ft on the west. Expansive waterway vistas, daily parades of boats & sunsets are captured throughout this estates spectacular vantage points. The lush tropical gardens boast over 12,900 sq ft of tranquility, highlighted by accents of night lighting. This gated compound has been updated with unsurpassed technology, astounding design & architectural details. This residence boasts a culinary kitchen, full service butlers pantry, office, 2 family rooms, home theater, gym, lavish master suite, elevator & full home generator. Sq ft from BCPA.
Spotlight
Villa Azur, Quinta da Marinha Cascais, Portugal
5 suites with marvelous see view. Huge living room, office, Cinema Room, kitchen, 2 WC, Storage Rooms, Guest Apartment 155 m2, Maid's Apartment, Spa, Wine Cellar, 4 car garage, Alarm system in the whole house + cameras both outside and inside the house. Diesel operated emergency generator maintains full time energy to the house. CRESTON Domotics controls all systems and equipments in and around the house. Electric radiant flooring and integrated AVAC system. Scheduler for all lights and systems, accessible and adjustable from anywhere in the world. House is being sold furnished.
Spotlight
Los Mayoas Estate in San Carlos, Ibiza, Spain
Fully landscaped terracotta plot of 21.000 m2 facing the sea with direct access to the water. Unique 300 year old olive trees transported from the continent, a beautiful palm alley and mature vineyard above the sea, also a little vegetable garden. Price on request.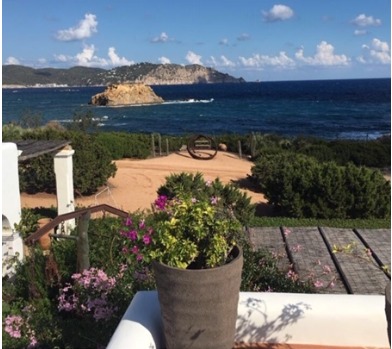 Spotlight
Large family house with park view Moscow, Russia
Large family home with pool situated in a beautiful park in central Moscow.
Spotlight
Infinity Villa in Port Andratx Mallorca, Spain
Designed by premier Architects García-Ruiz, 'Infinity" is for those keen on design, comfort and a Mediterranean lifestyle in one of Mallorca's most beautiful locations.

8 bedrooms and 11 bathrooms the villa is completely open to the landscape. The project is located at an angle with its main facade facing towards the coast. The floors of the house rise with the hillside, taking advantage of the slopes to give each part of the property its own perspective. The lower ground floor incorporates a spa, sauna, relaxation area, gym, family room, home cinema, wine cellar, show garage with a rotating platform, and a 10-metre indoor swimming pool and private parking for over 12 cars.