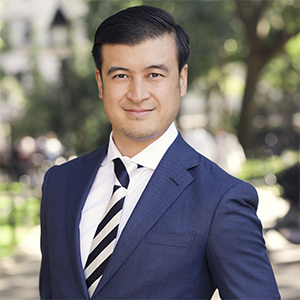 Takk Yamaguchi
Licensed Real Estate Salesperson | Licensed as Takeshi Yamaguchi
Experience
Revenue
Takk exclusively represents more than $200 million in New York City real estate properties, ranging from , -ops, condos, Townhouses, multi-family, and commercial mixed-use assets.

Takk transacts about 130 deals on average per year.
Awards
Nominated Top 30 Under 30 Forbes Real Estate.
Education
B.A. in International Relations and Economics from Lehigh University and double minors in Asian/Japanese Studies.
Charity
Takk is an active donor and volunteer of several organizations. He is a proud Host Committee Member Project Renewal, a New York City nonprofit organization that helps homeless and low-income men and women who often have a drug addiction, mental illness, as well as an active volunteer & donor New Yorks Habitat Humanity. He also frequently volunteers at the Madison Square Park Conservancy, helping to host free public events children.
About Takk
Born in the suburbs of Tokyo, Takk moved to the Washington DC area at the age of seven. Soon after completing his undergraduate degree at Lehigh University, he moved to New York City to pursue a career in real estate.

Takk exclusively represented more than $200 million in real estate assets during his career, ranging from co-ops, condos, townhouses, and multi-family properties. He brokered over 100 transactions per year and represented investors, buyers, sponsors, sellers, and tenants in every submarket in New York City.

Takk's specialities also include consulting investors from the initial advising stage to the acquisition and leasing, 1031 Exchanges, and listing-side sales and rentals of investment assets.

Takk is a member and guest speaker of The Real Estate Board of New York and been the recipient of several industry awards in recent years, including Top Rental Agent of the Year in 2009 and 2010, Rookie of the Year Award in 2009, and Top Rental Lister of the Year of 2010. An avid sports fan who founded the Lehigh University's Snowboarding Club and played on the Lehigh Lacrosse team, he is also an accomplished musician who currently performs with the New Amsterdam Symphony Orchestra in New York City. Takk resides in Midtown Manhattan.
Follow his monthly newsletter here:
March 2020 Sales Market Newsletter
February 2020 Sales Market Newsletter
January 2020 Sales Market Newsletter
December 2019 Sales Market Newsletter
November Sales Market Newsletter
October 2019 Sales Market Newsletter
September 2019 Sales Market Newsletter
August 2019 Sales Market Newsletter
July 2019 Sales Market Newsletter
May 2019 Sales Market Newsletter
March 2019 Sales Market Newsletter

February 2019 Sales Market Newsletter
February 2019 Featuring VETPAW
January 2019 Sales Market Newsletter
January 2019 Featuring Jenny Baker, Broadway Actress & Takk Team Co-Founder
December 2018 Sales Market Newsletter
December 2018 Featuring Jacob Ireland, Freelance Art Director
November 2018 Featuring Reenie Mosher
October 2018 Sales Market Newsletter
October 2018 Featuring Lauren Wood
September 2018 Sales Market Newsletter
September 2018 Featuring Paul Parker
August 2018 Sales Market Newsletter
August 2018 Featuring Brian Delmonico, Founder of Circuit of Change
July 2018 Sales Market Newsletter
July 2018 Featuring Murray Bibas, Co-Founder & CEO of Zyp
June 2018 Sales Market Newsletter
June 2018 Featuring Serge Strosberg, Local NYC Artist
May 2018 Sales Market Newsletter
May 2018 Featuring Joseph Shayne, CEO of We Run Kings
April 2018 Sales Market Newsletter
April 2018 Featuring Andrew Yee, Attacca Quartet Cellist
March 2018 Sales Market Newsletter
March 2018 Featuring Nobu Shikanai, of Kanoyama
February 2018 Sales Market Newsletter
February 2018 Featuring Crispy Park of An Choi
January 2018 Sales Market Newsletter
January 2018 Featuring Jim Wexler, Founder of Experiences Unlimited

Takk Yamaguchi's Listings