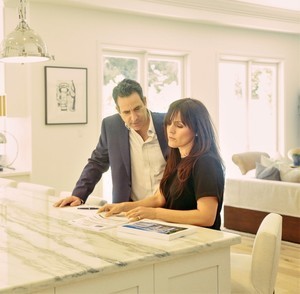 Tamkin Real Estate Group
Scott Tamkin, Estate Director DRE# 01336758 | Melinda Tamkin, Estate Director DRE# 01336759
About Tamkin Real Estate Group
Melinda and Scott are life-long residents of Los Angeles. They serve their clients' residential real estate needs not only on the Westside but facilitate real estate investments throughout Los Angeles County. True Southern California natives, the Tamkins are now raising a fourth generation Westside Family. They have two sons and a young daughter.

In business together for nearly 20 years, Melinda and Scott focus on integrity and ethics in every aspect of their lives. Their hands-on approach to each real estate transaction inspires confidence in their clients and as a result, their business is almost exclusively by referral.

The Tamkins focus on understanding the micro-economies of Los Angeles through the lens of residential real estate. Scott and Melinda study the market movements and growth trends of various neighborhoods in the city. The concentration of their business is both residential single family, and multi-family income property, so it is critical for them to understand the unique nature of the LA marketplace. Melinda and Scott have been in the top 10% of Realtors nationwide for the last decade and have built their practice not only with a commitment to the local community but also by working with both international and domestic buyers and sellers to orchestrate the perfect LA investment. With the number of multi-national buyers continuing to grow in Los Angeles, The Tamkins are focused on understanding the needs of a diverse clientele.

Both Melinda and Scott prioritize giving back to their community. You will often find Melinda wearing different hats while managing her volunteer commitments and her professional career. Currently, Melinda serves on various school and community boards. In 2015 Melinda co-chaired the USC Women's Conference; she is also active in Town and Gown at USC and on the board of USC Second Decade Society and USC's Alumni Real Estate Network. Scott sits on the USC Annenberg School Alumni Board and founded the Fathers' Club at his children's elementary school. Scott is also involved in the Loyola High School Fathers' Club. Melinda and Scott coordinate a monthly community service called "Sandwich Builders" which provides meals to the homeless of Skid Row, as well as support The Kitchen Community. Over their career, Melinda and Scott have sold over $450 Million in Real Estate. Together, Melinda and Scott bring creativity, thoughtfulness, and real value to their clients. A commitment to customer satisfaction and service is key to their success.

Melinda and Scott look forward to being your lifelong real estate resource!
Tamkin Real Estate Group's Listings