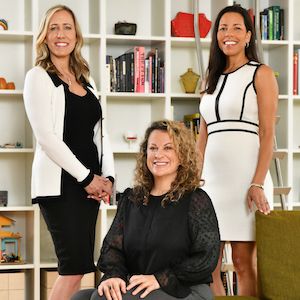 The Svoboda/Shell Group
The Svoboda/Shell Group
Social Media
Facebook
Instagram
Client Testimonials
Scroll down for more
"Tiffany was one of the best things about our move to St . Louis. I learned so much from her during the process and she was so patient with us as we had a small amount of inventory that fit our criteria. I loved her straightforward and honest approach and really felt like she was always looking out for us and our family's best interests. We knew we could trust her and we confidently refer anyone that asks to her. She goes above and beyond and was so kind and fun that I still miss going to look at houses with her. She is an extraordinary realtor!" - Laura & Brian

"One roadblock after another removed by Jen Svoboda. First, the appraisal came in low and the buyer was unable to make up the difference. Jen stepped in to manage appraisal review and second appraisal to help them move forward with the original offer price. Next, we never heard of backup offers, but Jen had and she managed this exactly as needed so that we had options just in case. As for communications? Top-notch customer first at all times. Always responsive and always professional. You can't go wrong with Jen. Thanks to her for making a difference in our lives." - Kevin S.

"Tiffany has represented my husband and I in two sales and two purchases over the last 5 years. She is a keen negotiator who is responsive to her clients and always has their best interests in mind. As with most real estate transactions, unforeseen issues can and will come up during the process. Tiffany's pragmatic and composed demeanor, wealth of real estate knowledge, and excellent relationships cultivated with fellow agents all help to alleviate the stress that could result. There is no one that we trust more to represent us in our real estate endeavors." - Susan & Pete

"Jennifer is amazing! She helped me and my husband sell our 1st home. Jen sold our house in one weekend, we were in a time crunch and she was right on every single part of this sale. When it came down to reviewing offers, we had so many it was overwhelming. Jen was not only amazing at getting our house seen and loved, but helping guide us in the right direction with all the offers we had. She loves her job and it shows, and someone who loves their job is always going to do 10/10 work. I would never choose anyone else to sell a house for me — Jen is the definition of an amazing real estate agent and I will stand by that forever! THANK YOU, Jen and your entire team for helping us find our dream home, selling our first home, and making it as easy on us as you possibly could!" - Samantha J.
"Jennifer Svoboda is an absolutely outstanding realtor that goes the extra mile with her clients. We have been involved in the sale of 4 houses and she would be my first choice again if I needed to sell another house. We were not disappointed in the least with her professionalism, her follow-up, and her go-getter attitude. She was researched at helping us to choose a price for our home. And, she truly was an amazing seller, always sharing the best our home had to offer with prospective buyers. She offered multiple open houses, and she prepped the house for showings when we were out of town to put the house's best foot forward. Better yet, Jen was a master negotiator, even with a very difficult buyer. She maintained the utmost of professionalism and used her studied knowledge of the realty rules and laws to help us get a great price for our house. In the end, we never felt out in the cold, wondering where we were at on our house. She always kept us up to speed on what was going on in the market and with our house. Finally, we were well prepared for closing due to Jen's expert advisement. We really appreciated how professional and friendly she was. — Hire Jen for your realtor today! You will not be disappointed. It will be the best decision you will make in the sale of your home!" - Allison S.
About The Svoboda/Shell Group
Having the right real estate agent means having a representative who is committed to helping you buy or sell your home with the highest level of expertise in your local market, as well as providing top notch communication. Having Jen Svoboda and Tiffany Shell of The Svoboda/Shell Group as your agents means white glove service and a level of professionalism unlike any other competitors in the market. This commitment level has helped them build a remarkable track record of delivering results.
Native Saint Louisans themselves, Jen and Tiffany have a vast network and areas of expertise all over the St. Louis area — from the city to the county, from Kirkwood to Wildwood. With over 700 transactions in their portfolio and a combined lifetime sales record of over $175 million, the powerhouse of The Svoboda/Shell Group is truly one of the finest in the business.
Nothing is more exciting to Jen, Tiffany, and their team than the gratifying feeling they get from helping people meet their real estate needs. They pride themselves on being honest, trustworthy, and knowledgeable in the Saint Louis market. They know how important it is to find your dream home or get the best offer for your property. Therefore they make it their responsibility to help you achieve those goals. Taking pride in their work ethic is an understatement when it comes to providing personable service, and at the end of the transaction, you will have made a lifelong friend in the process!
Whether you are an experienced investor, a first time buyer, ready to step into your next new home, or ready to downsize, The Svoboda/Shell Group can help you in finding the property of your dreams.
What Sets Us Apart
Representing Our Sellers
We preview competing listings. This helps us gain knowledge of how we compare. Additionally, we also make record of the sign-in sheets and contact agents who have shown those homes — we want to market your property to them! Our sellers are always welcome to join us, if they'd like to check out the competition!
We utilize the latest in technology to market our listings — using a combination of paid ads on Facebook, Adwerx, Zillow Premier Agent , and more. Our listings are syndicated on dozens of real estate sites online, not just the big ones.
We hire professional photographers to take our listing pictures. Most people find their home online and photos are important. We believe the order that photos are displayed is as important as the images themselves — keeping potential buyers engaged while telling a visual story about your home.
We run reports to determine which agents do the most business in the area surrounding our listings and personally email them. We can also run a "reverse prospecting " report in the MLS to reach out to agents whose clients are in search of a home just like yours.
We keep in touch with prospective buyers and/or their agents with persistent follow-up. A "MAYBE" always has the possibility of becoming a "YES"!
We constantly update your listing. After a home goes under contract , it's important to communicate with the appraiser. We do as much as we can to assist them by providing good comparable proper ties that sold recently to support our sale price, as well as a list of improvements/upgrades.
We are all full time agents. We've always got our phones with us, are quick to respond to inquiries, and are always on top of what's going on with our business. If ever a member of our team is not available, we cover for each other. Our clients are never without representation. We don't just work 9:00 – 5:00, but are there when you need us, any day of the week.
We build good rapport with the other agents involved in your transaction. That might not seem like a big deal, but we find it makes for a smoother transaction, especially while negotiating. Plus if they like working with us, they will be more excited to sell our listings!

Representing Our Buyers
We start with a consultation to be sure we are catering to your needs Whether you're a first-time buyer, experienced investor or frequent mover, we will start with a consultation to be sure we understand your needs and that you have proper expectations of what's to come.
We provide referrals to vendors In our many years in the industry, we've compiled a list of reputable vendors that we refer our clients to. Title companies, inspectors, lenders, insurance agents, surveyors, contractors and more.
We understand evolving markets Through the years, we've experienced shifts from buyer's to seller's markets. We're strategy savvy and know how to help our clients make an offer that is acceptable to a seller based on factors other than just price.
We build a good rapport with the listing agent We truly believe that we can still negotiate and look out for our clients' best interest while keeping an amicable relationship going with the agent representing the seller. We all have the same goal…to get our buyer into that home!
We utilize the latest technology The hot properties sell fast! We help our clients stay on top of things with proper searches, so we know the second their dream home comes on the market.
We truly work as a team There are several of us and that's good for our clients. We fill in for each other. Our clients will never miss out on a hot property because their agent wasn't available. We are all full-time realtors and are there when our clients need us!
We have FUN! There's no doubt the homebuying process can be daunting. It's our goal to help our clients navigate through with the least amount of stress possible, so they can focus on the excitement. Always looking forward to handing the keys over on closing day!