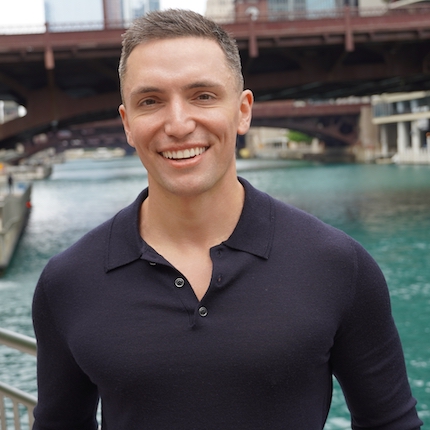 Tony Mattar
Licensed Real Estate Broker
Social Media
Specialties
Buyer's Agent, Listing Agent, Relocation, Multi-unit, Property Management, Landlord
Education
Northwestern University - Bachelor Of Arts, Economics
Indiana University Bloomington
Client Testimonials
Scroll down for more
★★★★★
"Tony made home-buying so smooth and easy!! I know it's not an easy process but the background work that Tony and his team do, make for a very nice process as a home buyer. They are careful and considerate every step of the way making sure your needs and wants are taken care of. Tony and his team are not pushy and yet are extremely responsive...so much that I would have responses within an hour of emailing. If you want a team that does all the heavy-lifting, Tony and his team are IT! Oh, and he has trusted contractors, lawyers, inspection agents, etc. so he's really able to cover all aspects of home buying. This was huge for me since I'd never bought a home before and I'm fairly new to the Chicago area." - Katie

★★★★★
"Tony provided me with top-notch representation that can be best described as "concierge." He responded attentively to every aspect of my search for a property as a new buyer entering the multi-family market. He took the time to learn about my idiosyncratic tastes and coached me on various details I would not have considered otherwise. He was very in sync and patient with my own deliberations until I found the perfect home for me. He has a deep network of reliable associates who similarly treated me with utmost responsiveness and care. Thanks to Tony's expert negotiation skills, I acquired the home of my dreams under the asking price, at an incredible mortgage rate, and with hands-on help all along the way. He is enthusiastic, ambitious, knowledgeable, and enjoyable to work with. Hands down, Tony is the best!"

★★★★★
"Tony was AMAZING to work with. His knowledge and patience explaining things was invaluable to us as first time home buyers. We were especially impressed with his network—everyone we worked with came from a recommendation from Tony, and our whole team was fantastic. Highly recommend!" - Stephanie

★★★★★
"Tony's review was Long over due but there was no way I would have missed the opportunity to mention to Everyone that Tony is AMAZING!! not Only does he know very intricate detail of the trade he is a Wonderful person. This is my 1st condo and he was so patient with me, he took time to explain me the whole process step by step without making me feel intimidated or nervous. After our 1st few showings he knew exactly what I was looking for, he guided me through the whole deal explaining in details when I was unclear, he was so quick at communicating that I was totally amazed. My current condo when we 1st saw Tony knew right away that I liked the place and without any delays sent the offer and worked so passionately that it felt like he was the one buying the condo and I was just there to help him out. I can't Thank Tony enough for working so passionately to find an Amazing Condo for me. Any one who would have Tony as their realtor will be VERY Lucky as it's 1000% guaranteed that in No time and with No Tension they will have a Dream Home!"

★★★★★
"Tony absolutely crushed it. He helped us make a knowledge decision based on our needs and wants. He understood what would be a good fit for our family and made sure we were happy with all aspects off the home before putting in an offer. He also helped us get the best deal ever. We love tony and would recommend him to everyone !!! THANK YOU for helping us find our dream home." - Sophia

​​
About Tony
I'm Tony Mattar. I am the founder of the Crib team at Compass and have been a Realtor for more than eight years. I grew up as the oldest of four children in the metro Detroit area and moved to Chicagoland in 2009 to attend Northwestern University (Go 'Cats!) where I majored in economics and competed as a part of the Men's Varsity Swimming and Diving team. While most of my classmates in my major went on to careers in finance for large firms, I always knew I wanted to follow in the footsteps of my dad and grandpa by owning my own business. My entrepreneurial spirit had already taken root way back when I started my own lawn mowing company at the age of 13.
My favorite part about real estate is empowering my clients through education. Whether it's a first-time buyer who is coming in with no knowledge about the process of purchasing a home, or a seller who has been through the process many times before, my goal is always to bring as much information as possible to my clients in order to help them achieve their desired outcome. Chicago is such a dynamic city and my clients (and the homes I get to see) completely run the gamut. The fact that I get to see different types of people and properties day in and day out energizes me and gets me out of bed in the morning.
When I'm not working with buyers and sellers or mentoring our growing team, I'm probably working out. I may never (see: definitely won't) qualify for Olympic Trials again as I did in 2012, but I'm still passionate about staying fit through high-intensity interval training and strength/Olympic lifting workouts with my trainers. Do you have a workout you love?
Invite me to tag along next time! My interest in fitness has also lent itself to a passion project - the charity I created in 2018 called Men of Chicago Real Estate. This industry-wide project sells cute and kitschy swimsuit calendars to raise money for LGBTQ initiatives right here in Chicago.
I look forward to getting to know you as we work together!